We all remember what it was like to be a kid on summer vacation. Those carefree summer days full of sunshine and splashing in the pool felt like they could never end. Then, like a malfunctioning alarm clock in the middle of the night, reality startles you with the sudden influx of back-to-school sales and your parents insisting that you start to get mentally prepared for the early September mornings walking to the bus stop.
It seems ridiculous as an adult, especially considering that most of us don't get a summer vacation, but to the dramatic mind of a child, the back-to-school season can be an anxiety-driven nightmare. But we adults know that learning can be fun, so why not ease your kids back-to-school with an educational trip to end the summer?
To help you plan your trip, we've reached out to parents and teachers across the country for their favorite back-to-school family vacations.
CHATTANOOGA, TENNESSEE – TENNESSEE AQUARIUM AND CHATTANOOGA ZOO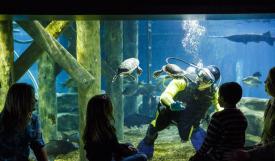 If you're looking for a fun family vacation that has educational benefits, look no further than Chattanooga. The downtown area offers educational family activities including the Tennessee Aquarium and IMAX, Creative Discovery Museum, Chattanooga Zoo, and Hunter Art Museum.
For a central and historic place to stay, opt for the Read House Hotel Historic Inn and Suites. The Read House Hotel is less than a mile away from many area attractions. Originally built in 1872, it is a piece of educational history in itself and is recognized in the National Register of Historic Places. The amenities, which include a heated indoor pool and a full-service coffee house inside, are top notch. They also offer pet-friendly rooms which are perfect for a family getaway if you're bringing your four-legged friend along.
Click here to read the full article.
Published by Trivago Magazine July 1, 2018: Written by Trivago