Today, in our next to last entry of the most essential theme park in every state in the nation, we traverse the American Southeast. It has been a considerable endeavor, as we're seduced by every defunct theme park we come across (which isn't the assignment, strictly speaking). This is why you'll see a lot of entries that do double duty as a recommendation for an existing theme park and a celebration of one from the past. But we genuinely believe that an important part of the appeal of theme parks, in general, is their tie to nostalgia and history.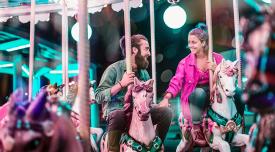 To pick our favorites, we had to figure out what is truly essential when it comes to theme parks. We don't think having the best or newest coaster is essential, nor do we think being essential is the same as "the best." Instead, our focus is on properties that are unlike any other in the state and therefore demand a spot on your travel list. We want to shout out those places that are fun and surprising and special. We believe every entry you are about to read fits the bill.
So take a peek at our picks for the Southeast, and then hop in the comments and tell us about the theme parks you find essential. There's no wrong answer, and we love learning about the theme parks that have thrilled you, delighted you, and made you vomit because of the-super-fast-roller-coaster-and-cotton-candy-and-three-corndogs.
GEORGIA: LAKE WINNEPESAUKAH (ROSSVILLE)
Yes, yes, you expected Six Flags. And you know that we wanted to pick The World of Sid and Marty Krofft (which made it until the 1970s). But let's split the difference and get a good dose of history and character plus some fun rides?
Lake Winnepesaukah, named for the Native American word meaning "bountiful waters", debuted to over 5,000 visitors on June 1, 1925. In 1926, the park boasted the largest swimming pool in the southeast. The Boat Chute, designed by owner Carl Dixon, was a huge hit in 1927, making it the third oldest mill chute ride still operating in the US. It started as a water-themed attraction but later expanded onto dry land with a historic carousel that dates back to a 1916 manufacture and the Cannon Ball roller coaster, added in 1967. Now, it's over 80 acres — with 38 rides and a seven-attraction water park.
We genuinely dig the old Cannon Ball with its 40-foot drop and 2,272 feet of track that extends three-quarters of a mile. It's a 90-second bit of whiplash with a top speed of 50-miles-per-hour. And it is fun. So fun. Must be why the park's motto is "Come On, Get Happy!"
We appreciate a motto that puts The Partridge Family theme in our head. Don't act like you don't too.
Click here to read the full article.
Published by Uproxx on July 12, 2018: Written by Alia Stearns