The latest way to live large on vacation is to think small. The tiny-house trend has spawned hotels that let guests experience what it's like to live in fully contained homes that can measure less than 200 square feet. "People are just curious because they've heard so much about tiny houses," says John Weisbarth of "Tiny House Nation," which appears on the FYI network, and in 2019 will also show on A&E. His co-host, contractor Zack Giffin, says guests are surprised by the amenities that can be packed into a small place. "They're very luxurious. It's almost like renting your own house or getaway, and it's priced more like a hotel room." The partners share some favorite rentals with USA TODAY.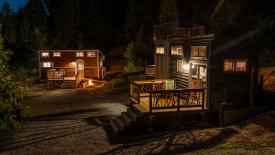 Live a Little Chatt | Chattanooga, Tennessee
Located 20 minutes from downtown Chattanooga, these four houses offer a scenic take on tiny-house living. They range in size from a relatively palatial 500 square feet to a cozy 126-square-foot home that includes a wine-barrel shower and sleeps four. "Chattanooga is an absolute hotbed in the tiny-house community. There are very progressive, dialed-in builders," Giffin says.
Click here to read the full article.
Published by USA Today on July 27, 2018: Written by Larry Bleiberg