A Tennessee city firmly rooted in the past keeps moving on with new music in historical buildings, vintage guitars in a modern museum and a river's unchanging beauty running through it.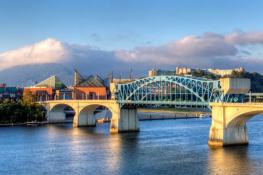 In Chattanooga, I prepared my ears for the worm: the 1941 signature song about a guy riding the train to Tennessee to attend a soiree with a sweetheart he endearingly calls "funny face." I assumed that the city would stream the classic tune in speakers hidden behind shrubs or that Glenn Miller's voice would boom down from Lookout Mountain. Hey, you down there: Woo, Woo, Chattanooga. 
But during my visit, no one hummed it and no venues played it, not even the Chattanooga Choo Choo Hotel and Attractions, which inhabits the old depot. And so I discovered: The 'Noog isn't tied to its tracks; the Scenic City has chugged on. Of course, I had to visit Terminal Station, but not for the obvious reason. The 101-year-old beaux-arts building has evolved into an entertainment complex with live music (upcoming shows: the Velcro Pygmies and Pigeons Playing Ping Pong), a comedy club, a vintage guitar museum and a bar that serves eight kinds of artisanal ice in its cocktails.
But then I moved on, just like the city. To the 13-mile Tennessee Riverpark along the glassy blue Tennessee. To Coolidge Park and its Old Faithful-spurting fountains. To the vertiginous Civil War site of the "Battle Above the Clouds." To downtown neighborhoods dabbed with graffiti art, scented with Indonesian cinnamon rolls and populated with rock climbers and skateboarders. On my languorous wanderings — garden snail was the average pace — I traded pleasantries with strangers. Because while Chattanooga has advanced beyond its choo-choo days, it still embraces old-fashioned Southern gentility.
Click here to read the full article.
Published by The Washington Post on Sept. 20, 2017: Written by Andrea Sachs