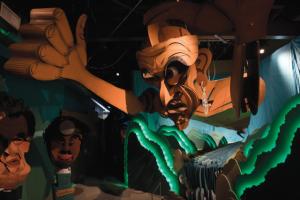 Tucked amid a row of modest storefronts, the exterior of the Tenn Arts center in Chattanooga's Southside Arts District doesn't betray the sheer magic that lives inside. Upon entering Wayne-O-Rama, you're met by the Empress of Blues — a roughly 12-foot-tall boa- and necklace-adorned cloth puppet of Bessie Smith, the early-20th-century Chattanooga blues legend. The poseable, mobile Bessie is all soft cheeks and Jazz Era flash, a burst of color to greet guests.
This outsized, candy-colored cartoon-gone-three-dimensional is the work of Chattanooga native Wayne White, the renowned multimedia artist who is known for, among many other things, his set and puppet designs for Pee-Wee's Playhouse, as well as his "word paintings," in which he positions massive block letters amid traditionally styled landscapes. His work on Pee-Wee won him three Emmys. His most famous word painting served as the cover art for Nashville indie legends Lambchop's most acclaimed record, Nixon, and he's also the subject of the widely well-received 2012 documentary Beauty Is Embarrassing.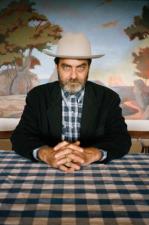 Wayne-O-Rama is the playground where White's famously vivid imagination runs amuck, a "Chattanooga history funhouse" that pays tribute to his hometown and its historical and cultural figures with equal parts deference and idiosyncratic splendor.
"I always say that the Chattanooga tourist attractions like Lookout Mountain and Ruby Falls and Rock City and things like that were my first idea of art," says White, who lives in Los Angeles. "They took landscape and history and sort of transformed it and dramatized it and made it an aesthetic. I've always said that the tourist attractions are always on my mind all through my art career, just that early childhood memory of them, so I wanted to create my own tourist attraction in Chattanooga, naturally."
The name Wayne-O-Rama — a "kinda goofy" joke that ultimately stuck — is a reference to Confederama, a Civil War attraction on Lookout Mountain that was built in 1957 and has since been renamed the Battles for Chattanooga Museum. Once guests round the corner past Bessie Smith and into the exhibit's central room, they find a large interactive sculpture of Lookout Mountain. When pressed to choose a favorite Wayne-O-Rama piece, White reluctantly admits this is the one. "When I read The Hobbit in the seventh grade, I imagined it all taking place on Lookout Mountain."
Click here to read the full article.
Published by Nashville Scene on April 6, 2017: Written by D. Patrick Rodgers