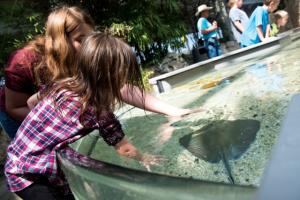 It's not hard to have a good time in Chattanooga. There's a lot of small-town charm to be found along the shores of the Tennessee River, so chances are you'll come across something interesting after just a few minutes of meandering. But if time is of the essence, or a lazy stroll doesn't interest you, here are a few of our favorite places to eat, shop, and meet a tweeting sea creature.
Shopping
1110 Market St. 
What once was an upscale outlet mall and then an almost vacant development is now bustling again. If you can afford it, Revival has the most gorgeous interior decor in town, and Amanda Pinson Jewelry is as far from Jared — thankfully — as one can get. Embellish has all the best shoes, Lines Orchids has amazing plants, and Shadowbox has the cutest stationery. Plus there's J. Crew, Anthropologie, Lululemon, Onward Reserve and the Cosmetic Market. Oh, and there's a day spa and a yoga studio if you need a break from shopping. CWG
There are too many boutiques on Frazier Avenue to list them all, but if you walk up and down the road, you'll find clothes, gifts, records and art, lots of art. For folk art and used books, check out Winder Binder; for other local art, including pottery and jewelry, try the Plum Nelly or In-Town Gallery. CWG
200 Manufacturers Road, Suite 103
Further off Frazier there's more high-end shopping, if that's your thing. Willa (near Whole Foods) and Alice Blue (in Riverview) are great, but you will not find any staff nicer in town than the employees at K, which doesn't sell the usual designer clothes — and they have really great sales, too. CWG
Click here to read the full article.
Published by the Nashville Scene on April 6, 2017: Written by Cari Wade Gervin, Megan Seling