It has been two weeks since the U.S. presidential election, but emotions are still running high. So much so that many of us may be thinking we should get away from the chatter in the neighborhood (and the office and the supermarket) to clear our heads. While we can't promise you'll escape the news, we do know where you can get a new perspective. In the spirit of unity, we're voting for a vacation to the other side.
Meaning: Democrats, think about visiting a state that tipped red this year. You too, Republicans. Head to a state that went blue. Full disclosure: we're suggesting states that are slightly more under the tourist radar, and thus, would more likely be a fresh discovery. (That's why you won't see traditionally blue states, like California and New York, for example). Now, pack up for a non-partisan vacation. You may just meet people who aren't anything like you thought they'd be. Hooray for red, white, and blue!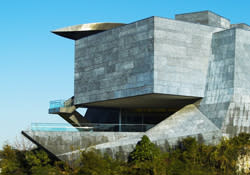 Red: Tennessee
Chattanooga, Tennessee, for those who haven't been, is an outdoor adventure mecca. Always a hub for rock climbing and hang gliding, it now has the new, three-mile stretch of the Tennessee Riverpark to thank for a boom in running. The older, 10-mile stretch meanders through wetlands and woods, while this new tract traverses a big chunk of the city's industrial heritage.
Chattanooga is becoming a southern hub for Ironman, Stumpjump, and triathlon races after hosting three previous events. They'll host the 2017 Ironman 70.3 World Championship in September 2017. 
Ready to head indoors? The imposing Hunter Museum of American Art, which sits atop a cliff, displays virtually all forms of art from colonial days to today. They often host short-term exhibits with local artists. Currently, it's Verina Baxter, who creates minimalist -- even utilitarian -- works in stone and metal. 
Chattanooga's entertainment district continues to grow with the opening of Station Street. The low-traffic street, which includes patio access to The Comedy Catch, Stir, The Terminal Brewhouse, and the Revelry Room, has a stage for regular outdoor performances. 
Where to Stay:
The Chattanoogan
Click here to read the full article.
Published by Oyster on November 22, 2016: Written by Christina Vercelletto