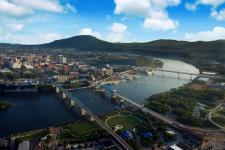 Among Tennessee cities, Chattanooga has always been overshadowed by its bigger brothers, Nashville and Memphis. It's smaller, rough around the edges, and, of course, lacks the same music industry cachét as its siblings. It also didn't help that the EPA once dubbed it "the dirtiest city in America" — a place where the air was so thick with pollutants that residents had to drive with their headlights on during the day just to see. It took decades for the city to shake that charming moniker.
Fast-forward to today and Chattanooga has quietly come into its own as a hip, progressive, ultra-green destination. For adventure-lovers in particular, it's an ideal home base with access to some of the country's best hiking, biking, paddling, and more. The town also boasts an easily walkable, bustling downtown core full of gastropubs, craft beer bars, year-round concerts and events, and direct access to the Tennessee River. Whether you're planning to relocate or just spend a weekend in Chattanooga, Tennessee, here are our favorite places to eat, play, and stay.
Click here to read the full article.
Published online by The Manual on Sept. 6, 2017: Written by Mike Richard