What's world class? Well, it's a destination in which people from all over the world actually come to just for the sports. Chattanooga and the surrounding area is home to sweet southern sandstone climbing, more Class 4 rapids than any beginner would be willing to brave on their own, a ridiculous amount of mountain biking trails, hang gliding, skydiving and home to the World Ironman Championships in 2017. Yeah, it's got some good stuff to do.
Climbing in and near Chattanooga
Let's start with right in downtown. As you can guess, Chattanooga gets hot during the summer. Cool off on your lunch break with some fun deepwater soloing on the cliffs right below the art museum. Pro tip: There is even better deepwater soloing at Nickajack Lake.
Need to escape the heat after work? Climb at High Point Climbing gym. They even have walls outside for the cooler months of the year.
You like to boulder? Check out the amazing sandstone at Stone Fort (previously named Little Rock City). You want to talk about world-class trad climbing? Sure, the New River Gorge is the first southern destination that comes to mind, but if you pass up a chance to climb at T-Wall, you're out of your mind. They've got roofs on roofs on roofs, all with bomber gear placements.
Whitewater Rafting the Ocoee River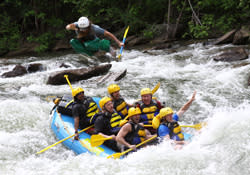 A short drive from downtown will put you on the banks of the Ocoee River. People come from all over the world to run these rapids.
Sure, they'll test your skill as a paddler, but the biggest draw of this river? The fact the rapids are always present. The river is controlled by the Tennessee Valley Authority and is not dependent on local rain or mountain runoff conditions. You can get your Class 4's all year long.
Not quite ready to tackle these on your own? There are multiple rafting companies serving the Ocoee River adrenaline needs. For a true customer-focused experience, we checked out Outdoor Adventure Rafting (OAR) where our guide personalized the trip based on our group's adventure level.
Want to stay in the boat? He could make that happen. Want to get tossed out in the middle of the rapids or "ride the bull" while eating a face full of water? He made that happen too (see above).
Don't float the river just to say you did. Make sure you get the fullest experience you could possibly want.
Ride the Trails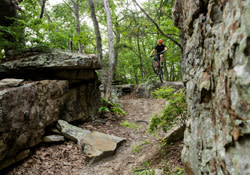 When we think of mountain biking in the east, North Carolina steals all the glory. Probably rightfully so. You don't become the most popular by only being "kind of decent." But Chattanooga absolutely deserves to be mentioned as a trail destination, as well.
Raccoon Mountain is just one area within easy driving distance from Chattanooga and has 22 miles of single track, ranging from beginner to expert. Oh, and it overlooks the Tennessee River. It's really a sight to see.
Learn to Fly
If water's not your thing and you'd rather see the rolling hills from above without the obstruction of a climbing wall in front of you, by all means, take to the air.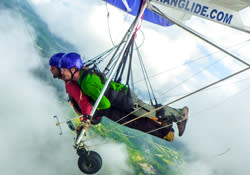 Lookout Mountain Hang Gliding will tow you up to 1,500 or 3,000 feet with a glider and then cut you and your instructor free for a float back down to earth on a hang glider.
If you're up to it, your instructor will nose dive and let you experience freefall from 2,000 feet in the air. After you've collected your stomach from your throat, you'll then get a chance to control and steer the glider yourself.
Did you get hooked? They offer certification courses so that you can fly on your own.
Need more adrenaline? Just go ahead and throw yourself out of a plane. No, really. Chattanooga Skydiving Company will take you up and drop you off. Literally.
Don't worry, you'll be strapped to a certified instructor once again, but you still get to pull the cord. As with Lookout Mountain Hang Gliding, you can also become a certified jumper and ditch the human backpack (the instructor).
Affordable Accommodations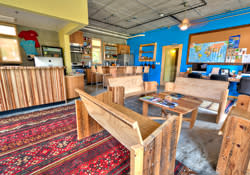 If you're a dirtbag on a budget, The Crash Pad is a modern boutique hostel and outdoor hub that offers bunks for $35 per night.
It's not Thailand, and you won't find a bungalow for $3/night, but you're also not going to find a snake wrapped around your shower head (I say that from personal experience).
As an added bonus, the Flying Squirrel is literally the next door over, and you can find delicious artisan drinks and many local craft beers on tap.
Read online here or view as PDF.