'Tis the season to go Christmas shopping. There's little time until Christmas and as the days get shorter, my list gets longer. What I need is one-stop Christmas shopping – a place where I can take care of everyone on my Christmas shopping list and not lose my mind in the process.

Enter Hamilton Place Mall, the largest shopping complex in Tennessee. With over one million square feet of retail bliss, I'm hoping to check everyone off my list by lunch. I head to the Christmas shopping Mecca around 10 a.m. to beat the crowds. A quick scan of the mall map reveals the long list of retailers. Already the task of playing Santa seems less daunting.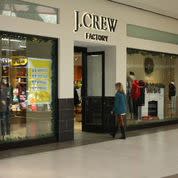 The first store to catch my eye is one of the mall's newest additions – J. Crew Factory Store. J. Crew style at a discount? Sold. Once inside, the fashion gods do not disappoint. Chunky knit sweaters, colorful socks and a kelly green wool coat immediately catch my eye (not to mention all of the 40% off signs). After some browsing (and drooling) I spot a sure bet for my mom – a rhinestone embellished chunky knit sweater ($84.50).

Next I head to the men's section, because finding a gift that any of my guys will be excited to open is my Christmas Da Vinci Code each year. A wool quilted herringbone vest ($82.60) jumps out at me for my dad, as well as a merino elbow-patch sweater for my father-in-law ($69.50). These are two big wins early in the game. So I can hardly believe my eyes when I spot merino sweaters for $50 (originally $64.50). I grab two for my brothers and do a mental happy dance.

Wanting to continue my hot streak of finding guy gifts, I head to Banana Republic. Immediately my eyes land on a marled, Italian wool sweater in plum ($108). I strongly consider getting it for my husband, who needs a little help in pushing the style envelope. I settle on a navy herringbone blazer instead for stylish practicality ($198).

With the men checked off my list, I happily drift over to the women's section. In a moment of divine giftervention, I spy a black, faux fur neck scarf ($79.50). It's surprisingly easy to wear and perfect for my fashion-forward sister-in-law. I resist the urge to buy one for myself… barely. A drop-waist black and white striped dress calls to me for my other sister-in-law, but at $140 I force myself to keep looking.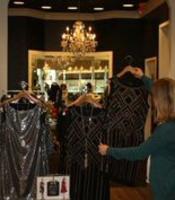 Leaving Banana Republic, I spot another new store at Hamilton Place – Sienna & Bellini. I'd seen the billboards around town so decided to pop in. Boy, am I glad I did. Virtually everything in the store is under $50 (besides outerwear and few specialty items) and it's one size fits most! Surrounded by clothes that are affordable and easy to fit makes me feel like I just entered Christmas shopping nirvana. A pair of leopard print jeans ($59.95) catches my eye for my other sister in law. Although she's five inches taller than me, I must try them on. You know, research. They're perfect for me, uh, I mean her.

While I'm here, I can't resist trying on the store's top seller – the Wanda pant ($35.95). They wear like workout pants but have pockets and just enough sheen to be dressy. Plus, the super stretchy fabric is not a bit see-through. I decide they must come home with me as a reward for all my hard work.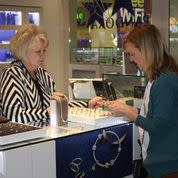 Next up on my list is my mother-in-law. I head to Pandora in search of something sparkly. While known for their bracelets, the earrings spark my interest. The posts are a mere $10 and you can add any charm you like, ranging from $25 to $525. I opt for the Midnight Star charm – a faceted clear stone with a row of pave-set CZ down the middle ($80).

I have one more sister-in-law on my list, and Sephora is calling my name. I opt for a mini-makeover – this gift giving business is hard work – and my holiday eye circles vanish thanks to Marc Jacobs' Re(Marc)able Concealer ($32) and Urban Decay's Naked Eye Palette ($54). With 12 universally flattering neutral shades, it's a clear winner for my final gift.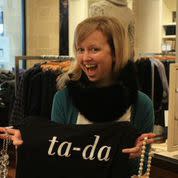 Leaving the mall, White House | Black Market draws me in with a divine peplum leather jacket ($450). I put it on my mental wish list and vow to drop numerous hints to the hubby. Surrounded by sparkly, pretty things I decide I may need a little something for all those holiday parties. A Gatsby-inspired LBD (little black dress) is an instant favorite, embellished with metallic studs ($140). Packages in hand, I head to the food court for a celebratory lunch. The taste of victory is sweet.
Visit Hamilton Place for more information.