The Patten Performances series was inaugurated by the University of Tennessee at Chattanooga in 1980 as the Dorothy Patten Fine Arts Series, in honor of one of Chattanooga's most famous performing artists. Ms. Patten appeared in over 30 Broadway plays, countless touring and summer stock productions, television shows and the movie Botony Bay , with Alan Ladd and James Mason.
The series celebrated the opening of the then-new UTC Fine Arts Center and continues to bring nationally and internationally renowned artists to the University community and the Chattanooga area. Over the years the Fine Arts Center has hosted the finest talent in music, dance and theater, including Dave Brubeck, Isaac Stern, Wynton Marsalis, BeauSoleil avec Michael Doucet, Bill T. Jones/Arnie Zane Dance, Ramsey Lewis, Ladysmith Black Mambazo, Pilobolus Dance Theatre, Dave Mason, The Tokyo String Quartet, Complexions Contemporary Ballet, the Vienna Boys Choir, The Acting Company, Diavolo, and SFJazz Collective, among many, many others.
In keeping with its mission to present the highest quality artists available, this season includes performances from GRAMMY-winners Rosanne Cash and Eighth Blackbird; Parsons Dance, British stage, screen, and TV actor Julian Sands; and Squonk Opera.
Click here to learn more about the Patten Performances at the UTC Fine Arts Center.
2016/2017 SEASON LINEUP
ROSANNE CASH
Friday, September 16, 2016
7:30pm
One of the country's pre-eminent singer/songwriters, Rosanne Cash has released 15 albums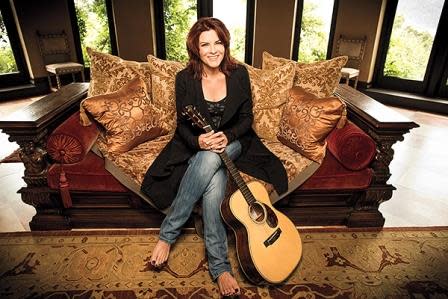 of extraordinary songs that have earned four GRAMMY Awards and nominations for 11 more, as well as 21 top-40 hits, including 11 No. 1 singles. She is also an author whose four books include the best-selling memoir Composed, which the Chicago Tribune called "one of the best accounts of an American life you'll likely ever read." Her essays have appeared in The New York Times, Rolling Stone, the Oxford-American, the Nation and many more print and online publications. In addition to continual touring, Cash has partnered in programming collaborations with the Minnesota Orchestra, Lincoln Center and San Francisco Jazz. She completed a residency at the Library of Congress in December 2013.
She was awarded the SAG/AFTRA Lifetime Achievement award for Sound Recordings in 2012 and received the 2014 Smithsonian Ingenuity Award in the Performing Arts. She was chosen as a Perspective Series artist at Carnegie Hall and will host four concerts (including a major show of her own in February) during their 2015/16 season. She also served as 2015 Artist-in-Residence at the Country Music Hall of Fame and Museum in Nashville. She performed three concerts there in September. On October 11, 2015 she was inducted into the Nashville Songwriters' Hall of Fame.
Cash's landmark 2009 album, "The List," won the Americana Music Album of the Year award. In her latest release, "The River and the Thread," a collaboration with husband/co-writer/producer and arranger John Leventhal, Cash evokes a kaleidoscopic examination of the geographic, emotional, musical and historic landscape of the American South. The album has received impressive worldwide acclaim and attained the highest debut in the Billboard charts of any of her previous albums. It received 3 Grammy Awards earlier this year.
PARSONS DANCE
Tuesday, November 1, 2016
7:30pm
Parsons Dance is a New York City-based modern dance company, internationally renowned for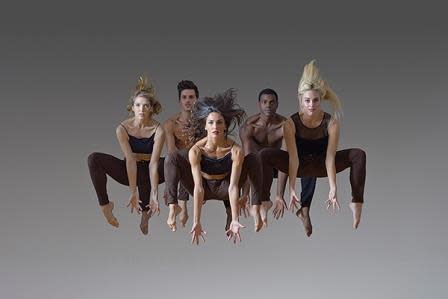 creating and performing contemporary American dance of extraordinary artistry that is accessible and enriching to diverse audiences. Founded in 1985 by artistic director David Parsons and Tony Award-winning lighting designer Howell Binkley, Parsons Dance is known for its energized, athletic, ensemble work, and has collaborated with iconic artists across all disciplines including Billy Taylor, Milton Nascimento, Allen Toussaint, William Ivey Long, Donna Karan, Annie Leibovitz, and Alex Katz. The sexy, athleticism, exuberant personality and joyous movement that is Parsons Dance is comprised of eight full-time dancers and maintains a repertory of over 80 works (20 with commissioned scores) choreographed by David Parsons. The company's style is a fusion of the gesture and movement that make up the modern dance vocabulary, and the discipline and precise execution one expects from a classical company.
The company has toured to more than 383 cities, 22 countries and 5 continents for the most notable theaters, festivals and presenters worldwide including The Kennedy Center for the Performing Arts, Maison de la Danse, Teatro La Fenice and Teatro Muncipal do Rio de Janeiro. New York Magazine called Mr. Parsons "one of modern dance's great living dance-makers."
JULIAN SANDS in A CELEBRATION OF HAROLD PINTER
DIRECTED BY JOHN MALKOVICH
Tuesday, January 24, 2017
7:30pm
British actor Julian Sands is frequently seen world-wide in films, on stage, and on television.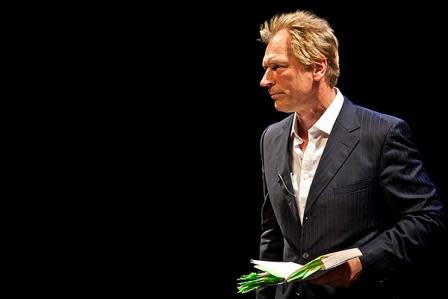 He trained in London at The Central School of Speech and Drama and has appeared in over 100 films including; The Killing Fields, A Room With A View, Impromptu, Leaving Las Vegas, Arachnophobia, Oceans 13, and The Girl With the Dragon Tattoo. On television, he is best known for his role on 24 but has also been seen on Dexter, Smallville, Ghost Whisperer and Banshee.
In 2005, Sands was approached by the Nobel Prize winning playwright and poet Harold Pinter to prepare a selection of his poems for a special presentation in London. Pinter "apprenticed" Mr. Sands, spending hours sharing his feelings on how his work should be delivered. Every pause, every nuance in tone, had, and has meaning. A bond was established between these two artists- one that gives a distinctive and very personal voice to Pinter's words. This extraordinary collaboration became the foundation for a wonderfully rich, humorous, and fascinating solo show directed by John Malkovich- A Celebration of Harold Pinter.
Performances at the Edinburgh Festival in 2011 and in New York at The Irish Repertory Theatre were followed by engagements at Steppenwolf in Chicago, Herbst Theatre in San Francisco as well as in Los Angeles, Mexico City, Budapest, London, and Paris.
This is an evening of Homeric theater with an extraordinary actor, great words, and an audience. Devoid of pretension or glittery trappings, A Celebration of Harold Pinter gets to the soul of the man- poet, playwright, husband, political activist, Nobel winner, mortal. A Celebration of Harold Pinter was nominated for a 2013 Drama Desk Award.
EIGHTH BLACKBIRD
Monday, February 6, 2017
7:30pm 
Eighth Blackbird's "super-musicians" (Los Angeles Times) combine the finesse of a string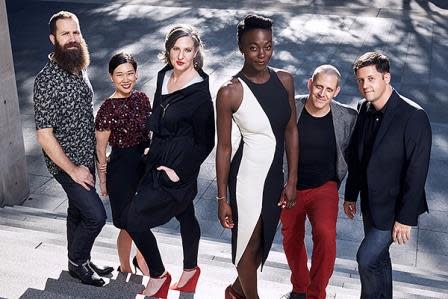 quartet, the energy of a rock band, and the audacity of a storefront theater company. The Chicago-based, four-time GRAMMY Award-winning sextet celebrates its 20th anniversary in 2016: two decades of performing for audiences across the country and around the world with impeccable precision and a signature style.
A winner of the 2016 MacArthur Award for Effective and Creative Leadership, eighth blackbird has been described as "one of the smartest, most dynamic contemporary classical ensembles on the planet" (Chicago Tribune). The group began in 1996 as a six entrepreneurial Oberlin Conservatory students and quickly became "a brand-name…defined by adventure, vibrancy and quality….known for performing from memory, employing choreography and collaborations with theater artists, lighting designers and even puppetry artists" (Detroit Free Press).
Over the course of two decades, eighth blackbird has commissioned and premiered hundreds of works by dozens of composers including David T. Little, Steven Mackey, Missy Mazzoli, and Steve Reich, whose commissioned work, Double Sextet, went on to win the Pulitzer Prize (2009). A long-term relationship with Chicago's Cedille Records has produced seven acclaimed recordings and four impressive GRAMMY Awards for Best Small Ensemble/Chamber Music Performance: for strange imaginary animals (2008), Lonely Motel: Music from Slide (2011), Meanwhile (2013), and Filament (2016).
SQUONK OPERA
Tuesday, April 11, 2017
4:00 pm - 6:30pm - 8:00 pm
at Historic Engel Stadium
Squonk Opera created their first show in a Pittsburgh junkyard over 20 years ago, with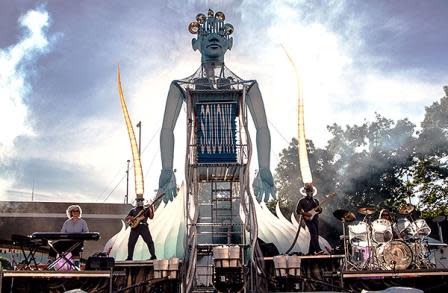 choreographed cranes and roaring earthmovers and screaming machine shears. Composer Jackie Dempsey and artist Steve O'Hearn work with an ensemble of 10-20 artists to create post-industrial performances with original music, design, and staging, outside the rules of mass culture, fashion or academia.
Squonk's artists develop work that attacks and celebrates the idiosyncrasies of our world while striving to create work that is accessible and transformative. Squonk has played on 3 continents and in over 25 states. The Buffalo News hailed them as "Rust Belt dada" and the Washington Post described them as "Debussy meets Godzilla," although they say they suspect that last one may have been an insult. Often overblown, site-specific and participatory, Squonk Opera's work was born from Middle America, places where people like their art boisterous and their food greasy. Their work is too ambiguous for pop culture, and too easily appreciated for fashionistas to flaunt their sophistications. They do not claim to create haute cuisine…rather, peasant food that uses available ingredients in witty and shameless ways.
Their first major commission came in 1995 to create Night of The Living Dead: The Opera, from Marc Masterson. During a NYC stint ofBigsmorgasbordwunderwerk in 2000, they were critical darlings at Public School 122 for 3 months when The New York Times critic Ben Brantley called it "ingenious, hallucinatory, hypnotic" after which the performance was transferred to Broadway for 2 months where it received an American Theater Wing Award. Squonk Opera has since created eleven original productions and has performed in more than 250 venues across the United States. Squonkumentary, a film about our time in NYC, was produced by independent filmmaker Peggy Sutton in 2005. Sqounk Opera is a grant recipient of the National Endowment for the Arts, and receives support from the Doris Duke Charitable Foundation, the Rockefeller Foundation, the Jim Henson Foundation, the Heinz Endowments, the Buhl Foundation, Grable Foundation, and Pittsburgh Foundation. They appeared in season six of the NBC reality show America's Got Talent, making it to the top 48 and performing live for 14 million viewers.
Squonk Opera will be bringing Pneumatica, an outdoor event about air, made of air, and powered by air. The Squonkers pump up the volume with live original music that permeates the air, while inflatables pump up and immerse the audience. The performances, interspersed with workshops in a festival setting, will be held at Historic Engel Stadium during the afternoon and evening, a first for the Patten series.