WHERE TO STAY:
The Scenic City has myriad options but if you're staying a while, consider either renting a cabin or checking out the many B&Bs downtown. Most offer a 10% discount per night for weeknight stays (search "Bed and Breakfast" on our Accommodations page for coupons.)
WHAT TO DO: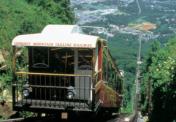 You simply can't spend a week in Chattanooga and
not visit the Tennessee Aquarium and at least one (or all) of the Lookout Mountain attractions (Rock City, Incline Railway and Ruby Falls).

Other top TOURIST choices:
    •    A rivercruise allows you to see the city from a different angle.
    •    The Hunter Museum of American Art and a stroll through the Bluff View Arts District is a creative way to rekindle your romance.
    •    The Chattanooga Market is held each Sunday (April – November) and named one of Frommer's top 10 public markets.
    •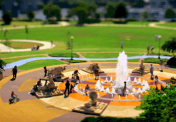 Coolidge Park features a water play fountain, 100-year-old carousel, and ice cream and doughnut shops. Get there from downtown via the Walnut Street Bridge, one of the longest pedestrian bridges in the world.
    •    A sidewalk tour or a ride on Chattanooga's Double Decker offers the perfect overview of the city.
    •    The more adventurous might consider a ghost tour, named one of the top 10 in the nation by Trip Advisor. 

INSIDER TIP: Many hotels offer package deals for local tourist attractions. If renting a cabin or home, check out Chattanooga Packages to create your own deal. If possible, time you trip with one of Chattanooga's awesome events.
    •    4 Bridges Art Festival (April) is one of the nation's top fine art fairs, attracting nearly 150 artists from across the country.
    •    Nightfall (May – September) is a FREE outdoor concert series held rain or shine every Friday night starting May 11. Organizers seek local, regional and national acts that are on their way to greatness. Former bands include Alison Krauss, Carolina Chocolate Drops and Bela Fleck.
    •    A Chattanooga Lookouts baseball game (April-September) is the perfect way to unwind on a warm spring or summer night.
    •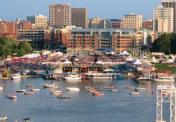 Riverbend (June) is Chattanooga's premier outdoor concert series. Spanning eight days and five stages, this riverfront festival features everyone from national headliners to local acts. 
    •    River Rocks (October) is a 10-day festival highlighting all of Chattanooga's outdoor offerings. In a word: HUGE. Events down by the riverfront include concerts, hot air balloon rides and the RiverRocks Finale. But, the event also partners with local organizations to offer guided hiking and canoeing tours; events like Wine Over Water; and myriad bike, boat and trail run races.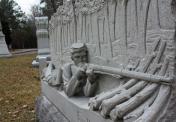 History buffs will have a heyday in Chattanooga, the site of two crucial Civil War battles and origin of the Trail of Tears.
    •    Travel back in time at Chickamauga Battlefield. A 20-minute movie, cell phone audio tour and park ranger guided tour are all free. Guided tours are at 10 a.m. and 2 p.m. (every day during spring and summer; weekends in fall and winter)
    •    Walk the grounds of the "Battle Above the Clouds" at Lookout Mountain's Point Park. Besides beautiful views and picnic spots, the Visitor's Center houses a large mural by James Walker, an eyewitness to the battle in 1863.
    •    Several Civil War sites are clustered downtown near the riverfront. Pick up a Civil War Trails map from the Chattanooga Choo Choo hotel or access online, then look for the interpretive markers.

Outdoor types are drawn to Chattanooga for its world-class rock climbing, hang gliding, hiking, whitewater rafting and more. Here are a few happy trails:
    •    Enterprise South Nature Park offers 2,800 acres of hiking and biking opportunities (both on- and off-road). Pack a picnic and make a day of it. Deer, turkeys and other wildlife are a common sight.
    •    The Bluff Trail on Lookout Mountain combines scenery and history. Start at Covenant College and hike to the Craven's House, a Civil War-era home used as headquarters for both armies (5 miles).
    •    Mullins Cove Trail from Snooper's Rock to Indian Rock House is within 25 minutes of downtown and offers one of the best views of the Tennessee River Gorge, aka "Tennessee's Grand Canyon" (4 miles).

Since you're staying a week, consider a day trip to uncover several "hidden gems" surrounding Chattanooga:
    •    Ocoee, TN is a must-see for adventurous couples. Whitewater rafting on the Ocoee River is the most popular draw, offering five miles of Class III and IV rapids. Ocoee Zipz adds to the adrenaline-pumping fun with a one-mile zipline through the trees, where you can catch glimpses of local wildlife and the mighty Ocoee River.
    •    Just an hour south of town, Barnsley Gardens Resort offers a world-class golf course, European-style spa, horseback riding, sporting clays, hunting and more. You don't have to be a guest to enjoy the amenities, but at least 24 hours notice are needed for anything other than the garden tours. While you're there, stay for dinner at one of the resort's fine dining restaurants (reservations needed for dinner).
    •    The campus of Sewanee: The University of the South is worth a tour for its gothic architecture amid old growth trees. Outdoor orchestra concerts are held throughout June and July as part of the Sewanee Summer Music Festival.