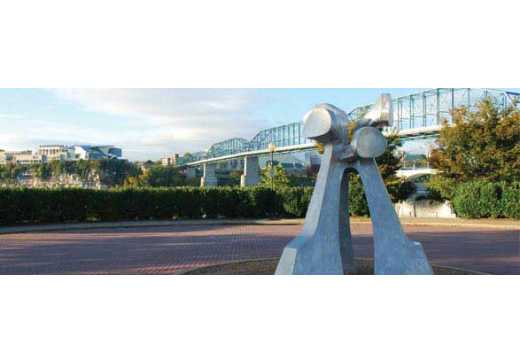 Voted #2 Top Arts Destination for Mid-Sized Cities by American Style magazine, Chattanooga is quickly giving new meaning to our moniker as the Scenic City. We rounded up three days' worth of must-sees, but feel free to stay longer for true creative inspiration. Grab your brush, it's time to paint the town cadmium red.
1 Day
Morning: ?Your first stop in the Scenic City needs to be the city's oldest, most revered art museum, affectionately known as the Hunter. Started in the 1950's, it honors some of America's finest artists including Mary Cassatt, Winslow Homer and Fitzhugh Lane. The Hunter Museum of American Art's buildings are almost as interesting as their contents, including an antebellum home on one side and steel sculptural building on the other. Both are perched high above the Tennessee River, offering impressive views from expansive back decks.


Afternoon: Stroll through the River Gallery Sculpture Garden – the city's first outdoor art museum. Winding through perfectly manicured grounds and offering bird's eye views of the river, it's been recognized by the Smithsonian and is one of only 195 sculpture gardens named in a worldwide directory. Once you're thoroughly inspired, pop into the gallery that manages the gardens, the River Gallery. The little house is overflowing with glass, pottery, oils, photography and sculpture from regionally and nationally acclaimed artists. You don't have to go far for lunch. Tony's Pasta Shop & Trattoria is right around the corner, as well as Rembrandt's Coffee House and Back Inn Café. All are owned by the same family and offer outdoor dining surrounded by sculpture and beautiful views.

Evening:

Before the sun sets, take the walking public art tour of downtown. Head across the blue, frosted glass bridge in front of the Hunter and down 1st Street, where the grassy knoll of a downtown condo doubles as another sculpture garden. Follow the map to see all of downtown's outdoor art, or head straight to Ignis Glass Studio to blow your own glass ornament. Owner Christopher Mosey is a well-known glass artist with his own gallery in the back. Finish the evening with a meal from one of downtown's culinary artists, such as Erik Niel at Easy Bistro or Nathan Lindley at IL PRIMO.

2 Days
Morning: The Southside is literally a hotbed of creativity, so expect to spend all day perusing this beautifully offbeat neighborhood. You can start the morning with a workout at the urban art fitness park, Main Terrain Art Park – the only known one of its kind. The short track blends outdoor workout stations (think, trapeze rings and chin-up bars) with art, such as four seasonally inspired haiku poems embedded in the track and an industrially inspired bridge sculpture in the middle. Once you've worked up an appetite, walk across the street to the Chattanoogan Hotel's Broad Street Grille, which always has an artistically arranged breakfast buffet.

Afternoon: Next you'll want to hit the myriad art galleries of the Southside. Stop at Area 61 for anything from busts made of melted records to fine bronze sculptures. They also have the area's best hand-hewn wooden furniture. The HART Gallery across the street features works by homeless and other non-traditional artists, offering them a chance to sell their wares and hopefully create a new life. If you're feeling crafty, pop in next door at Planet Altered. In addition to a fair-trade shop in front and art gallery in back, there's always a craft of the week that you can do for around $2. TheSouthside Stroll is a great way to uncover all of the Southside's hidden storefronts, but it only occurs the last Friday of the month. Check their Facebook page for participating merchants if you need to check them out on your own time.

Evening: By now you've probably noticed a sculpture or two in the middle of the sidewalk. If you're looking for a pre-dinner promenade, walk the length of Main Street (from Main Terrain to Niedlov's) to see all of them. To cap off your Southside evening, grab dinner and drinks at one of the neighborhood's hottest new spots – the Flying Squirrel. The drink and food menus are equally adventurous, such as duck confit tacos and buffalo balls paired with a watermelon old fashioned featuring Chattanooga Whiskey or The Opportunist (gin, lime, habanero ginger syrup).

3 Days +
Morning: You'll want to spend your third day on the Northshore, another hot spot for local talent. But, start your journey downtown so you can walk across the iconic Walnut Street Walking Bridge, which offers views that would inspire even the least creative. If it's springtime, look below at the Coolidge Park lawn to see if you can catch Hollie Berry creating one of her "dew"dles. Using her feet and an empty paint roller, she creates animals of monumental scale in her rare grass graffiti.

After your trek across the bridge, reward yourself with breakfast at Julie Darling Donuts, which offers creative concoctions such as pancakes and bacon, Granny's apple pie and key lime. Then continue burning calories with a stroll down Frazier, checking out the public art installations. Art is so engrained on the Northshore they even have it embedded in the sidewalk.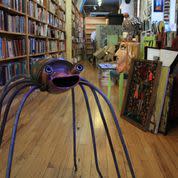 Afternoon: Art galleries are in abundant supply. Most are sprinkled down Frazier, including Plum Nelly, Winder Binder Gallery and Bookstore, Blue Skies and In Town Gallery (one of the nation's oldest cooperative art galleries). The Association for Visual Arts, or AVA,also hosts shows in its front gallery, which highlights local talent. If you continue all the way down Frazier and onto Manufacturer's Road, you'll stumble upon Knitting Mill Antiques. Not only are the countless booths worth perusing for vintage art or furniture, it's also where Mole Hill Pottery calls home. If hunger strikes while shopping, visit the adjoining restaurant, Food Works. Be warned – their weekend brunches are extremely popular. There are several other great lunch spots back on Frazier, such as Good Dog and River Street Deli, but before you leave check out the 2 North Shore complex for some of the city's best boutiques.

Evening: Round off the evening with artists who work with a different palate. Olive Chattanooga offers olive oil and balsamic tastings from around the world. If you still have room, enjoy Cuban cuisine at Embargo '62.

SPECIAL EVENTS: There are so many art-centric events in Chattanooga, chances are good your trip will coincide with one of them. Check below for a highlight or visit Arts Build calendar of events for more details.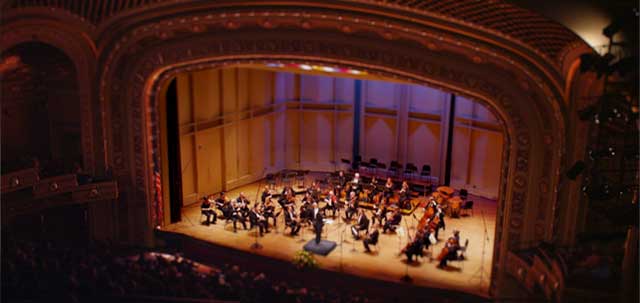 The Chattanooga Market, Sundays 11-4, April-December
Live music, artisan food and vendors offering photography, jewelry, woodworking, clothing and more.

Chattanooga Symphony and Opera, Various Dates
Formal concerts at the Tivoli plus numerous community events throughout the season

4 Bridges Art Festival, April 12-13, 2014, Recognized by the New York Time, this premiere festival attracts approximately 150 artists and 12,000 attendees.

Chattanooga Theatre Center, Various Dates
Celebrating 90 years, the Chattanooga Theatre Center is local theatre at its best.
Scenic City Roots, Monthly A two-hour variety show held at Track 29 that revives the legacy of live musical radio production
Riverfront Nights,August-September
Free concert at Ross' Landing highlighting local people, healthy lifestyles and great music
Wine Over Water, Fall Tennessee's premiere wine-tasting festival held on the historic Walnut Street Bridge
MAINX24, December
A 24-hour festival celebrating the uniqueness of Main Street and the surrounding Southside