Bluegrass is the soundtrack of Appalachia. This music is embedded in the very DNA of Chattanooga and our history. From regularly featured bluegrass music at restaurants, to festivals surrounding the genre, Chattanooga loves bluegrass! 
Open Mic Night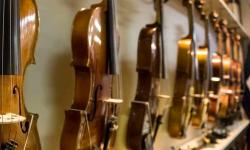 Fiddlers Anonymous
Every Monday, 7-10pm
If you can't help but tap your foot when your hear Bluegrass, you might have what it takes to pick the banjo yourself! Fiddlers Anonymous not only offers music lessons and concerts, but on Monday nights, the stage is dedicated to those who would like to give it a whirl themselves! 
Bluegrass Thursdays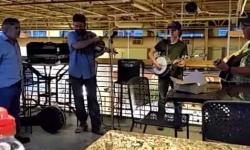 Whole Foods Market
Every Thursday, 6:30-8:30pm
Whole Foods is a great place to enjoy healthy wholesome foods without the guilt. On Thursday evenings, on the second floor, you can check out local bluegrass bands in a unique setting overlooking the entire store. Shop, eat and listen at Whole Foods' Bluegrass Thursdays!
Bluegrass Thursdays

Feed Co. Table & Tavern
Every Thursday, 7:30-9:30pm
Local and regional bluegrass acts are featured Thursday nights at the Feed Co. In addition to great live music, Feed Co. brings farm fresh food to your table. Inside, you will find a lively bar complete with a selection of 32 craft beers, a large cocktail menu, and an arcade. If you are looking for a fun night out complete with bluegrass and brews, the Feed Co. hits just the right note.
3 Sisters Bluegrass Festival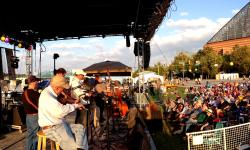 Downtown Chattanooga Riverfront
October 5-6 
You know what they say - when you hear banjos, run faster to the 3 Sisters Bluegrass Festival! The Scenic City is quickly becoming a music destination for people from all corners of the world. Year after year, 3 Sisters brings the biggest names in bluegrass to Chattanooga. This unique festival is truly one you will not want to miss!
Boxcar Pinion Forever Bluegrass Festival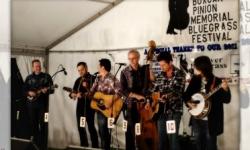 Mountain Cove Farms
May 3-5
What better place for a bluegrass festival than the landscape that inspired the music brought here so many years ago? Mountain Cove Farms is nestled along the rolling hills of Appalachia. Along with the scenic beauty and music, there will be local food and beverage vendors on-site. Come on out and enjoy the beauty of Appalachia with some down-home bluegrass.
Fireside Concert Series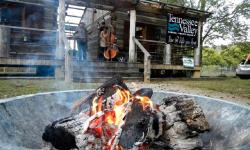 Greenway Farms Park
Thursdays in October, 7-9pm
Gather round the fire, roast some marshmallows, bring a picnic dinner and enjoy the music! Fireside at Greenway Farms is the perfect way for you and your family to enjoy a beautiful fall evening. The music will start at 7pm on a stage located on the porch of the Sniteman Log Cabin behind the gardens. 
Ketner's Mill Fair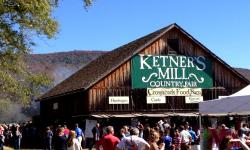 658 Ketner Mill Lane
October 20-21
Ketner's Mill Country and Arts Fair is the ideal place to embrace the southern way of life. From the wonderful bluegrass music to the locally made jams and pies, Ketner's Mill is sure to be a great time for the whole family.
River City Sessions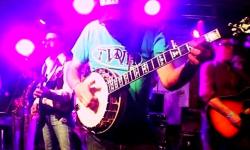 The Granfalloon
Second Thursday of Every Month, 7:30pm
River City Sessions is a celebration of southern culture and music. Every month, musicians, poets, and story tellers come together to bring the charming spirit of Appalachia to life. 
Great Southern Old Time Fiddlers' Convention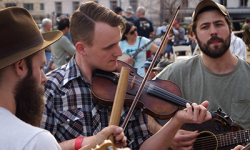 901 Lindsay
March 10, 12-9pm
This Chattanooga tradition is a one-of-a-kind event. The best fiddle players from all around the country come to play completely acoustic sets of that old-time fiddle and banjo music. There will be dancing, singing, and delicious food...so come on out!

Famous Chattanooga Bluegrass Artists
 
Norman Blake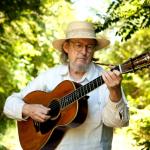 Norman Blake, who is considered to be one of the leading musicians of the bluegrass revival of the 1970's, has experienced tremendous success throughout his career. Blake has toured with Johnny Cash, performed on Bob Dylan and Alison Krauss albums, and was featured in the soundtrack for the movie, O Brother, Where Art Thou?