Chattanooga has many amazing festivals all throughout the year for those who love music, art, wine, beer, and good food. Here are some of the favorite and most popular to plan for in the year ahead.
4 BRIDGES ART FESTIVAL
As spring begins to make its presence in the Scenic City, artists from all over the country make their way to the First Tennessee Pavilion in downtown Chattanooga for the Four Bridges Art Festival (April 20-22) to share their beautiful creations. In 2018, the festival will celebrate its 18th year. In 2016, the festival was named one of the "PRIME 50" Fine Art Fairs in the U.S. by Art Fair Sourcebook, so you won't want to miss it. The festival features over 150 artists and a variety of mediums including paintings, glasswork, pottery, jewelry, textiles, sculpture, and much more.
RIVERBEND FESTIVAL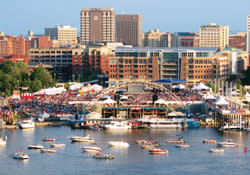 The Riverbend Festival (June 8-16), or simply Riverbend by locals, was started in 1982 and will celebrate its 36th year in 2018. More than 350,000 people attend this eight-day music festival that takes place on five stages in downtown Chattanooga along the banks of the Tennessee River. The festival got its name because of the bend in the Tennessee River is visible as you are coming into Chattanooga from the East. Music offerings from nearly 100 artists will include everything from classic rock, to country, urban, and bluegrass with plenty of food and activities ending with one of the largest fireworks displays of the year. Mark your calendars for June 8-16.
POPS ON THE RIVER
Celebrate Independence Day in the Scenic City with the Chattanooga Symphony & Opera (CSO). The CSO's performance will include a number of patriotic and traditional pieces culminating with a spectacular fireworks display. Pack a picnic basket, blanket, chair—maybe even a swimsuit—and find the perfect spot on the lawn of Coolidge Park located near downtown on Chattanooga's North Shore. Come early to enjoy this delightful downtown park featuring a restored 100-year-old carousel and interactive play fountain all nestled beside the beautiful Tennessee River. Admission is free.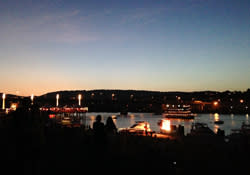 SOUTHERN BREWER'S FESTIVAL
The Southern Brewer's Festival will celebrate its 24th year in 2018 and has become a summer tradition in Chattanooga. This unique festival showcases more than a hundred handcrafted micro brews from all over the South. Enjoy great beer, live music, and food at Ross's Landing on the banks of the Tennessee River in downtown Chattanooga.
3 SISTERS BLUEGRASS FESTIVAL
For more than 10 years, the 3 Sisters Bluegrass Festival (Oct. 5-6) has been bringing some of the best bluegrass talent to the Scenic City. Pack a picnic basket, blanket, chair, and find the perfect spot along the Chattanooga Riverfront. Admission is free. Stay tuned for the full lineup to be announced in September.
WINE OVER WATER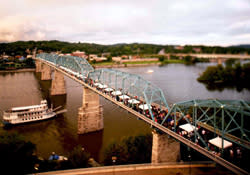 For over 20 years, Wine Over Water (Oct. 6) has become a premier festival for food and wine lovers alike. Enjoy over 100 different varieties of wine from all over the world as you stroll across the beautiful, historic Walnut Street Bridge overlooking the Tennessee River. Throughout the festival, some of Chattanooga's most prestigious chefs offer food demonstrations and samples that pair perfectly with the wines. Guests will also enjoy regional musicians playing everything from jazz to bluegrass and many Chattanooga hotels offer special rates for WOW guests.
Photo credit: Wes Talley, Shannon McGee & Chattanooga Tourism Co.