With a growing culinary scene, Chattanooga is becoming a destination for foodies - especially for dessert lovers. With a variety of sweet treat shops to check out, you are destined to find the perfect cookie, pastry, or ice cream cone as you explore the Scenic City. Satisfy your sweet tooth and indulge at some of Chattanooga's top dessert spots.
MoonPie General Store
Chattanooga's quintessential dessert, the MoonPie was popularized in the 1930's as the "working man's lunch." The marshmallow and chocolate dessert now comes 15 different ways including mint crunch, vanilla, and peanut butter. Head to the MoonPie General Store for free tastings, pies by the box, and other MoonPie merchandise and memorabilia.

Julie Darling Donuts

Round out your holiday cravings with a circular treat from this Northshore donut shop. Flavors like pumpkin spice, red velvet, and spice cake are available seasonally as well as perennial favorites like Granny's apple pie, banana pudding, and key lime pie.

Clumpies Ice Cream Co.
If you're looking for some of the best handcrafted ice cream made right here in Chattanooga, look no further than Clumpies Ice Cream Co. They've been churning small-batch speciality ice cream since 1999, and they don't have plans to stop anytime soon. Enjoy some of their classic flavors like Coffee Toffee and Butter Pecan, or be adventurous and try one their specialty flavors that rotate seasonally like Salted Watermelon or Oatmeal Apple Butter. 
The Ice Cream Show
Even in cool weather, sometimes only ice cream will do. And at Ice Cream Show, you have roughly 17,000 flavor options. Start with an ice cream or fro-yo base, then select from over 40 fresh ingredients, from fresh fruits to chunks of chocolate chip cookie dough. You can also warm up with gourmet coffee direct from their Seattle roaster.
Milk and Honey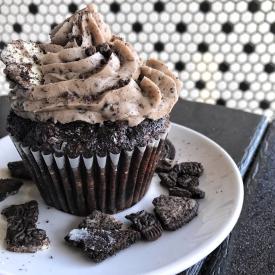 While known for their homemade gelato and popsicles, Milk and Honey's countertop is crammed daily with other sweet treats, from morning muffins, to scones, to salted chocolate chip cookies. Pair your favorite indulgence with some of their craft coffee, or try one of their caffeine-infused gelato flavors like Dirty Chai or Guinness Espresso. Make it a meal by starting with a hearty offering from their breakfast or lunch menu.
Rembrandt's Coffee House
A beautiful French stucco covered in vines houses one of Chattanooga's most famous dessert places. Three spacious glass cases are filled with cheesecakes, tortes, croissants, scones, éclairs, specialty chocolates and more – all made in house daily at the Bluff View's chocolate and pastry kitchens. In addition to coffee roasted literally across the street, Rembrandt's offers soups, salads and sandwiches on bread also baked onsite.
The Hot Chocolatier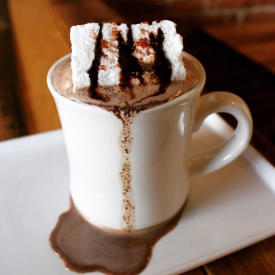 If you're craving European-inspired gourmet chocolates and truffles, a visit to The Hot Chocolatier is a must. Located on the Southside directly across from the Chattanooga Choo Choo, the Hot Chocolatier has been serving up a variety of locally crafted sweets and treats since 2008. Warm up with one of their famous hot chocolates or grab a freshly baked cookie, macaron, or cake from the pastry case before you stroll down Station Street.
NoBaked Cookie Dough 
There's nothing better than batter according to NoBaked Cookie Dough. From flavors like Red Velvet and Snickerdoodle to the classic Chocolate Chip Cookie, this is the perfect place to satisfy your sweet tooth. Come check it out on the North Shore before (or after) a walk across the Walnut Street Bridge or stroll around Coolidge Park.