Around this time each year, mysterious shapes begin emerging in Chattanooga corn fields. Hold off on calling Agents Scully and Mulder. These intricate designs aren't the work of extraterrestrial beings, it's just corn maze season in Chattanooga.
Enchanted Maize (Closed for 2020 Season)
271 Chattanooga Valley Road, Flintstone, Ga.
706-820-2531

Locating the Enchanted MAiZE at Blowing Springs Farm is easy. It's at the foot of Lookout Mountain about 10 minutes from downtown. Finding your way out of the corn-fusing maze…well, that's another story. Thousands have gotten lost along the winding green paths since Rock City opened Enchanted MAiZE in 2002, which takes about an hour to complete. (There's a shorter version for small children or short attention spans).
But corn isn't the only thing happening at this Flintstone farm. The Critter Corral allows you to get up close and personal with Jerusalem donkeys, an Alpaca, potbellied pigs, a miniature Scottish Highland cow, sheep, goats, ducks and more. Hayrides and a Kid's Cow Train regularly tour the property, and a Coca-Cola playground and Infatables will keep the little ones contented.
On Saturdays and Sundays, you can paint your face with a Fairyland Forest Makeover or paint a pumpkin. Want to see corn fly? Try the Corn Slingshot. Barbeque, pizza and freshly made kettle corn is just a sampling of the delicious fare found at the concession stand.
At night the setting goes from bucolic to bloodcurdling with Blowing Screams Farm, which features the world's only 3-D Haunted House and Ghost Ride. Open every Friday and Saturday night in October, this terrifying trail features two haunts: a self-guided tour through the woods and the Ghost Ride, which includes a hayride and a self-guided tour through the corn field. Unlike the maze, this attraction is not kid-friendly and strongly discouraged for kids under12 Enchanted MAiZE is open Thursday through Sunday from September 19 to October 27 (times vary depending on the month, so check the website).
 
Old McDonald Farm
16705 Coulterville Road, Sale Creek, TN 37373
423-531-CORN (2676)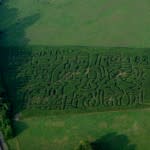 Located in Sale Creek (about a half hour from downtown), this sprawling estate only recently opened to the public, but you'd never believe it by looking at it. Pumpkin patch hay rides, gem mining, a petting zoo, corn cribs, a hay-bale maze, a pumpkin slingshot and six-and-a-half acre corn maze make up this family friendly attraction. There's even a Calf-A (say it out loud…get it?) serving up delicious barbeque sandwiches, hot dogs and nachos.
Little ones will love the second story hayloft slide as well as the hay bale maze, which is much easier than the corn maze. Vintage tractors are parked along the border of the corn maze for family photo ops, and you can even try to strike it rich at the gem-mining water flume.
Admission is $12 (under age 3 is free) and includes a hay ride to the pumpkin patch where you can pick your own small pumpkin for free. Larger pumpkins are a bargain, with a 10-pounder costing you somewhere around $2. Uncle Ben's Wagon Ride takes you on a tour of the grounds on a train of kiddy-sized saddles. In the critter barn you can nuzzle up to baby goats, sheep, Dixie the miniature cow, bunnies and more.
Old McDonald's Farm is open Saturday 10 a.m. to 7 p.m. and Sunday 12 p.m. to 7 p.m., September 14 through October 27 and Halloween.

The River Maze at Birchland Ocoee Farms 
173 Welcome Valley Road, Benton, Tenn.
423-650-0710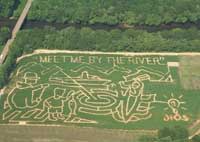 Besides a sprawling corn maze, this Ocoee farm (located about 45 minutes from downtown) has a dizzying array of activities. Barnyard croquet, a "Water Wars" water-balloon fight, Corn Ball and Corn Toss are just a few your family will enjoy.
A soybean maze is new this year featuring Spookly the Square Pumpkin, the national spokes-pumpkin for PACER, an organization whose mission is to eliminate bullying. A "No Left Turn" maze will have you scratching your head, while two compass navigation games (The Name Game and Corn Fusion) will test your map-reading prowess. Also new this year is the Corn Text, which allows you to use your cell phone to get clues on how to navigate the corn maze (free of charge).
The property borders the Ocoee River, site of the 1996 Olympic kayaking course, so expect picture perfect scenery while enjoying the hayrides and Kid's Cow Train. A Goat Walk allows you to dispense feed out of a machine on the top level of a multi-tiered goat maze and watch them climb to get it.
A hayride will to take you to the Pumpkin Patch where you can pick your own (separate charge for pumpkins). Or you can play with your food by launching one of the two corn cannons. If all this action has stirred up an appetite, mosey over to the concession stand for barbeque, burgers, chicken salad, taco salads, fresh cobblers and more.
The River Maze is open September 21 to October 31 on the weekends. Fridays are 5 p.m. to 9:30 p.m., Saturdays are 11 a.m. to 5 p.m. and Sundays are 1 p.m. to 5 p.m. Tickets are $9 for ages 4 and up (under 3 free). Admission includes all mazes, hayride and most activities. There is an extra charge for pumpkins, face painting, Water Wars and Capture the Corn.