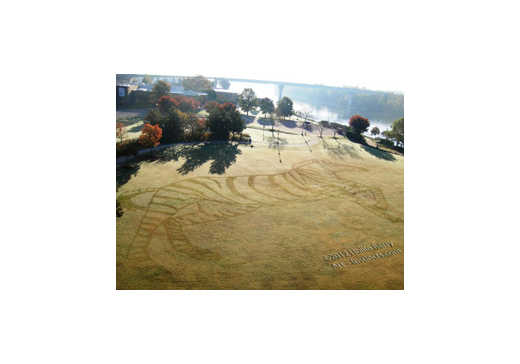 Next time you're strolling across the Walnut Street Bridge, look down at Coolidge Park. If the conditions are right in the early morning, you just might catch a glimpse of Chattanooga's very own dew artist, Hollie Berry. That's right; she makes art…out of dew.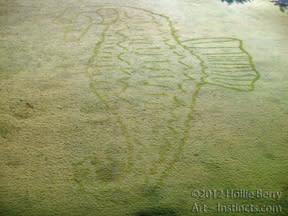 "I was walking across the bridge one morning and saw tire tracks from a maintenance vehicle and I thought how cool it would be if he'd driven around in a pattern," she recalls. "I knew he wouldn't do that but I thought, 'Well I can!'"

The next thing she knows she's down in the grass hopping, tamping and shuffling along, making her very first dew portrait: a blue whale. Since then she's managed to walk out the entire alphabet of animals, from anteater to zebra.  Each is bigger than a house with only a sketchbook in her hand for reference.

She's refined her process since she her first "dew"dle last March. She now uses a paint roller. The entire process takes about an hour. Some days she can barely make it up to the bridge before it disappears. (Ironically she's not a morning person). Luckily she's photographed her vanishing street art and has even self-published a children's book, D is for Dewdle. It was just released last week and is available on Amazon.

"I love it because it's one of the most pure forms of art – done for the pure enjoyment of it," she says.

It's hard to say when she'll be dewdling. Even in the best circumstances she usually can only work about two days a week thanks to rain, clouds or too dry of conditions. Not surprisingly, dew is a rather finicky medium.


Hollie usually shrugs her shoulders when people ask how she can draw something so large in scale without seeing the whole picture. A classically trained artist, Hollie holds a Bachelor of Fine Arts from The University of Texas at Austin. She paints with oils, sketches and even makes leather bound books by hand, available at River Street Makery.

But her day job is actually as an accountant. She works from home so she can fit in her dewdles before work, viewing them as a "creative warm-up" to her day. She and her husband, Rudy Elizondo, live in a condo above Stone Cup so her canvas is in her backyard. Actually, her canvas is her backyard.

Hollie's move in January is almost as fateful as her dew art. Chattanooga was their first choice city because of its scenic mountains and the fact that the engineering company Rudy wanted to work for has a location here. And while she's only lived here less than a year, it's safe to say she will make her mark on Chattanooga's art scene.
Check out more of Hollie's work at http://www.art-instincts.com