Dog lovers have plenty of reasons to love Chattanooga. Dogs (on a leash) are allowed in most parks in Chattanooga, and many of the city's best attractions permit dogs to join in. Most importantly, Chattanooga is surrounded by nearby trails that are perfect for your dog. For a fun-filled weekend getaway, it definitely pays to bring your four-legged friend to the Scenic City.
DOG PARKS

Chattanooga is home to several off-leash parks for dogs to enjoy. Chattanooga Chew Chew Canine Park is a fenced in park with separate sections for small and large dogs with lots of green space, benches, fire hydrants, water fountains, waste removal, and agility equipment. It's located just off of the Riverwalk near downtown Chattanooga adjacent to the First Tennessee Pavilion. Greenway Farm is an expansive area for people and dogs to explore surrounded by a large fence with separate sections for small and large dogs, plus lots of shade trees, doggie water fountains, and benches. Greenway Farm is a bit off of the beaten path but well worth the drive.
DOG-FRIENDLY TRAILS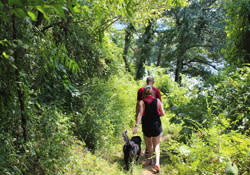 Most all trails are dog-friendly in and around Chattanooga as long as you remember your leash. One of the favorites is a short hike to Glen Falls on Lookout Mountain. Weather and water-level permitting, this is a great spot for your dog to take a dip. Some other favorite trails on Lookout Mountain include the Guild Trail, Cravens House, and the Bluff Trail. Other do-friendly trails around town include North Chickamauga Creek, the Cumberland Trail, the Prentice Cooper State Forest, the Enterprise South Nature Park, Raccoon Mountain, and Stringer's Ridge. Whether you want a quick 20-minute walk or challenging day-long hike, you'll find multiple scenic options within minutes of downtown Chattanooga. 
 DOG-FRIENDLY ATTRACTIONS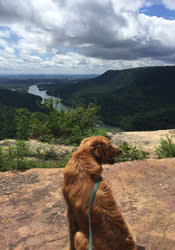 You can still visit some of the major tourist attractions with your dog. Rock City welcomes dogs on a leash to join in for a mountain adventure on the woodland trails and inside the gardens. Ruby Falls does not allow pets inside the cavern, but free individual kennels (unsupervised) are provided on site. Chattanooga Ghost Tours welcome well-behaved, dogs on a leash with tours starting nightly on the downtown side of the Walnut Street Bridge. 
A simple walk across Walnut Street Bridge with your dog is a must-do while you're in town. The bridge was built in 1891 and is one of the world's longest pedestrian bridges that connects downtown Chattanooga to the North Shore. It's a popular and favorite attraction for humans and dogs alike. Make sure to stop by the Ice Cream Show on the south side of the bridge for a special dog treat made from frozen vanilla, peanut butter and bananas. Your dog will love it.
DOG-FRIENDLY RESTAURANTS

There are many local restaurants that have outdoor seating and will allow you to bring your dog as long as you have them on a leash. Some of the more popular spots include the Hair of the Dog Pub, which features excellent back porch seating that includes sunshades and ceiling fans to stay cool in the summer. Universal Joint Bar & Restaurant, which is located in a former filling station, features a wide range of sandwiches, burgers, and other southern favorites. For a complete listing of dog-friendly hotels, local attractions, and restaurants, visit here. 
DOG NEEDS
Nooga Paws is a locally owned natural pet market conveniently located on the north shore if you have left something at home. If your dog has gotten dirty from all of your adventures, they have a self-service wash station. In the event of an emergency while visiting, there are two 24-hour emergency veterinarian clinics to take care of your dog: the Animal Emergency & Specialty Center of Chattanooga and the Regional Institute for Veterinary Emergencies and Referrals.
Photo Credits: Chattanooga Tourism Co., Brian Wleklinski, Evan Castellano & Liz Fieser x2