Check out the Fall leaves changing as the foliage makes the scenic city even more scenic. Every autumn Chattanooga shows its true colors. And unlike that caddy friend from high school, it's truly a beautiful thing.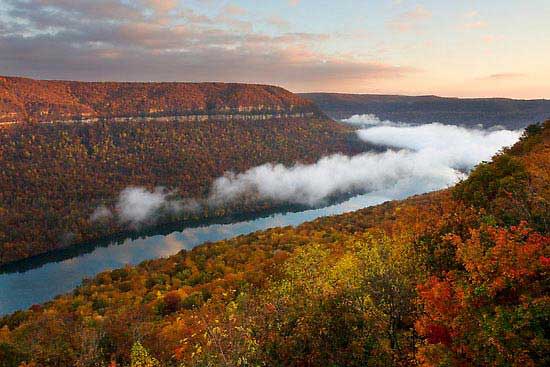 Source: Alex Zuccarelli (Red Bubble)
Prime leaf changing season ranges from mid October to early November. Around that time, our normally picturesque city is painted with burnt oranges, jolting reds and glowing yellows. There are three main ways to view this Technicolor display: by land, by water or by air.
BY AIR:
Lookout and Signal Mountains provide perfect vantage points for aerial leaf viewing. If you'd like to incorporate a little history into your leaf tour, take the Incline Railway – the world's steepest passenger railway – up Lookout Mountain. It's within walking distance of Point Park, the site of an important Civil War battle that provides a bird's eye view of downtown and the river. ($3 entry fee)

For a more "undisturbed" view, head up Signal Mountain to Signal Point. From this vantage point you can take in the Tennessee River Gorge, aka "the Grand Canyon of the South." Spanning 26 miles, the River Gorge is 27,000 acres of undisturbed forest. (That's a lot of leaves.)
Enjoy a picnic at Signal Point or, for a more strenuous leaf expedition, hike to Edwards Point (approximately 6 miles round trip) which offers more breathtaking canyon views.
BY WATER:
What could be better than cruising the Tennessee River on a crisp fall day? Doing it when the trees are on fire with fall color.
There are several options for perusing the Tennessee River Gorge by water, all of which are narrated by a naturalist or well-informed captain. The Southern Belle Riverboat's color cruises take you on a languid three-hour cruise that includes a lunch buffet, live entertainment and Bingo with door prizes. 
Blue Moon Cruises offers two types of color cruises, a two-and-a-half hour tour that takes you about 12 miles into the canyon or a four-hour trek all the way to Hales Bar Marina, which explores all 26 miles of the River Gorge. This option is one-way by boat with a 30-minute bus ride back to town. 
BY LAND: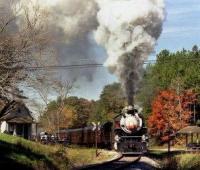 Experience a leaf tour like no other with the Tennessee Valley Railroad, one of the few remaining institutions to run historic trains in the United States. The Summerville Steam Special leaves Chattanooga for an all-day excursion through small town Georgia with an hour layover to poke around Summerville, Ga. (8 hour trip).
The Hiwassee River Rail Adventure provides a 50-mile roundtrip up the lower Hiwassee River Gorge, taking you to the top of the famous Hiwassee Loop, where the tracks cross over themselves as they corkscrew up the mountain (3.5 hours). For a shorter jaunt, board the Missionary Ridge Local, which crosses four bridges and passes through the pre-Civil War Missionary Ridge Tunnel (50 minutes).
If you prefer to take the wheel yourself, there are plenty of back-road mountain tours, allowing you to soak in local culture as well as scenic pull offs. The Biker's Dozen is series of scenic loops developed by a Chattanooga native and 35-year biker, Eddie Rahm. They're designed for motorcycles, but if your hog is in the shop they're great by car too