It's the magical time of year when Hamilton Place transforms into a wonderland of twinkling lights, families shopping, larger-than-life décor and, of course, Santa Claus!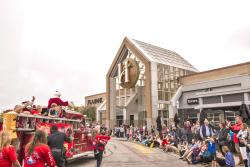 Santa comes to town on Saturday, Nov. 9 during the Santa Arrival Parade. This festive annual tradition has marked the start of the holiday season each year for more than two decades! Seeing the wonder and excitement on little ones' faces as they watch the parade is one of the great joys of the season.
The parade starts at 11 a.m. near Belk Women's and will circle the mall, ending at the Food Court entrance. There, children can escort Santa to his holiday home and get their first photos with him.
After he's taken his seat, the Chattanooga Ballet will treat guests to a performance of pieces of The Nutcracker. And kids can enjoy cookie decorating with Great American Cookies, along with holiday-themed crafts and activities around the Center Court stage.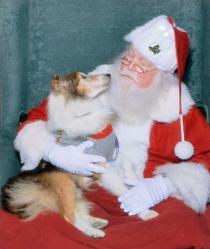 Throughout the season, there are themed photo nights for all to enjoy. Every Monday night through Dec. 16, pet owners can bring their furry family members to take photos with Santa. It's a special treat to have dogs of all sizes, cats and the occasional gerbil enjoy pictures with the big guy. All varieties of pets are welcome!
Additionally, Santa has made some special calls and invited some of his peeps to visit you and your friends every Thursday through Dec. 19. Here's the schedule of visitors:
Nov. 14: Disney Princesses Cinderella and Belle
Nov. 21: Wizards Harry Potter and Hermione Granger
Dec. 5: Santa Mocs with UTC athletes and their good pal Scrappy
Dec. 12: Frozen's Elsa and Anna
Dec. 19: Marvel Superheroes Spiderman and Captain America
 
This year on Thanksgiving, Hamilton Place will remain closed, so families can enjoy time together. Rest up, because shopping lasts from 6 a.m. to 10 p.m. the next day. All the retailers will roll out the red carpet and offer their best deals of the season. You'll love being a part of the enthusiasm in the search for that one perfect buy!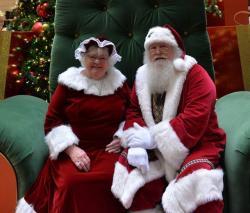 After you've outlasted Black Friday, stop by the annual Coats for Kids donation drive on Thursday, Dec. 5 from 7 a.m. to 7 p.m. with a coat to donate. The Forgotten Child Fund will benefit from this all-day coat collection in the mall's parking lot.
And the annual Salvation Army angel tree and iconic kettle bells will be on-site throughout the season, if you feel like making someone's holiday season brighter. The Angel Tree adoption drive will be located on the upper level between Kay Jewelers and Altar'd State. And don't miss the Battle of the Bells, where local TV stations WRCB, WTVC and WDEF will compete to see who can raise the most money in their kettle bells at the mall entrances.
As usual, Hamilton Place has extended hours this holiday season for early-bird and night-owl shoppers:
Nov. 29, 6 a.m. – 10 p.m.
Nov. 30, 9 a.m. – 10 p.m.
Dec. 8, 11 a.m. – 6 p.m.
Dec. 13 & 14, 10 a.m. – 10 p.m.
Dec. 15, 11 a.m. – 7 p.m.
Dec. 16-20, 9 a.m. – 10 p.m.
Dec. 21, 9 a.m. – 11 p.m.
Dec. 22, 11 a.m. – 8 p.m.
Dec. 23, 9 a.m. – 10 p.m.
Dec. 24, 8 a.m. – 6 p.m.
Dec. 26, 9 a.m. – 9 p.m.
 
The festive décor throughout, cheery music playing, and special stage performances add to the wonder and magic of the season. We hope you come out to experience the magic of Santa and delight in the holiday spirit at the mall. You'll find plenty of ways to fight off the winter blues and give back to the community. It is, after all, the most wonderful time of the year!