Day One
Breakfast: Bluegrass Grill
The story behind this Appalachian-inspired eatery is as flavorful as their homemade whole-wheat buttermilk biscuits. Bluegrass opened in 2007 by Joan Marie and Jonas Worsham, an Eastern Orthodox priest with a flair for the culinary arts. His day job has taken his family across the country, and almost everywhere they move they open a restaurant (Bluegrass is their sixth successful eatery). The menu is robust, featuring everything from tofu to jalapeno bacon, but the focus is on fresh, local and made-from-scratch food. Try the biscuits and gravy, French toast with house-made bread or Mediterranean frittata.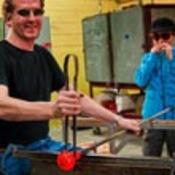 Activity: After the day's most important meal, peruse the art galleries and shops of Main Street, such as Area 61, Freedonia – Provisions for Women, H*Art Gallery, Planet Altered and Blair's Home Furnishings. Once you're appropriately inspired, head downtown to Ignis Glass Studio to create some artwork of your own. For $40 you can actually blow your own glass sun-catcher. After that, you'll want to catch lunch at the city's most forward-thinking pizza joint.

Lunch: Lupi's Pizza Pies
Dorris Shober opened Lupi's Pizza in 1996 as Chattanooga's first New York style pizzeria. With no business or restaurant experience she created each recipe from scratch, using her home as a test kitchen and her kids as a focus group. The experiment worked and today all four locations are chockfull of hungry customers. But what makes Lupi's a true foodie spot is their passion for local ingredients, from the ground beef and tomatoes (when available) to the honey and whole wheat in the dough. You have to try a slice as well as the house-made fresh mozzarella.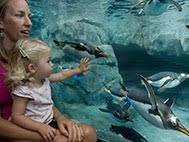 Activity: You can't visit Chattanooga without seeing the Tennessee Aquarium, and lucky for you it's just a short walk from Lupi's. After you've experienced macaroni penguins, giant sturgeon and moon jellyfish, consider a trip to Chattanooga's premiere art museum, the Hunter Museum of American Art, followed by an art walk. After all, you need to burn some calories for your next meal, which will bring you back to Chattanooga's Southside.
Dinner: St. John's Restaurant
If you eat dinner at only one place, consider St. John's or its sister restaurant The Meeting Place. Either way you'll get a meal prepared by Chattanooga's only James Beard nominated chef, Daniel Lindley. After training at some of New York's top restaurants (including Gramercy Tavern), Lindley moved back to his hometown in early 2000 for what he thought was a short stint. Lucky for us, he stayed, turning St. John's into a top dining destination for the region.
Activity: Finish the evening with a relaxing carriage ride through the Southside.

Day Two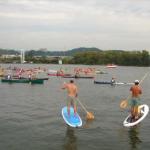 Activity: Burn some calories by starting the day paddleboarding on the Tennessee River. (Grab a light breakfast or skip it for brunch later on.)

Brunch: FoodWorks
Now that you've worked up an ample appetite it's time to chow down at one of the city's most popular brunch spots. Although FoodWorks offers their brunch menu on both Saturdays and Sundays to meet demand, most weekends this knitting-mill-turned-restaurant is packed to the gills. If you can't score a reservation, take heart. They reserve almost half their seating for walk-ins (just be prepared to wait). Be sure to try their chicken and waffles or the doughnut, bacon, egg and cheese sandwich. They also offer $1 mimosas and champagne or $3.50 Bloody Mary.
 
Activity: While you're in the neighborhood, check out the surrounding shops. Upscale clothing, home and shoe shops are a short walk away at 2 Northshore and scads of art galleries and boutiques line Frazier Avenue. If shopping isn't your thing, check out one of Chattanooga's unique city tours such as a walking tour or the Chattanooga Ducks.
Dinner: If you are a true foodie and desire to hone your cooking skills, try a cooking class at Chattanooga's only Cooking Classroom. The Sweet and Savory Classroom owned by Chef's Jeff and Heather Pennypacker is located on Chattanooga's vibrant South Side. We kid around and say that you need to "Wear your work boots and bring your appetite," because our classroom is a real "hands-on" experience. Sure, it's nice watching a demonstration but it's way more fun to be part of the action. We love to teach. In our classes expect to get dirty and go home full with a new set of culinary skills. We have a full schedule of classes all year long.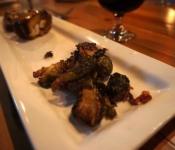 Day Three
Breakfast: Longhorn Restaurant
Start the day off at one of the oldest breakfast spots in the city. Longhorn Restaurant gives you a true flavor of Chattanooga, regularly hosting local politicians, construction workers, housewives and grandmothers. A 16-stool lunch counter accounts for most of the seating at the tiny diner, but that allows for the best conversation with the staff and other patrons. You can't go wrong with the blueberry pancakes or Belgian waffles, but the Western omelet is also pretty popular.

Activity: Walk off your food coma by walking along the Riverfront. Nearby Renaissance Park features outdoor art, historic markers and a somewhat out-of-place green hill that people slide down on cardboard in warmer months. Coolidge Park offers a 100-year-old carousel, a water splash park and beautiful views of the river. Walk over the Walnut Street Bridge for one of Chattanooga's best views.

Lunch: The Chattanooga Market


Open every Sunday from 11 to 4 p.m., the Chattanooga Market pulls double-duty as both entertainment and lunch. When you witness its bazaar-like atmosphere you'll understand why Frommer's rated the market as one of the top 10 in the country. In front, local farmers set up shop to offer the very freshest from their fields. Go a little further and you'll find glass blowers, photographers, wood workers, furniture makers, jewelry artists, soap makers, artisan food producers and more selling their wares. Every single vendor must be from within a 100-mile radius and selling only handmade goods (so no cheesy, mass-produced stuff). In the very back, Chattanooga food trucks pull up to serve some of the city's best street food, which you can enjoy at the metal tables in front of the live band (if you can find a seat). It's crowded, chaotic and worth every second.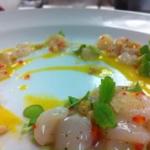 Dinner: Easy Bistro
Chef/owner Erik Niel melds the best of his home state (Louisiana) with the bounty of local farmers in his French Bistro style restaurant. The sophisticated black-and-white ambiance at Easy Bistro is balanced with unpretentiously delicious food, from authentic Raw Bar oysters and crab legs to hearty Steak Frites. Regardless of your dinner decision, make sure you sample one of the restaurant's craft cocktails, which feature house-made seasonal liquor infusions.

Thinking Outside the Restaurant: If you have time, round out your food-centric trip with an out-of-the-box experience.
Farmer's Markets - If you rent a house you can prepare your own dinner with local produce by visiting one of Chattanooga's many farmer's markets. Happening throughout the week and weekend, Gaining Ground can help you find one that's convenient.

Chattanooga Food Ventures - Bring the restaurant to you with a chef prepared dinner at "home" (again, you'll have to rent a house or cabin). Chef Erik Taslimi and sommelier Robb Peterson have teamed up to offer a unique catering company that includes guided dinners with wine pairings. Or you can skip the meal and simply have an in-home wine tasting.