If you plan your entire vacation around where to eat, this post's for you. Get a flavor for Chattanooga's neighborhoods by sampling the culture one bite at a time.
SOUTHSIDE
Once the financial hub of Chattanooga, the Southside is a collection of old warehouses and depots, many converted into hip eateries. Exposed brick walls are the common décor of Southside restaurants, and that may be where the similarities end. Japanese, Italian, traditional meat and threes, sandwich shops and Latin food are all ripe for the picking. Plan to come hungry and spend some time strolling through this historic neighborhood, now considered a major cultural center for Chattanooga.

Niedlov's Breadworks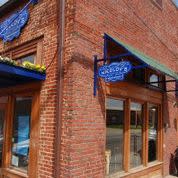 215 East Main Street
Make the next stop in your food sojourn Niedlov's, one of the first businesses to move back to Main Street after its revitalization. Housed in a former auto shop, no carb is overlooked in this artisan bakery. The breakfast menu welcomes the day with quiches, cinnamon rolls, croissants and other pastries, while mid-day diners choose from soup, salads or sandwiches made on their freshly baked bread. Opened in 2002 by Angela and John Sweet, Niedlov's specializes in naturally leavened bread using a sourdough starter and natural or organic flours and whole grains. Their bread-and-butter business (pun intended) is supplying their signature rolls and loaves to restaurants.
St. John's Restaurant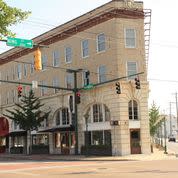 1278 Market Street?
Opening its doors in 2000, St. John's was a pioneer in Chattanooga's local food movement. With James Beard nominee Chef Daniel Lindley at the helm, it has become one of the top dining destinations in the region. Menu staples include the Axis Venison and Cloudcrest Farm's beef tartare appetizer. A strong believer in the bounty of the region, Lindley masterfully showcases local produce – when in season the beets are not to be missed. However, the current whitewashed dining room didn't always have such a stellar reputation. Built at the turn of the twentieth century as a hotel, the building once served as a brothel before being abandoned and nearly torn down. In addition to St. John's and Meeting Place, both owned by Lindley, the building houses businesses and luxury apartments on the upstairs floors.

Alleia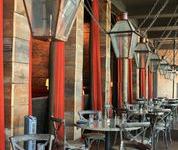 25 East Main Street
Another Lindley restaurant worth a visit is Alleia, an Italian-inspired eatery opened in 2009. The décor is on par with any other major metropolitan restaurant, but the menu is Chattanooga-centric. Chef Daniel Lindley sources as much as possible from local farms, importing the rest straight from Italy including the olive oils and cheeses. Prescribing to a slow-food aesthetic, most menu items spend time in the brick oven, constructed onsite specifically for the restaurant. Do yourself a favor and sample the pork shoulder, which is slow cooked with a crunchy, balsamic glazed exterior.

The Terminal Brewhouse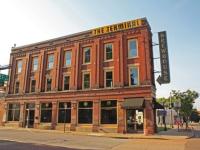 No. 6 14th Street
Located in the historic Stong Building across from Chattanooga's Terminal Station, this triangular structure has enjoyed many incarnations in its 100-year history. Beginning as a hotel for weary travelers, legends hold that throughout its murky history it has housed speakeasies during Prohibition, illegal casinos and even a house of ill repute. In the 1940's Chester Davis, a porter at Terminal Station, saved his tips and purchased the building to become the first black business owner in Chattanooga. It remained in his family until 2006, when a developer purchased it and set about restoration. Today the four-story structure stands as homage to all things manly, namely beer and burgers. Craft beer is brewed in steel tanks in the basement and pumped straight to the taps, and the half-pound beef or bison burgers are described as galactically famous, which is only part hyperbole.
Urban Stack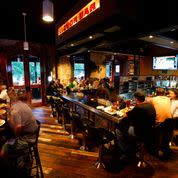 12 West 13th Street
A gourmet burger bar, Urban Stack is piled high with flavorful innovations like the Asian Q – Kobe-style Wagyu beef, wasabi savoy slaw, Asian ginger barbeque sauce, homemade cucumber kimchee and a five pepper dry rub. But while the food and drink are avant-garde – think Bacon Manhattan cocktails – the location is steeped in history as one of the oldest buildings in the Southside. Erected in 1867 as the Southern Railway Baggage Building, owners Taylor and Mike Monen not only refurbished the space when building out their restaurant, they applied for LEED certification.