William J Glackens and Pierre-Auguste Renoir: Affinities and Distinctions
On view now through September 22 
The Hunter Museum's summer exhibition, William J. Glackens and Pierre-Auguste Renoir: Affinities and Distinctions, explores the influence of French Impressionist Renoir on the influential American painter Glackens. Today, one of the most widely beloved and accepted art movements, Impressionism began as a scandalous rebellion when a group of young French artists started to create their unusual works, defying the standard rules of painting.
The movement's approach was revolutionary because it portrayed subjects that had not received much artistic attention before -- including everyday scenes of middle class life -- and sought to capture a moment in time using rapid brushstrokes and bright, vivid colors. The Impressionists' observations remain relevant today and helped usher in a new modern era in the visual arts and beyond.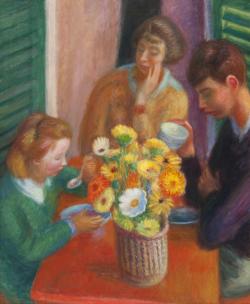 Renoir was one of the first artists to break a solid pictorial form into pieces, embracing formal and coloristic qualities of painting. For instance, by painting with thick and visible brushstrokes, he chose to emphasize his technique and focus on the fleeting "impression" of a moment rather than creating an illusion of reality. Glackens, a frequent visitor to Europe and close friend of prodigious art collector Albert Barnes, had the luxury of viewing many works by French Impressionists and became taken with this style that bucked conventional trends of contour and line and seemed to capture movement and light in a new, compelling way. In particular, he was struck by Renoir's approach to subject, color, and brushstroke, and began to adopt some of Renoir's characteristic style into his own work.
The Hunter's unique exhibit allows visitors to see for themselves the impact that Renoir's work had on Glackens, how his work seemed to change after his many trips to Europe, and how he forged his own path towards the end of his career. Because Renoir suffered from severe arthritis towards the end of his life, holding a paintbrush became increasingly more difficult, so the subjects in his later work often seem to blend in with the background, as opposed to his more vibrant and detailed earlier works. Glackens, on the other hand, used progressively bolder colors and portrayed very distinctive subject matter, ultimately solidifying what American Impressionism could be.
According to Natalie Mault Mead, associate curator at the Hunter Museum, artists finding inspiration in the artwork of their peers and predecessors is a long-standing tradition. In fact, Renoir is also cited as influencing Matisse, Picasso, and other artists whose styles differed vastly from his own. Like those artists, Glackens took inspiration from Renoir and used it to forge his own artistic identity.
 "I think Glackens was inspired by Renoir, but wasn't trying to copy him," Mead said. "He saw what Renoir was doing and why, and that's what spoke to Glackens. He was trying to create a modernist style that was uniquely American."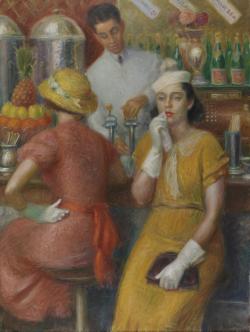 The Soda Fountain (1935), the last major work Glackens ever completed, embodies this idea. The style and subject matter perfectly capture the American vibrancy and culture of the early 1900s, moving away from the very formal quality of traditional art prior to this time.
William J. Glackens and Pierre-Auguste Renoir: Affinities and Distinctions makes the work of these two important Impressionists accessible to all audiences. The show will run through Sept. 22, 2019. General admission is $20, and is free to members and youth 17 and under.
William J. Glackens and Pierre-Auguste Renoir: Affinities and Distinctions, organized by NSU Art Museum Fort Lauderdale and curated by Barbara Buhler Lynes, Ph.D., Sunny Kaufman Senior Curator, is generously sponsored by The Sansom Foundation, Kolter Hospitality/Hyatt Centric and 100 Las Olas, and David and Francie Horvitz Family Foundation, and presented in Chattanooga by Sanofi with support from Elliott Davis and the SunTrust Foundation. Additional support provided by Ruby Falls and the Chattanooga Convention and Visitors Bureau.
For more information, click here. Tickets are not available online; must purchase in person at the Hunter Museum. 

Book an exciting vacation package while you're in town for this exhibition. In addition to visiting the Hunter Museum, explore the Tennessee Aquarium, and stay at the luxurious Edwin Hotel. View details here.