Jazzanooga isn't about bringing jazz to Chattanooga. It's about bringing jazz back.
"There are people who hear the word 'jazz' and think it's off limits to them, that it's something only elites can be a part of," says Shane Morrow, who first conceived the idea for a Chattanooga jazz festival.
Now in its fifth year, Jazzanooga is organized and led by Shane and his partner, James McKissic, the director of Chattanooga's Office of Multicultural Affairs. The month-long affair always takes place in April, coinciding with the Smithsonian Institution-appointed Jazz Appreciation Month. The 2016 Jazzanooga Festival is April 22-24. Buy your ticket here.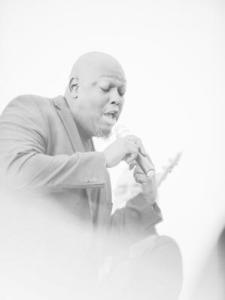 In 2014, more than 4,500 people attended the series of events, and 2015's showing was even larger — thanks, in part, to funding that Shane and James were able to secure from sponsors like the Lyndhurst Foundation and the Benwood Foundation. Performers hail from across the country — past headliners include Grammy-winner Lalah Hathaway and Ruben Studdard, a Grammy nominee and American Idol winner. This year's headliners include Grammy-winner Arturo O-Farrill and the Afro Latin Jazz Octet, Chantae Cann, Grammy-winning jazz bassist Christian McBride, Julian Lage and Julie Dexter.
But Shane and James believe it's important to balance big names with local ones.
"In Chattanooga, we have a wealth of talent in our musicians and our youth," James says. "They need to be prominently showcased, and that's an important part of Jazzanooga."
The two also mingled entertainment with education. Programs and exhibits highlighted the significant contributions that Chattanooga and its natives have made to jazz in the past 100 plus years: there's Bessie Smith, remembered as the "Empress of the Blues," and Valaida Snow, the first African-American, female big band leader and the counterpart to Louie Armstrong — who once called her the second-best trumpet player in the world. And of course, there's the Chattanooga Choo Choo, the locomotive that inspired a song, made world-famous by the Glenn Miller Orchestra.
Shane and James want the festival to capture jazz in its every form: where it's been, where it is, and where it's going — which maybe isn't so far from where it started.
"My grandmother always told me that there's nothing new in this world, and she's right. Everything moves in cycles," Shane says. "Right now, there's a new generation of jazz artists, nationally and locally, and they're really looking back to where jazz started: losing the electronics, and using their God-given skills."
Shane knows a lot about God-given skill: born and raised in Connecticut, he comes from four generations of piano players, and his grandfather was a jazz musician. James, too, grew up surrounded by music.
"The Crusaders, Larry Carlton, Bob James, George Duke — they were always played in the house," says Shane. "I remember sitting on my dad's bed and listening to 70s and 80s jazz bands. Music was a way that I bonded with him.."
James grew up in Cleveland, Tenn., and eventually went to study in New York. He met Shane in Connecticut, and when he moved back to Tennessee in the early 2000s, Shane followed. Shane was fascinated by Southern culture but surprised at the lacking music scene: there were very few platforms celebrating the tradition, the unpredictability, the solace of jazz. The couple found themselves homesick for the music they loved — music that had been so easy to come by in the big city.
So they traveled, and found that in other pockets of the South, where platforms actually existed, they proved to be cost-prohibitive. A sad irony, Shane and James say: jazz was born and raised in this corner of the country, nourished by the African-American community, and now, a large part of that community is being left out of their own legacy.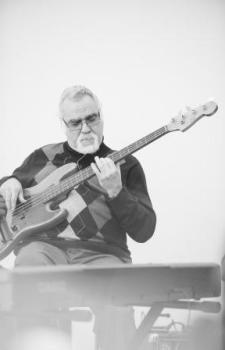 They decided that a festival in Chattanooga should be different, so many of the events are free and open to the public. VIP passes for the festival's final weekend this year cost $130 total for three days of headlining acts, which included Eric Roberson, Take 6, Gretchen Parlato and Alan Hampton.
"Affordability is so important. A lot of the entertainment we just give away because we want to make sure that everyone can participate," James says. "No one should have to pay a huge amount of money to access good music in their own city."
In its first few years, the two directors bootstrapped everything: no funding, no sponsors. It started as a short, three-day tribute to jazz. The fact that it's exploded into a month-long celebration is proof, they say, that Chattanooga was hungry for it.
"We weren't trying to start some big festival. We just wanted to make a positive change through the power of the arts," James says. "By sharing the music and the stories, we wanted to reignite the love for jazz that used to exist here."
It's still young, but Jazzanooga already is growing into a regional attraction. Last year, people traveled from Birmingham, Atlanta, Nashville, Memphis, even D.C. — places that have their own well-established music festivals.
Shane and James have been told many times that there's a uniqueness to Jazzanooga, an authenticity that draws people in, and pulls them together. Much like the genre itself has a tendency to do. So if jazz is making a resurgence in Chattanooga, and the South, the couple are not only part of it; they're leading the charge.
"Sometimes people ask me what Jazzanooga will become," Shane says. "I do have some dreams for it, but I always tell them that Jazzanooga is tied into the thread of the city. It will become whatever the community needs for it to become."
The 2016 Jazzanooga Festival is April 22-24. Buy your ticket here.