Chattanooga's premier wintertime event returns Dec. 2! Mainx24 is the block party of the year celebrating Chattanooga's Southside district. Stroll through the Southside from Main Street to Market Street and immerse yourself in the city's rich culture and history. Mainx24 lasts 24 hours and includes numerous activities for you to choose from. This year's events include a dog parade, whiskey tastings, adult big wheel races, massages, a gingerbread house decorating competition, and plenty of live music and local food. Remember, the key to conquering Mainx24 is pacing yourself because this party will be rockin' all through the night!
We've done the hard work for you and compiled a list of all the music that can be found at this year's Mainx24. Events change so be sure to check the online schedule for the most up-to-date schedule of events.

Mainx24 Live Music Guide
 
7:00 AM
Coffee Jazz and Breakfast Dogs: Miss Griffins Foot Long Hot Dogs will be opening early for breakfast and serving coffee all while spinning some Jazz records. We will have a breakfast menu for building your own breakfast dog served on a pancake bun.
10:00 AM
Tours, Tunes & Toddies: Starting at 10am, Songbirds will be offering free admission. There will be food and drinks at the bar as well as live music on the balcony. Erick Baker performs at 7pm.
Artist & Musical Spotlights: Southside Studio is hosting a gallery including local musicians and artists as well as wellness workshops.
Clyde's Mainx24 Throwdown: Hi-Fi Clyde's will be offering music all day long. Pair this with one of their delicious burgers and a beer, and you've got the perfect combination for a good time. Local artists Over Easy and Rick Rushing will perform outside on Main Street as you enjoy bloody mary's and mimosas. Inside you'll find entertainment from The Reece and Rosser Band, followed by Heather Holt. Boo Ray headlines at 9pm.
10:30 AM
Mainx24 Parade ft. Organist Buddy Shirk: Buddy Shirk will play the organ while the parade fun passes by!
11:00 AM
Hip-Hop CHA One Year Anniversary Celebration: Head over to the Hush Lounge as Hip-Hop CHA celebrates its one year anniversary at the event where it all started. DJs will be spinning the hits all afternoon!
BBQ Brews: Chatter Box Café will be roasting a whole hog while you enjoy craft brews and tunes from local soul artist D.L. Yancey.
12:00 PM
Sidewalk Stages Extravaganza: Mainx24 will be animated with local musicians performing on the sidewalks of the Southside throughout the day. If you happen to see one, take a second to stop and listen!
12:30 PM
Sistren at Artists on the Loose: The girls of Sistren can SING. They have spent years being the only girl in a band full of guys. They still do that (and do it very well). But, put them together and a whole new, powerful force takes shape. Sistren will be performing at Artists on the Loose (1405c Williams St.) from 12:30-2:30pm. 
2:00 PM
Brews, Bands & Bites: Join the Bohannons, Elk Milk, Bongsloth, and Powers as they perform a few tunes in the courtyard of The Wheelhouse. Enjoy a locally brewed beer from Heaven & Ale and a taste of Venezuelan cuisine from a local food truck, Tepuy.  
Aluminum Pour and Silent Disco Dance Party: The Sculpture Fields at Montague Park invite you to join them for an aluminum pour and silent disco dance party. Heart and Bowl food truck will be on site, and pets are welcome.
4:00 PM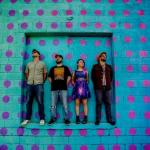 Jeff Jam ft. Danimal Planet: The first annual Jeff Jam at Heaven & Ale Southside is sure to be a hit! Starting at 2pm, Dan Pinson will kick off the festivities with some solo tunes followed by his full band, Danimal Planet at 4pm.
5:00 PM
Charlie Brown Christmas Soundtrack: Jeffrey Butzer and T.T. Mahoney will perform the iconic songs of the Charlie Brown Christmas Soundtrack at Revelry Room. For many, the holiday season is not complete without these timeless classics.
6:00 PM
Urban Lawn Unplugged: The Urban Lawn is set to host Yattie Westfield & the Noise Kings and serve local brews on their beautiful patio space as the sun sets for the night.
Caroling: Join in or just listen as Southside Abbey invites you to walk around singing carols and handing out goodies. Starting at the Hart Gallery parking lot.
7:00 PM - FIREWORKS!
Fireworks sponsored by GreenTech: You will definitely want to take a break from all the festivities and enjoy the fireworks show!  Let Station Street serve as your vantage points as the fireworks are launched off of the Chattanooga Choo Choo.
8:00 PM
Wild & Bitter: The Wildflower Tea Shop is hosting an after-hours party featuring live music. Food will be provided by the Bitter Alibi.
Cosmic Charlie: Grateful Dead Tribute Band - "Live Dead Experience", will perform at Revelry Room. This performance is not just for the dead-heads among us, but also for anyone who enjoys a high-energy performance!
Salsa Fiesta: Dance the night away at Conga Latin Food with local salsa musician Carlos Colon and some fantastic drink specials!