Noontunes is a weekly, mid-day music series that showcases local musicians. Returning for its third year, Noontunes is making the move from inside Waterhouse Pavilion to the brand new stage and lawn of Miller Park for the upcoming 2018 season.
Each concert is held from Sept. 19-Nov. 28 on Wednesday afternoons from 12 p.m. - 1 p.m. at Miller Park, 928 Market Street, Chattanooga, TN 37402. Admission is free. 
This music series spotlights Chattanooga's growing music scene and gives both visitors and locals a chance to enjoy some of the Scenic City's local musical talent. The new location for Noontunes will accommodate food trucks, larger crowds and high visibility for performances on the new stage of the EPB Pavilion.
Each performance at Noontunes will be open to the general public free of charge. It will also be live streamed, and recorded, and aired later on WUTC 88.1. Each live performance has a host who discusses the artist's background and song selection while providing insight and knowledge not normally gathered from a standard show.
This River City Company program sponsored by Tennessee Valley Federal Credit Union is made possible through its partners SoundCorps, Chattanooga Convention & Visitors Bureau, Jazzanooga, WUTC and River City Sessions.

2018 Lineup
 
Sept. 19, 2018
Dr. B and the Ease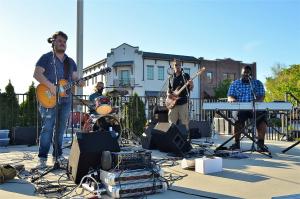 Noontunes kicks off with Dr. B and the Ease. Rico, Brandon, Jeremy, and Noel invite you to soothe your ears with the classic soul music of Dr. B & the Ease. Together since 2012, Dr. B. & the Ease work day in and day out to bring you intricate, soulful harmonies with uplifting lyrics that inspire you to tackle whatever the day has coming at you. Soaring guitar solos and crisp drum work provide a flair straight out of 80s soul music, leaving you with no choice but to bounce a bit and sing along.

Sept. 26, 2018
Spinster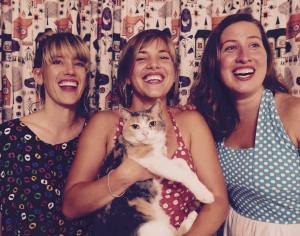 Sisters Rosalie, Rachel, and Amelia formed the trio, Spinster after unearthing their grandfather's accordion in a closet and spending several summers learning pop covers on a hodgepodge of acquired instruments, from the mandolin to the washboard, glockenspiel, and upright bass. Spinster melds familial harmony and old-timey sensibilities with pop sounds, reviving classics of doo-wop, 80's art pop, and 90's boy band rock. Spinster is writing and recording their first album due to release next year. Spinster collaborated with Chattanooga based Summer Dregs to produce their first single for the album, "Feet Are Dirty," a genre-bending mash up of nostalgic, organic sounds and danceable pop beats.

Oct. 3, 2018
Karla Felecia Scaife
Karla Felecia Scaife's voice is characterized by angelic tone and soulful melisma. Singing since she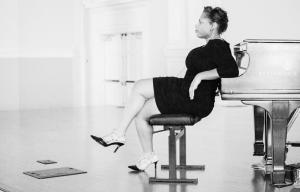 began talking, Karla's colorful expression captures the hearts of all who listen. Karla is a graduate of the University of Tennessee at Chattanooga and is currently pursuing a Master of Theological Studies at Vanderbilt Divinity School. Karla is the author of "Healed, For Real," a memoir that can be found exclusively on Amazon.com. "You Did it All," Karla's first studio project, can be found anywhere digital music is sold. Karla's most recent single, "Free," can also be found anywhere digital music is sold.

Oct. 10, 2018
Stringer's Ridge
On a cold New Year's Eve in 2017, three musicians met at John C. Campbell Folk School, became friends, started jamming together, and created a new trio, Stringer's Ridge, a string band with varying and eclectic influences and a strong focus on mostly instrumental Celtic and O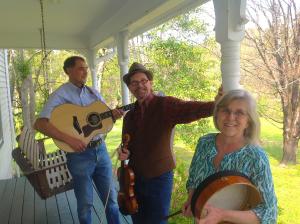 ld Time music that could veer off into other genres at a moment's notice. A recent Chattanooga resident, fiddler Tom Morley has played professionally most of his life in many styles of music. Classically trained, he's been a concert violinist, toured Europe with New Orleans jazz bands, and has a Gold Album representing his years on stage and in the studio with Country/New Traditionalist singer John Anderson. Tom's passion for Irish Traditional Music over the past two decades led to the formation of bands that played across the country and inspired him to write a book on the subject. His wife, Fran Morley, picked up the bodhrán (the Irish drum) around the same time and has played alongside him in concerts and pub sessions in Ireland, England, Scotland, Holland, Canada, and throughout the Southeast US. Guitarist Bryant Haynes has been painting harmonic tapestries and helping to keep the beat for a long time. A physics and chemistry teacher by day at GPS (where he's been for two decades), he pounds out a strong, steady rhythm, both with guitar and his feet. He's known to sing a bit, and if you're in the audience, you may find yourself singing along, too.

Oct. 17, 2018
Mary Loves Jazz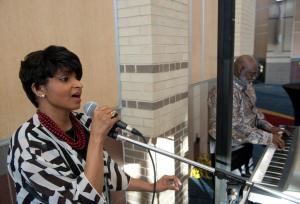 Mary of "MaryLovesJazz" is a soulful jazz vocalist. She is an aspiring jazz artist who is currently working on a project release. In addition to singing on stage, she recently portrayed Nettie in "The Color Purple." She has performed at The Bessie Smith Cultural Center, The Camp House, Jazzanooga, The Hunter Museum of American Art, Miller Plaza, and Night Fall Music Series with the "Voices" of The Creative Underground.

Oct. 24, 2018
Floami Fly
Floami Fly is a hip hop artist, songwriter, and performer from Chattanooga, TN. Floami (pronounced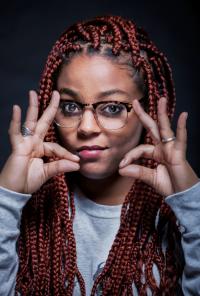 FLO-AH-ME FLY) began writing and pursuing music professionally in 2010, and has since performed in Chattanooga, Atlanta, Knoxville, and Nashville, TN and in various clubs and festivals in the Southeast region of the United States. In 2012, Floami Fly was named artist of the week by Chattanooga hip hop radio station, Power 94. Fly has also appeared in Misadventures Magazine Music Review in 2014 as an artist to watch. In 2014, Floami was invited to perform at Chattanooga's annual Nightfall Music Series as a featured guest in SoCro's set. In 2017, Fly received praise and acclamation from Chattanooga's weekly alternative magazine "The Pulse" and Chattanooga's online newspaper Nooga.com for her debut album ASYLUM. The production took an investigative look at mental illness, addiction, and reconciliation, and garnered a sold out crowd. In the fall of 2017, Floami placed first in the 3rd edition of the Atlanta based competition"The Bar Exam," earning her the right to perform at Atlanta's A3C Festival alongside other National Bar Exam champions. 

Oct. 31, 2018
9th Street Stompers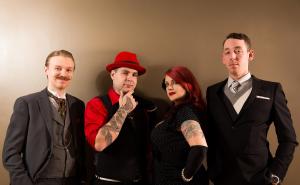 The 9th Street Stompers are an outfit of well-dressed, no-counts-chopping-on acoustic instruments and singing about life, death, love, and liquor. Hailing from Chattanooga, Tennessee, they cull up the musical scenery of an era when the lines between swing, gypsy jazz, blues, rockabilly, and tango weren't nearly as hard and fast as the drinking and dancing. Steering clear of much of the novelty and kitsch associated with pre-war music, they choose to demonstrate the modern relevance of their chosen medium.

Nov. 7, 2018
Jesse Jungkurth and the Patron Haints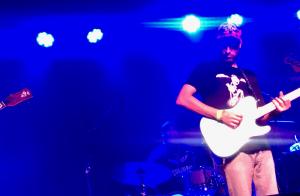 The Patron Haints are led by the adorably roguish Jesse James Jungkurth. Speaking to the heartbreaking ethos of old country with a modern hipster vibe, the gritty, yet sexy, vocal stylings and poetic lyrics will cut straight through your soul. Mixing the country twang of your childhood with the reggae funk of the islands, they emerge with a rock spirit that will titillate your ears and move your heart. Take a break from the soul-crushing daily grind and open your ears to music that will delight your senses and blow your mind.

Nov. 14, 2018
Over Easy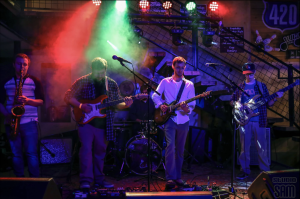 Suspended somewhere over The Tennessee River is the sound of a band tearing apart and rearranging their countless influences - the sound of reinvention and adaptation that follows in the wake of a steady progressive rock heartbeat. And Chattanooga, Tennessee outfit Over Easy is the source of that dense and complicated noise, a band that favors experimentation and the clatter of an especially good guitar riff thrown against a studio wall. Their gift for technical proficiency runs parallel to a particularly determined line of rock inspiration, one that allows the band, built around the combined abilities of singer-guitarist Adam Stone, singer-guitarist Caleb Saunders, bassist Chris Witt, saxophonist Austin Stone, and drummer Brady Sherrill, to draw from different periods of its storied history to fashion a unique and fascinating look into the roots and foundations of progressive rock. 

Nov. 28, 2018
Chattanooga Girls Rock Stars
Chattanooga Girls Rock was born out of a sincere belief in the transformational effect of a music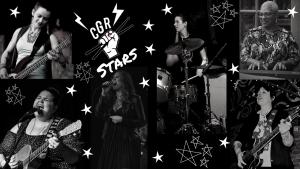 education (tailored to a wide variety of learning styles, musical interests, and abilities), a commitment to fostering a more diverse and uplifting music scene in Chattanooga, and a desire to provide girls with positive adult mentors and a supportive community where they can feel free to be exactly who they are. CGR Stars are a band comprised of female volunteers, instructors, and adults involved with the Chattanooga Girls Rock Organization whose mission is to empower young women through music. Everyone at CGR looks forward to a world in which girls are encouraged to pursue their interests without the notion that some dreams are out of their reach, where support and teamwork replace competition and acrimony, and girls and women are never afraid to rock with abandon!