It would be unheard of for a hotel to turn someone away for bringing their kids. But if your "child" has four legs and a waggly tail, you've probably grown accustomed to the whole no-room-in-the-inn bit. Fortunately, Chattanooga seems to be going to the dogs (or cats as it were) with a number of attractions, hotels, and restaurants adopting pet-friendly policies. Most hotels require a cleaning fee, but that's a small price to pay for allowing the whole family to hit the road. Check out The Howl for all things dog-friendly from restaurants and bars to parks and emergency services for your furry companion! 
ATTRACTIONS:
Located in the heart of downtown, walking opportunities abound for both dog and master. Head to the Bluff View Art District or take a stroll along the 13-mile Chattanooga Riverwalk. If a longer walk is in the cards, cross the famous Walnut Street Pedestrian Bridge. Erected in 1891, it is one of the world's longest pedestrian bridges. After that, head to the Southside and explore Sculpture Fields, a 33-acre art park that also allows pets.
The Lookout Mountain area offers several pet-friendly options when you visit. Both Rock City and Reflection Riding Arboretum and Nature Center are dog-friendly, and Ruby Falls has kennels available on-site for your visit there. Your furry friends will have lots of ground to explore at these natural wonders. Rock City offers magnificent views from huge boulders and ancient rock formations. Reflection Riding Arboretum and Nature Center has plenty of walking trails and peaceful retreats for you and your pets. Lookout Mountain is also home to a variety of hiking trails, many of which are pet friendly. 
HOTELS:
If your dog is as vital to your travel plans as your GPS and suitcase, sniff out a highlight of pet-friendly hotels and restaurants below. Check out a complete list of hotels by selecting "Pet-Friendly" using the pulldown menu for Amenities.
Read House Hotel – Downtown
827 Broad Street, (423) 266-4121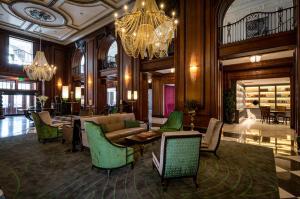 For more than a century the The Read House has been welcoming road-weary travelers. Beginning as the Crutchfield House in 1847, the historic hotel has endured many iterations thanks to fire, but its present 10-story brick and terra cotta structure was built in 1926. And while such dignified guests as Winston Churchill and Tallulah Bankhead have walked its halls, nowadays you'll see another type of visitor padding across the lobby thanks to a dog-friendly policy. (Sadly for feline families, it's dogs only).
The entire 3rd floor is dedicated to canine customers, and a non-refundable $50 fee ensures that every room is thoroughly scrubbed and vacuumed after each guest. If heading downstairs for dinner at Bridgeman's Chophouse or you'd like to doggie paddle in the hotel's indoor heated pool, you'll need to leave Fido in the room. As you can see by the photo, I don't think he'll mind.
The Edwin Hotel - Downtown
102 Walnut Street, (423) 713-5900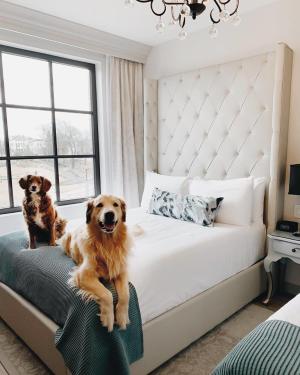 The Edwin Hotel, Autograph Collection is one of Chattanooga's newest upscale boutique hotels located just steps from the Walnut Street Bridge. The elegant hotel features dog-friendly hotel rooms, which come complete with their own Amazon Echo Dots. If you're looking for luxury, this is the place to be. While the hotel's on-site restaurants do not allow pets, treat yourself to innovative, organic Southern fare at Whitebird or sip on artisan cocktails and bar bites at the city's first rooftop bar, Whiskey Thief, before you head out for a walk with your four-legged friend. Guests can also enjoy a swim in the rooftop pool or spend the day relaxing at the full-service spa, Ama.
Pet-Friendly Restaurants
While health codes ban animals inside the dining room, many patios are fair game for dining with your dog (on a leash of course). See below for a few pet-friendly places.
Downtown:
222 Broad Street
(423) 267-2739
While the fire marshal requires that dogs are tied outside the railing of the patio, this dog-friendly restaurant will try to accommodate with a convenient table for both dog and master.
532 Lookout Street
(423) 468-3725
Universal Joint is located in an old Farrow's Service Station, making the patio the perfect place for pups to participate in a day out. Humans can enjoy a variety of lunch and dinner dishes, including sandwiches, burgers, salads, tacos and bar snacks while they play a game of cornhole or catch a game on one of the TVs.
Southside: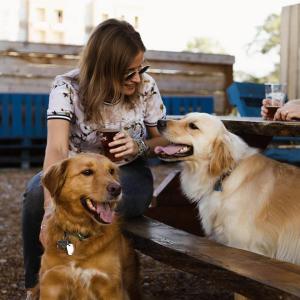 1804 Chestnut Street
(423) 702-9958
If you're looking to dive into Chattanooga's local beer scene, be sure to visit Chattanooga Brewing Co. The finest German-style beer in the southeast flowed from the taps of the Chattanooga Brewing Company at the turn of the 20th century — that is, until Prohibition forced the brewery's founding son, Charles Reif, to shutter the family business. Today, patrons and pups are welcome to enjoy a Chestnut Street Brown Ale or a Scenic City IPA in the recently renovated Biergarten.
1444 Market Street
(423) 531-7847
STIR brings a refined focus to Chattanooga's craft cocktail scene. Enjoy your painstakingly crafted drink with artisanal ice. The restaurant's modern aesthetic blends well with the historic bones of the iconic terminal station, the Chattanooga Choo Choo. Dinner and drinks are best enjoyed on the spacious patio in the heart of Southside.
North Chattanooga:
Aretha Frankensteins
518 Tremont Street
(423) 265-7685
This popular Tremont hangout is also popular with the pooches, who can lounge on the expansive front patio.
224 Frazier Avenue
(423) 531-8490
Chattanooga's only German-American gastropub, Brewhaus pairs classics like schnitzel, egg noodles, and brats with German-inspired beer and wines. Brewhaus is best enjoyed on the covered porch overlooking Coolidge Park or the sunny outdoor patio.