The secret is out: Chattanooga is a city that's home to an incredible array of outdoor experiences and possibilities. Having wholly embraced its geographical blessings in recent years, the Scenic City—as it's appropriately nicknamed—is a place that's ripe with adventure.

From the iconic point of Lookout Mountain to the crests of the Tennessee River Gorge, to everything in between, here's a brief look at some of the best places to hit the trail, and of course, where to go before and after your adventures for some of the city's favorite coffee, food, and places to unwind.
May the day-trip planning begin!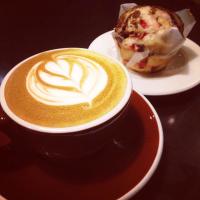 Where to Get Caffeinated
As any sane person would understand, finding a quality cup of Joe is perhaps the most important order of business when visiting a new city. And luckily, Chattanooga boasts quite a few excellent options for caffeine-lovers.
If it's outdoor seating and nice views you're looking for, you can't go wrong with Rembrandt's, a European-style cafe with stucco architecture and a shaded courtyard located in the ever-inviting Bluff View Art District.

If you're looking for locally roasted coffee that is sure to hit the spot, check out Mean Mug. With two locations to choose from - one on the Southside and one on the North Shore - you're never too far from a delicious cup of coffee. Both locations offer a full espresso menu, drip coffee, Kyoto style cold brew, and a variety of housemade pastries and breakfast items.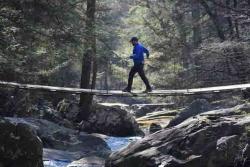 Where to Hit the Trail
With over 50 trailheads within 30 minutes of downtown, the hiking scene in Chattanooga is easily among the best in the Southeast, if not the entire country.
On the south side of the river is Lookout Mountain—a mountain ridge famous for its tourist attractions (like Rock City Gardens, Ruby Falls, and the Incline Railway), its world-renowned hang gliding school, and its fascinating Civil War history. Lookout also happens to be home to an extensive network of trails.

At the base of the mountain, Reflection Riding offers a flat and easy excursion along creekside, gravel paths and through clusters of bamboo forests. Halfway up the mountain, the historic Cravens House acts as the perfect jumping off point for exploring a vast number of the mountain's trails. And near the summit is one of the most memorable hikes in the Southeast: the beautiful Bluff Trail—a thin strip of singletrack that traverses the western flank of the mountain and offers unparalleled views of the valley and river below.

"Middle Creek, near Signal Mountain, may require some rugged rock scrambling, but an abundance of swimming holes to makes it well worth the effort." -Jake Wheeler

North of the river, even more options abound. Signal Mountain, while not technically a mountain and more of a high plateau, is home to some amazing hikes. If you're drawn to things like remote mountain creeks, tumbling waterfalls, rustic swinging bridges, and precipitous cliffs, then Signal is just the ticket. For water lovers, specifically, it's tough to beat the hike to Rainbow Falls—a somewhat hidden route that many lifelong locals don't even know about. Lucky for you, we've got step-by-step directions that will lead you straight to the bottom of the falls.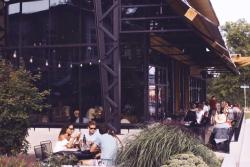 Where to Unwind
Not to be outdone by its natural surroundings, the city has recently revitalized its downtown into a fun and exuberant place to experience good food with good company. Whatever you're looking for, you've got options.
Fine dining? Alleia offers Italian food that easily compares to that of its homeland, and chef Daniel Lindley is a James Beard Semi-Finalist. Economical? Taqueria Jalisco has authentic Mexican tacos, and you can bring your own Tecate. Hip and fun? Hi-Fi Clyde's has BBQ, ping pong tables, and shuffleboard tables. Modern and chill? Flying Squirrel has dynamic architecture, lounge seating, groovy tunes, and a long list of spirits, wine, and beer.

So whether it's a date night or a thousandth beer with your childhood best friend, there's no shortage of choices.

Photo Credit: Camp House, Rodger Ling, Andrew Kornylak