With all the great attractions in Chattanooga, you'll never be stuck in your hotel room wishing for the sun to come out. Even on the rainy days, the fun continues. From climbing at one of the largest climbing gyms in America to exploring the world's deepest commercial cave to admiring the biggest freshwater fish on the planet, rain can't (and won't) stop the fun in Chattanooga.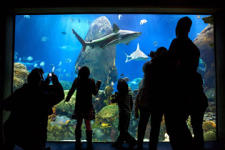 Tennessee Aquarium
At the Tennessee Aquarium, you'll be surrounded by freshwater. Discover feisty otters, baby alligators, prehistoric-looking sturgeon, and even a tweeting electric eel who goes by Miguel Wattson. Go "deep-sea diving" with fierce sharks, stealthy stingrays, and colorful reef fish; experience stingrays first-hand in the touch pool; watch playful penguins; and explore a rainforest filled with hundreds of free-flying butterflies.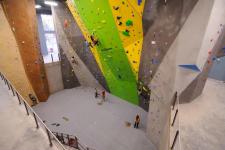 High Point Climbing & Fitness
High Point Climbing & Fitness boasts a whopping 30,000 square feet of walls that are jam-packed with brightly colored routes just waiting to be conquered. The gym boasts a lead wall, two bouldering walls, auto belays, a Kids Zone, yoga room, and a fitness room. There's something for everyone here.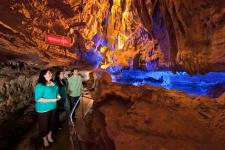 Ruby Falls
Journey over 1,100 feet underground at Ruby Falls and explore America's deepest commercial cave. Meander through cool passageways, discover ancient rock formations, and learn the cave's history on an hour and a half interactive tour. At the back of the cave, watch in wonder as your tour guide lights up the 145-foot waterfall.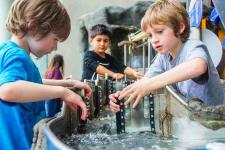 Creative Discovery Museum
Once you make it inside the Creative Discovery Museum, the rain will all but be forgotten. Explore how a river works in the RiverPlay exhibit; learn to build exciting creations in the Inventor's Clubhouse; enjoy a bird's eye view of Chattanooga from atop the Lookout Tower; and see science come to life in the Science Theater.


Hunter Museum of American Art
Check out the South's largest collection of American art at the Hunter Museum. The museum showcases art spanning the history of American culture from colonial times to the present day.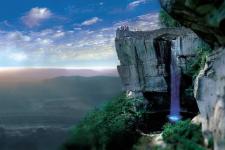 Rock City Gardens
Still feel like venturing outside? Rain ponchos are freely handed out at Rock City, so you'll never get wet. Wind your way through massive rock boulders and caverns on the Enchanted Trail; discover gnomes and magical fairytales in hidden passageways; and see the famous "Seven States" view for yourself at Lover's Leap.
Chattanooga is full of sunshine during the summer.  But if it rains while you're here, don't worry. There's still plenty to do.  The rain will never stop the fun in Chattanooga.