If your last romantic overture was taking out the trash, it's time to hit the road with your honey. Pull out the defibrillator and give your love life a charge with a romantic getaway to Chattanooga, where you can spend an amorous weekend without spending your entire paycheck.
WHERE TO STAY
Book a romantic getaway at The Read House Hotel, where modern-day comfort meets timeless Chattanooga charm. Relax, reconnect, and enjoy the simple pleasures of being together in one of Chattanooga's most luxurious hotels. To turn up the romance, check out the Romance Package, complete with in-room champagne, chocolate swans, and romantic turndown service.
DAY 1
Park the car and opt for more eco-friendly transportation during your visit. Downtown's free electric shuttle runs every five minutes from The Chattanooga Choo Choo Hotel (a few blocks away) to the Tennessee Aquarium and across the river to the Northshore with stops in between. If you have time, peruse the world's largest freshwater aquarium before enjoying dinner at Easy Bistro.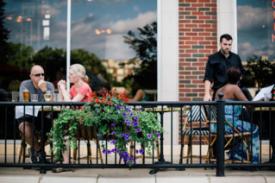 Located just steps from the Aquarium, Easy Bistro serves some of the city's freshest seafood, including oysters from Louisiana – Chef/Owner Erik Niel's home state. The menu also offers plenty for the landlubbers such as slow-braised beef brisket.
After your belly is full, enjoy an even greener mode of transportation – Chattanooga's horse drawn carriages ($40). Leaving every 15 minutes from the Aquarium's front entrance, the turn-of-the-century carriages meander through downtown streets, offering historic commentary or just letting you soak in the sites. They also offer a quieter ride leaving every 20 minutes from the Choo Choo hotel, which winds through Chattanooga's Southside district.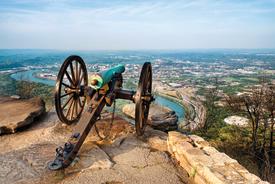 DAY 2
Dedicate your second day to the two things Chattanooga is most known for: art and the outdoors. A morning hike on Lookout Mountain's Bluff Trail will clue you in to why we're named the Scenic City. Or, get the same view without the walk by driving to Point Park, which commemorates the Civil War's "Battle Above the Clouds." Entry is just $7 and well worth it.
If you've walked more than a block downtown, you've probably stubbed your toe on some of Chattanooga's outdoor art. But the best example of our passion for the paintbrush is found at the Hunter Museum of American Art, one of Chattanooga's longest-lived institutions. Situated on bluffs overlooking the Tennessee River, the artwork is split between a historic mansion and a modern steel structure with lurching architecture.
You'll want to time it so you're in the Bluff View Art District for sunset. As one of the highest points downtown, you just can't beat the view from the Hunter's side porch.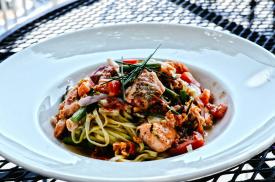 Two restaurants are just steps from this view: Tony's Pasta Shop & Trattoria and Back Inn Café. Both are owned by the same family, offer dessert and coffee from Rembrandt's Coffee House, and fresh baked bread from the Bluff View Bakery. Side note: Tony's serves theirs with olive oil and shaved parmesan that's so delicious, you just might want to bathe in it.
Tony's is your classic cheese-laden Trattoria (house-made ravioli, eggplant parmesan, lasagna) but they also offer delicious salads (Spinach Caesar) and gluten-free alternatives. Downstairs is casual but cozy – exposed brick and dark wood accents – while the upstairs patio offers river views under a wisteria-draped pergola.
Back Inn Café is Tony's white table-clothed cousin, offering a more international menu but the same stunning views. Housed in a turn-of-the-century mansion, the front of the restaurant is cloaked in dark wood paneling, warmed by a roaring fire in winter months. The back room is lined on three sides with floor-to-ceiling windows, offering panoramic views of the river and Arts District. But during pretty weather, most can't resist the multi-level back deck.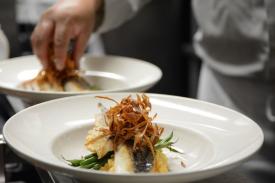 Wherever you sit, you won't be disappointed with the shrimp and grits, sesame crusted Ahi tuna, or espresso-rubbed New York Strip. Both restaurants offer desserts made from Rembrandt's kitchen, but the charming coffee shop is worth checking out personally. Just try not to drool over their expansive pastry case.
Whether your relationship needs a little spark to get the fire back or a rack of wood, a box of kindling and a gallon of unleaded, a charming river city with rolling green mountains is a good place to start. To plan your next romantic getaway, click here.