Six evenings of extraordinary chamber music and performances returns to the Hunter Museum of American Art for the 9th season of String Theory! String Theory at the Hunter Museum is a music series that brings world class musicians and artists to Chattanooga for an inspiring evening of musical performances. With its magnificent view of the Tennessee River, the Walnut Street Bridge and the North Shore district, the Hunter Museum provides the perfect, intimate setting for this event.
This year, world-renowned artists such as David Shifrin, the Danish String Quartet, Philip Setzer, and WindSync will take the stage to give audiences a once in a lifetime musical experience. The series has limited dates from September 2017 through May 2018, so mark your calendars now! Check out the full lineup below:
2017/2018 String Theory Lineup

Gloria Chien, Piano: Chien's work in recent years has propelled her into becoming one of America's best young chamber musicians. Her musical journey began at the age of five in Taiwan, where she first learned to play the piano. After her family moved to Boston, she made her professional debut at the age of 16 with the Boston Symphony Orchestra. Gloria Chien begins her seventh season as Artistic Director of String Theory, and will be performing on Sept. 19, Dec. 12 and Mar. 6.

 
Tuesday, Sept. 19, 2017
Paul Neubauer, Violin: Paul Neubauer's career has earned him the name "master musician" by the New York Times, as well as two Grammy nominations for his exquisite work in the industry. He currently serves on the faculty for the Julliard School and Mannes College.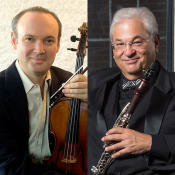 David Shifrin, Clarinet: David Shifrin is one of only two woodwind players to win the coveted Avery Fisher Prize. In 2008, he was appointed Artistic Director of the Chamber Music Society of Yale and Yale's annual concert series at Carnegie Hall. Shifrin is viewed by many as someone who continues to broaden the genre in ways they never thought possible. 
 
Gloria Chien, Piano: See description above.
 
Tuesday, Oct. 17, 2017
Danish String Quartet: This internationally acclaimed quartet is comprised of violinists Frederik Øland and Rune Tonsgaard Sørensen, violist Asbjørn Nørgaard, and cellist Fredrik Schøyen Sjölin. Their style leans towards classic chamber music with a very distinct Norwegian sound. 
 
Tuesday, Dec. 12, 2017
Philip Setzer, Violin: Philip Setzer is a founding member of the Emerson String Quartet. As a student, he studied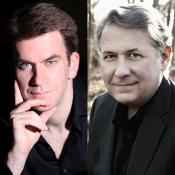 at the prestigious Julliard School of Music where he found a love for the violin. His work has taken him all over the world and he has been featured in the New York Times for his excellent work.
Edward Arron, Cello: Edward Arron is known worldwide for his passionate performances and clever sound pairings on the cello. He is currently working in both Connecticut and South Carolina as a resident performer for prestigious concert series in each of those locations.
Gloria Chien, Piano: See description above.
Tuesday, Jan. 23, 2018
WindSync: This group is nothing short of revolutionary. With their engaging interpretations of chamber music, high energy concerts, and interactive performances, the audience is bound to have a great time. The group has performed at the Library of Congress in Washington D.C., the Shanghai Oriental Arts Center in China, and now they are coming to the Scenic City!
 
Tuesday, Mar. 6, 2018
Soovin Kim, Violin: Soovin Kim is a member of the New England-based Johannes String Quartet. Kim is known not only for his musical abilities, but also for his entrepreneurial spirit. In 2009, Kim founded the Lake Champlain Chamber Music Festival in Burlington, VT, which has been a smashing success.
 
Roberto Diaz, Viola: Roberto Diaz plays the role of both a performing musician as well as a musical educator. He serves as the President and CEO of the renowned Curtis Institute of Music in Philadelphia, PA.
 
Andres Diaz, Cello: Andres Diaz is no stranger to the southeast as he studied at the Georgia Academy of Music in Atlanta, GA. Diaz's success started in 1986 when he won the Naumburg International Cello Competition, the catalyst that began his internationally celebrated career.

Gloria Chien, Piano: See description above.
Tuesday, May 1, 2018
Itamar Zorman, Violin: Itamar Zorman was born into a family of successful musicians. His Israeli up-bringing has influenced his style which includes Mediterranean themes. Zorman's success has given him the opportunity to perform at Carnegie Hall and the Kennedy Center. 
 
Bella Hristova, Violin: Bella Hristova truly becomes one with her violin on stage as she wraps you into a one-of-a-kind, engaging performance. The Bulgarian native has been praised by the Washington Post for her "impressive power and range." She went to the Curtis Institute of Music & Indiana University, where she blossomed as a performer.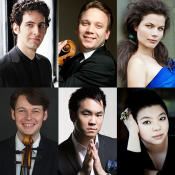 Richard O'Neill, Viola: Richard O'Neill is a world-renowned violist known not only for his music, but for his philanthropic ambitions. He has won an Emmy Award, the Avery Fisher Career Grant, and received two Grammy nominations for his incredible work. In his free time, O'Neill plays a large role helping four global nonprofit organizations. 
 
Yura Lee, Viola: Yet another Avery Fisher Grant recipient, Yura Lee has been in the industry for decades. Success found her quickly when she became the youngest artist to receive the Debut Artist of the Year award at the "Performance Today" awards at age 12. She holds degrees from Indiana University and the New England Conservatory. Her fascinating style will capture the audience in a timeless bliss. 
 
Mihai Marica, Cello: Mihai Marica was born in Romania where he studied with some of the best in his field to further develop and finely tune his natural abilities. His hard work has paid off as his talents have taken him to Mexico, Russia, and the Louisville Orchestra in Kentucky. 
 
Dmitri Atapine, Cello: Dmitri Atapine is a Yale School of Music graduate and celebrated cellist. He is known for paying great attention to detail in his work, all while remaining consistent in his sound. 
To find more information about the series and other events, click here.