Chattanooga is home to top-rated attractions and plenty of outdoor adventures, but there's also a wide-variety of local restaurants and eateries to explore. From an authentic Cuban café to an Irish bar and pub, there's something for everyone to enjoy this summer in the Scenic City. Check out a few local favorites that offer special dishes and cocktail pairings all summer long.
STIR
1444 Market Street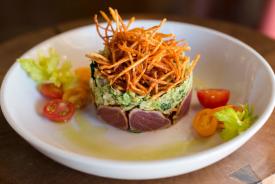 Featured Dish:
Seared Tuna Salad – Switch things up with a fresh, yellowfin tuna salad. It's paired with carrots, cucumber, cherry tomatoes, and avocado. This delight is then topped with house-made cilantro miso vinaigrette, spicy Sriracha potato wontons, and crunchy kale chips.
Paired Cocktail:
CoCo Choo Choo – The flavor of the islands can be found right here in Chattanooga. This delightful concoction of rum, gin, grapefruit and orange juices, coconut cream, and cumin spice brings vacation home.
Flying Squirrel 
55 Johnson Street
Featured Dish: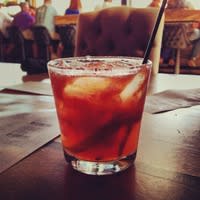 Burt's Famous Fried Chicken – They don't call it famous for nothing! This chicken is fried to perfection with a crispy outer layer and juicy, tender inside. If you're looking for an extra kick, be sure to order it spicy.
Paired Cocktail:
Watermelon Old Fashioned – This perfect summertime sip is made with Chattanooga Whiskey, watermelon, orange, sugar, and a hint of bitters.
Embargo 62
301 Cherokee Blvd. 
Featured Dish: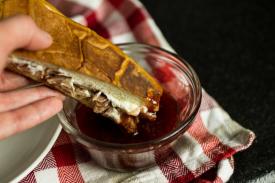 Elena Ruz – Named after a Cuban socialite who frequented an all-night diner in Havana, this flavorful sandwich includes roasted turkey, a layer of cream cheese, and a sweet strawberry jam on a semi-sweet bun.
Paired Cocktail:
Strawberry Pimms Cup – Fresh strawberries and lemon juice are paired with Pimms No. 1 and topped with a splash of club soda to create this tasty cocktail.
Tupelo Honey Cafe
1110 Market Street
Featured Dish: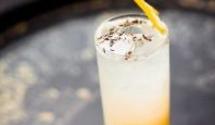 Beer City Double Stack Burger – Enjoy an all-natural Creekstone Farms' pasture-raised beef patty topped with a slow-roasted pork confit and homemade beer-cheese sauce.
Paired Cocktail:
Honeysuckle & Lavender Flip – This unique cocktail includes house-made lavender sour, fresh-squeezed lemon juice, and Cathead Honeysuckle Vodka.
The Leapin' Leprechaun
100 Market Street
Featured Dish: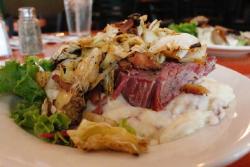 Corned Beef and Smash – Keep it simple, but delicious, with a traditional Irish corned beef brisket paired with savory "smashed" potatoes and cabbage.
Paired Cocktail:
Leprechaun's Gold – Enjoy Jameson Irish Whiskey paired with fresh lemon juice, Sour Apple and Crème de Menthe liqueur, a hint of Grand Marnier, and a little bit of sweet and sour.