Thanksgiving is the ultimate family holiday. No presents, no pressure – just good old fashioned together time. But if the thought of all that bonding under one roof seems a bit overbearing, consider hotel rooms…in Chattanooga. The road trip will be a refreshing alternative, and there are plenty of places to grab Thanksgiving Dinner from a kitchen you don't have to clean.
Southern Belle's Thanksgiving Lunch/Dinner Cruise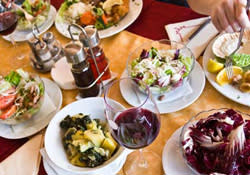 Nov. 28, 11am & 6pm
If you're looking for a unique way to enjoy a delicious Thanksgiving meal, hop on board the Southern Belle Riverboat for a holiday you won't forget. Enjoy a delicious lunch or dinner that includes turkey, ham, green bean casserole, and, of course, plenty of dessert to satisfy your sweet tooth. After your meal, take a tour of the Pilot House, listen to live music, and enjoy a scenic two hour cruise along the Tennessee River.
Southern Belle's Thanksgiving on the Pier
Nov. 28, 1:30pm
Enjoy live music and a buffet style Thanksgiving dinner on The Grand Chandelier Deck of Pier 2 aboard the Southern Belle Riverboat. Fill up on turkey, mashed potatoes and gravy, and a few of your favorite Thanksgiving foods before enjoying a scenic one-hour cruise down the Tennessee River.
Thanksgiving Feast at the Chattanoogan Hotel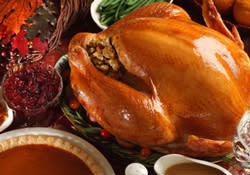 Nov. 28, 11am-3pm
Enjoy Thanksgiving with family and friends at The Chattanoogan Hotel's Thanksgiving Feast. Executive Chef Jeremiah Tyron and his excellent culinary team will prepare a delicious meal featuring dozens of traditional and innovative dishes such as Tennessee Whiskey and Coca Cola Glazed Pork Loin. To make a reservation, please call (423) 424-3700. 
Thanksgiving Day at the Lookout Winery
Nov. 28, 11am-5:30pm (CST)
Enjoy a delicious turkey dinner with spectacular views of the Tennessee River this Thanksgiving! The menu will include roasted turkey breast, creamy mashed potatoes with a savory gravy, green bean casserole, cornbread stuffing, and a slice of great pumpkin pie with a scoop of gelato for dessert. Reservations required. 
Thanksgiving Buffet at Sticky Fingers
Nov. 28, 12pm-6pm
The Hamilton Place Mall may be closed on Thanksgiving, but Sticky Fingers will be open for their annual holiday buffet! The menu includes smoked turkey, cornbread stuffing, creamy mac 'n cheese, and a variety of their other Southern sides. If you'd rather enjoy your Thanksgiving meal at home, pre-order your meal online and get your full Thanksgiving Dinner to go.
Thanksgiving Dinner at Ruth's Chris
Nov. 28, 11am-10pm
Stay focused on family and friends this Thanksgiving and let Ruth's Chris do the cooking. Enjoy a three-course dinner with oven-roasted turkey breast, sausage and herb stuffing, homemade gravy, and cranberry relish. They'll even send you home with some Thanksgiving leftovers for you to enjoy the next day!
Puckett's Holiday Meals To Go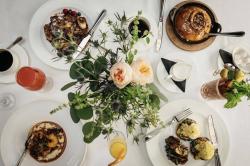 This Thanksgiving, let Puckett's Grocery & Restaurant do the cooking for you! If you want to enjoy a home-cooked meal without having to lift a finger, Puckett's is here to help. This year, the southern-style restaurant is offering holiday meals to-go. Enjoy a selection of meats from turkey to beef brisket and a variety of classic southern sides like green bean casserole and cornbread dressing to go with. Orders can be placed through Nov. 23. Pickup begins Monday, Nov. 25 and is available daily from 8 to 10 a.m. and 4 to 6 p.m. through Nov. 27 and from 7 to 10 a.m. on Thanksgiving Day. 
Thanksgiving Brunch on the Bluff 
Nov. 28, 11 a.m.-4 p.m.
Enjoy the day by feasting at Bluff View Art District's acclaimed Thanksgiving Day Brunch. The annual holiday brunch buffet features traditional Thanksgiving dishes like turkey, mashed potatoes, stuffing and fixings alongside signature favorites from Bluff View's renowned pastry, bakery, pasta and restaurant kitchens. Reservations required. To make a reservation, please call (423) 265-5033 x4.
Thanksgiving at the Read House 
Nov. 28, 11 a.m. & 4 p.m. (Silver Ballroom), 5-10 p.m. (Bridgeman's Chophouse)
The historic Read House hotel is preparing a feast for Thanksgiving Day with traditional offerings including oven roasted turkey and maple bourbon whipped sweet potato casserole for brunch as well as staple Bridgeman's Chophouse dishes for dinner. For those who would like to eat earlier, a Thanksgiving buffet will be hosted in the Silver Ballroom at 11 a.m. and 4 p.m. Bridgeman's Chophouse will be open for dinner, offering a full menu plus a special Thanksgiving dinner option. To make a reservation, please go online or call (423) 643-1240.