Chattanooga has it all when it comes to outdoor adventures—and more and more people are discovering that through the city's signature endurance events held each year. Athletes from around the world come to Chattanooga to run a marathon, compete in a triathlon, rock climb, mountain bike, or paddle the Tennessee River. An event is a great way to see the city—and a good excuse for a mini-vacation to Chattanooga. If you're looking to challenge yourself, here are some of the top events that bring endurance athletes to the city each year.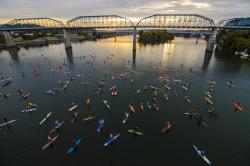 RIVERROCKS
The annual RiverRocks festival draws outdoor enthusiasts from across the country to compete in a wide variety of events over a three week period in October. While many elite athletes will be in town to compete, the vast majority of participants are weekend warriors interested in testing themselves and taking advantage of the outdoor opportunities in the area. You'll find competitions involving rock climbing, kayaking, stand-up paddleboarding, open-water swimming, trail running, and mountain biking. The festival also includes film showings, live music, and nightly entertainment—a perfect way to end a day of adventure.
CHATTJACK 31
Every year in October, paddlers gear up for this epic, 31-mile race, which starts at Ross's Landing in downtown Chattanooga and traverses the Tennessee River Gorge to Nickajack Lake. You'll find categories for all types of watercraft, including canoes, kayaks, stand-up paddleboards, and even rowboats. Be prepared for a test of your endurance—paddling 31 miles isn't easy—but you'll be rewarded as you explore one of the most scenic riverways in the country.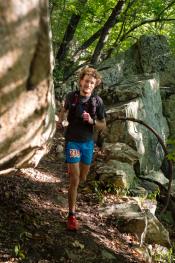 STUMP JUMP 50K/15K
Looking for an intense trail race? The annual Rock/Creek Stump Jump each fall features a 50K race across Signal Mountain and Walden Ridge. With more than 6,000 feet in elevation gain, runners can expect an intense run with spectacular views of the Tennessee River Gorge. Runners can also opt for a less extensive 15K trail race from Edwards Point to Mushroom Rock Loop.
LULA LAKE FIVE POINTS 50
The LuLa Lake Five Points 50 has established itself as one of the can't-miss mountain biking events in the Southeast. Cyclists will travel 50 miles, starting in Lula Lake Land Trust and riding across Lookout Mountain. Expect a challenging experience trekking through technical terrain and steep climbs via the Five Points Trail System. If 50 miles sounds a bit much, a new 25-mile option has been added as well.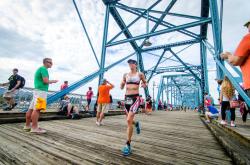 IRONMAN CHATTANOOGA
Local and national athletes train for years to compete in the annual IRONMAN competition held in Chattanooga in September. This iconic event starts with a 2.4-mile swim in the Tennessee River. Once finished, competitors then head out for a 112-mile bike course before finishing with a 26.2-mile run through Chattanooga. The IRONMAN 70.3 series also comes through each year, in May. The distances are half as long as the original Ironman, but the competition is just as intense. And this year, the IRONMAN 70.3 World Championships take place right here in Chattanooga.
LOOKOUT MOUNTAIN 50-MILER
The Lookout Mountain 50-Miler features a challenging trail run that begins at the top of Lookout Mountain on the Covenant College Campus and features a wide variety of challenging trails. Runners will explore the Chattanooga National Military Park and cross no fewer than five different creeks. You also can choose to run a 21-miler, 10K, or 5K, which means runners of all abilities can find something that fits them. No matter the course, you'll be treated to some stunning lookouts over Chattanooga.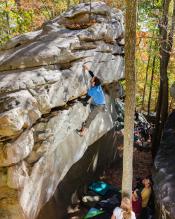 TRIPLE CROWN BOULDERING SERIES
The Triple Crown Bouldering Series takes full advantage of the rock climbing opportunities around Chattanooga. This event is the second leg of the three-stop series in the Southeast, and it will be held at the popular Stone Fort Bouldering. The three-day event offers a wide variety of competitions, plus an opening film fest and pint night.
3 STATE 3 MOUNTAIN BIKE RIDE
Each May, thousands of cyclists gather in the Scenic City to join the Chattanooga Bicycle Club for the 3 State 3 Mountain Bike Ride. The name says it all, as cyclists travel up and down three mountains and across three states during this century ride. Not interested in traveling the full 100 miles? You can also choose from a 64-mile metric century, which covers one mountain and two states, or a 25-mile ride that sticks to Tennessee—with no mountains. No matter which ride you choose, you'll discover why Chattanooga has become such a prominent spot for road cyclists.
CHATTANOOGA MARATHONS
Chattanooga features two top-rated marathons: The Seven Bridges Marathon takes place each October, while the Chattanooga Marathon runs in March. Both 26.2-mile races offer scenic courses to explore many of the city's neighborhoods, the riverfront, and, of course, several iconic bridges.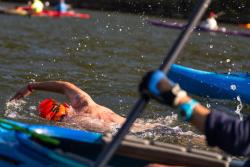 SWIM THE SUCK
The Swim the Suck is one of the top ultra-distance swimming events in the country. The 10-mile swim brings hundreds of swimmers to race through the iconic Tennessee River Gorge each October. Athletes are required to follow English Channel swimming rules—which means no wetsuits or any other means of buoyancy are allowed. Even if you're not up for the swim yourself, the start of the race is something to see in downtown Chattanooga.
Photo credit: Chattanooga Tourism Co., Perry Smyre, Chad Jones Photography