On August 21, the first total solar eclipse in almost 100 years will make its way across the U.S. and pass by Chattanooga on its journey. With schools and businesses closing for the day, many are wondering how to celebrate this rare occurrence. Grab your eclipse viewers and check out some of the best places to view the solar sight around town!
What to do:
For a view of the eclipse unlike any other, head to the top of Lookout Mountain for Rock City's ROCK The Eclipse viewing party. Local meteorologist David Karnes, along with J-103, will be on site for all the eclipse excitement giving away out-of-this-world prizes.
The Chattanooga Zoo is teaming up with Sunny 92.3 to host a one-of-a-kind viewing party with your favorite furry friends. The event will give a unique opportunity to study how each animal reacts to the eclipse and see which nocturnal animals come out while it's dark. Kids will receive free admission into the Chattanooga Zoo by bringing their own glasses, so pick up a pair before you go.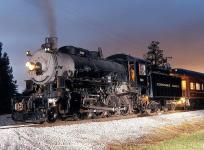 Another fun way to spend the day is aboard the Tennessee Valley Railroad's Copperhill Solar Special train ride. The train will traverse the river gorge and negotiate the spiral near Farner before continuing to the former mining town of Copperhill. There will be an extended layover allowing plenty of time for a picnic lunch and a perfect place to view the solar eclipse. Protective eyewear is not available at the Tennessee Valley Railroad, so be sure to get your eclipse viewers before you arrive.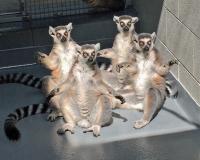 The Tennessee Aquarium will be showing NASA's Eclipse 2017 "megacast" in the River Journey building auditorium as well as keeping a close eye on how the animals react throughout the day. The Ring-tailed and Red-ruffed Lemurs are very aware of the sun and have even been known to "sun worship." Because they are so tuned in to what's going on above them, they may show strange behavior during the solar eclipse.
The Creative Discovery Museum will have eclipse-related activities for all ages August 19-21. The activities will include walk-up, hands-on science demonstrations explaining how eclipses and shadows work.
Stop by the Chattanooga Visitors Center to Taste the Moon August 19-21. Learn about the solar eclipse events around Chattanooga from the Information Specialists and enjoy a sweet treat while supplies last. 
Where to pick up solar eclipse glasses:
FREE: OUT OF STOCK: Outdoor Chattanooga will be handing out solar eclipse glasses in Coolidge Park on Monday, August 14, from 9 a.m. to 5:30 p.m.
FREE: OUT OF STOCK The Ice Cream Show will have solar eclipse glasses while supplies last. BONUS: Bring your glasses back after the event for a special discount on your next ice cream purchase (offer valid Aug. 21-31).
FREE: Ruby Falls will have solar eclipse glasses on Monday, August 21 with the purchase of a general admission ticket while supplies last.
$: Special eclipse glasses can be purchased at Rock City's gift shops, The Incline Railway (both stations), The Battles for Chattanooga Museum, Cornerstone Gift Shop, and the Rock City Starbucks while supplies last.
If you can't find eclipse glasses:
Make a pinhole viewer. This DIY project is still a fun and safe way to view the solar eclipse.
Catch NASA's live stream of the solar eclipse as it crosses over the U.S from 12 p.m. until 4 p.m.
Recommended tips from NASA:
Make sure you have protective eye wear. Many retailers will have them for sale, but look for authentic eclipse viewing glasses with the designation ISO 12312-2. Visit the American Astronomical Society for more information on eye safety during the solar eclipse.
Prepare your smart phone to avoid accidental damage. To take pictures of the eclipse, you'll need a telephoto lens, a tripod, and a downloadable app like Camera+ or NightCap Pro that allows you to adjust exposure settings.
For the exact eclipse and totality viewing times around Chattanooga, check out NASA's Interactive Eclipse Map.
Still have questions? Visit NASA to find more information about the solar eclipse.