Chattanooga is excited to welcome the Moon River Music Festival back to the Scenic City. Presented by Drew Holcomb & the Neighbors, Moon River began in his hometown of Memphis, TN, and has since grown significantly to a SOLD OUT 2019 Festival in Chattanooga's Coolidge Park. Look for window clings at local businesses to find Moon River specials, and be sure to check out all of the Moon River experiences happening during the festival weekend, Sept. 8-9, on the Moon River website.
Before the party begins, and after the music ends, here's a guide on how to make the most of your Moon River experience, Chattanooga style. 
Explore the Outdoors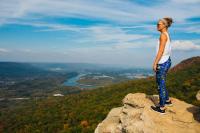 With more than 50 trailheads within 30 minutes of downtown, the hiking scene in Chattanooga is easily among the best in the Southeast, if not the entire country. From the slopes of Lookout Mountain to the steep crests of Signal Mountain, the Scenic City is blessed with a diverse and notable network of hiking trails. Considering the vast number of incredible hikes in the area, it's admittedly quite difficult to narrow it down, but here are five of our favorite hikes in Chattanooga. 
Sip a Cold One at a Favorite Watering Hole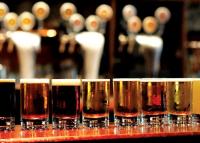 There are so many exciting things brewing in Chattanooga, especially craft beer. See our guide for a breakdown of brewpubs, pub crawls, and some of our popular watering holes – all reasons Livablity.com named Chattanooga one of the top 10 beer cities. If you're staying near Coolidge Park, be sure to take a trail-to-pub tour of Chattanooga's North Shore. If beer isn't your thing, here's a more diverse list of happy hour specials around town.
Eat like a Local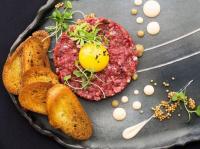 Over the past couple of years, the number of Chattanooga restaurants has exploded. Check out our list of local restaurants that you can only find in Chattanooga. Many of the local eateries feature locally sourced fruits, vegetables, meats, milk, eggs, cheeses, breads and more. Take a North Shore food tour or take a look at our food guide to Chattanooga's Southside. Be sure to stop in one of our many restaurants with live entertainment.
Continue the Party and Grab Some Late Night Food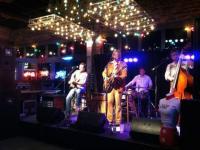 Once the festival is over, the fun doesn't have to stop. Check out our nightlife scene and go see more live music in Chattanooga. Dining after hours? Fret not with this list of late night restaurants that accommodate the hungry night owls.
Take your Camera and Explore Public Art and Murals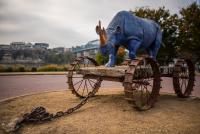 Scattered throughout Chattanooga's streets, you'll find exciting artwork on almost every corner. The city is filled with 125+ pieces of public art, bringing the sidewalks to life with sculpture gardens, moveable bridges, and Native American waterscapes. Here's a guide on where to find Chattanooga's most popular murals. As you explore, keep an eye out, have your camera ready, and appreciate Chattanooga's beautiful aesthetics. 
Have Fun with the Family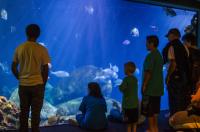 Chattanooga is full of top-rated attractions, outdoor adventures, and family-friendly activities. You simply can't take a trip to Chattanooga and not visit the Tennessee Aquarium.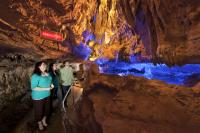 Next, head up to Lookout Mountain for a visit to Rock City, Ruby Falls, and The Incline Railway.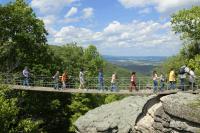 Take the kids for a stroll on Chattanooga's Riverwalk or choose from various activities on our guide to a week's worth of family fun in the Scenic City. 
Attend a Moon River Themed Party
North Chatt New Moon Bash
Sept. 6, 3-11 p.m.
Head to North Chattanooga on Friday, September 6 for a free family friendly event.Local vendors, cool kids adventure stuff, awesome bands, cold beer, and delicious food! Featuring electric unicycles and virtual reality simulators from Adventure Sports Innovation, a meet and greet with Looie the Lookout, chalk alley art and so much more! Head on over to the Sushi Nabe parking lot for a good time.
MOON RIVER PROMOS AND SPECIALS
Mention "Moon River" at the following establishments during the festival and receive the following discounts!

Puckett's
Puckett's is offering a Peachy Moonshine Tea for $5 all weekend (Saturday and Sunday). They will also have live music Friday night and Saturday night along with dinner specials Friday and Saturday nights.

Clumpies Ice Cream Co.
Clumpies is offering 10% off in their ice cream shops for any Moon River attendees who show their wristband.
Northshore - 26 B Frazier Ave., Chattanooga, TN 37405 – 423-267-5425
Southside - 1401 Market St., Chattanooga, TN 37402 – 423-648-5425
Lookout Mountain Area - 3917 St. Elmo Ave., Chattanooga, TN 37409 – 423-821-0807

Chattanooga Whiskey
Chattanooga Whiskey is offering $2 off any cocktail all weekend long for Moon River attendees.

Mad Priest Coffee Roasters - Broad Street location (1900 Broad St.)
Mad Priest is offering 20% off all beverages and 15% off all merchandise when Moon River festival wrist bands are presented. 

The Tennessee Aquarium
Mention "Moon River" at the Tennessee Aquarium Ticketing Center and receive up to $5 in savings on the Aquarium and IMAX 3D tickets.
Sing It Or Wing It
$1 off all drafts all day Saturday, September 7th. Enjoy a Moon River Brunch Special with Fish Bowls for only $6 and Bloody Mary and Mimosas for only $4 on September 8th.