Chattanooga Motorcar Festival
Racing, Rallying and Vintage Cars in the Heart of Downtown
By Rich Bailey
The Chattanooga Motorcar Festival returns October 15-17 with an exciting mix of speed, elegance and automotive history, all centered in downtown Chattanooga's lively West Village.
"Our inaugural event in 2019 made huge waves in the world of concourse car shows, because it's a family-friendly event in a downtown area," said festival Grand Master Corky Coker, who grew his family's Coker Tire into the largest supplier of collector-vehicle tires and wheels in the world. "There are vintage races around, and there are car shows around, but the Chattanooga Motorcar Festival is a true festival because it offers so many different things."
The festival was first held in 2019, but the second event in 2020 was canceled due to the COVID-19 pandemic.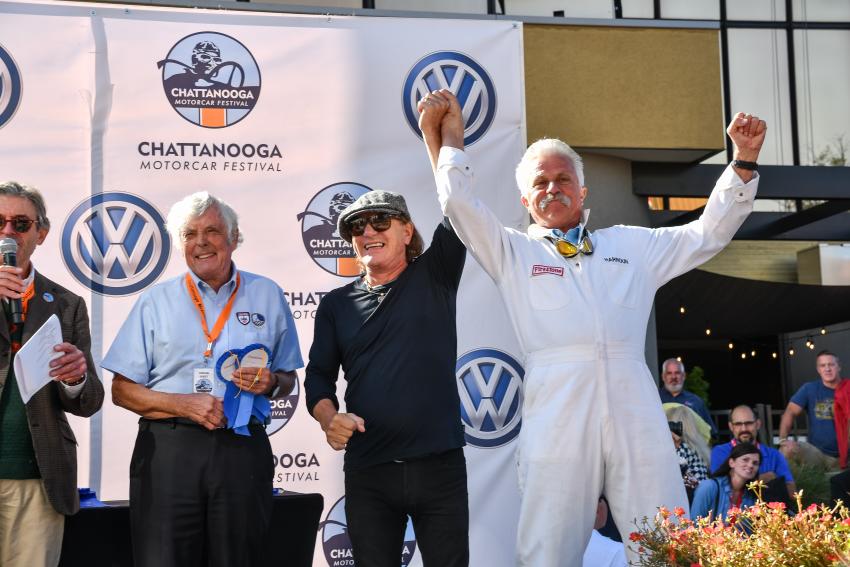 Pace Grand Prix at The Bend 
The most dramatic of the weekend's events is the Pace Grand Prix at The Bend, bringing the excitement of wheel-to-wheel racing to downtown Chattanooga for the first time.
"Cars will compete against each other literally wheel to wheel," said Coker. "The time trial we did in 2019 was just racing against the clock, out and back."
On Friday and Saturday, 12 cars at a time will race around a purpose-built circle track, winding through Riverfront Parkway and sections of the former Alstom manufacturing site, now being redeveloped with housing, new businesses and a new street grid that integrates new uses into Chattanooga's downtown. Course construction using roadways inside the former industrial site includes widening roads so racecars can pass each other, straightening curves in some places, adding artificial curves called chicanes in other places to slow down cars on long straightaways and smoothing railroad crossings. 
Coker will race his own vintage Nyberg, an Indianapolis race car manufactured in Chattanooga in 1910, along with other classic brass and pin cars. "For the early cars, it's really somewhat of a choreographed dance," said Coker," creating a thrill for the crowd seeing these vintage race cars go around the track." 
The grand prix is named in memory of the late Jim Pace, a racing veteran, event chair and Chief Operating Officer of the inaugural Festival, who passed away on Nov. 13, 2020, from COVID-19.
West Village Road Rallye
Also held on Friday and Saturday, the West Village Road Rallye is a timed distance rally, where 25-40 cars with a driver and a navigator will follow a pre-determined course.
"It's a great game that people play with their cars," said Coker. "The goal is to match the course master's course exactly on time. If you pass a stop sign too early or too late, you lose points. The winner is not the first one who gets to the finish. It's who comes closest to matching the prescribed time."
The course will begin and end at the Westin, but the route is top secret until about 20 minutes before the Rallye begins. Corky says a typical rally course might include picturesque countryside around Chattanooga. Starting at the Westin early in the morning, driving teams might cover as much as 125-200 miles before returning to the Westin by early afternoon.
Concours d'Elegance 
On Sunday, speed takes a backseat to a different kind of competition as dozens of vintage and historic cars from around the country are presented at the juried Concoursd'Elegance.
"A concours is the epitome of a collector car show in America," said Coker. "It's a French name that basically means a bunch of enthusiasts that come out and show their cars."
Other events during the Chattanooga Motorcar Festival include: 
Mecum Auctions: about 600 cars offered for sale by the world's largest collector car auction 
Automobilia: exhibitors offering historical artifacts and collectors' items linked with cars and racing 
A cruise-in for collector cars to gather near the racetrack 
Car clubs getting together to talk about their passions 
Nightly street festivities, daytime family fun, celebrities and special guests, and panel discussions
Proceeds from the ChattanoogaMotorcar Festival support neuroscience research at CHI Memorial Hospital through Fifty Plus Racing Foundation, Inc.
For more information and a complete event schedule, visit chattanoogamotorcar.com