Warm Up with Foods from Around the World
By Rich Bailey
International cuisine is easy to find in Chattanooga. We've selected just a few for their use of spices and zesty flavors, which will add heat to any chilly day. Comforting paella. Slow-roasted meats. Tabletopgrilling. Steaming noodles. Yes, please!
Embargo 62 | Cuba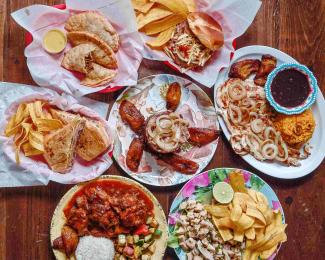 elembargochatt.com | "Most people that come in say that stepping through the door it's almost like being in a different country like you're really in Cuba," said Galdino Chavez, manager of Embargo 62, named after the legislation that cut off Cuba from the United States in1962. The restaurant has been serving savory and sweet homemade Cuban cuisine in Chattanooga since 2015.
People who've never tried Cuban food are often surprised that it's not as spicy as Mexican food. "Cuban is really more savory than spicy," said Chavez. Embargo 62's most popular dishes are Ropa Vieja, roasted beef with yellow onion, red and green peppers, and a red wine reduction sauce; Beef Oxtails, similar to short ribs; and the Cuban Sandwich, slow-roasted marinated pork, sweet ham, Swiss cheese, yellow mustard, and dill pickle on authentic Cuban bread. 
Bela Lisboa | Portugal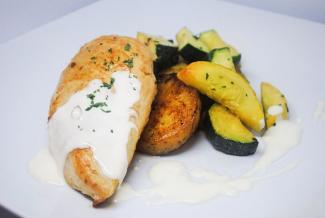 belalisboa.com | After opening four Portuguese restaurants in Portugal and one in Romania, Joe Vagos moved to the United States and opened Tennessee's only Portuguese restaurant almost five years ago on Chattanooga's North Shore.
Bela Lisboa's most popular menu items are paella, a rice-based entree served in Portugal, and filet mignon "on the stone."
"We keep these lava rocks in the oven at 500 degrees, the kitchen sends out the dish on top of the hot stone, and guests cook it to their liking," said Vagos. Tuna, salmon, Brazilian-style beef, and surf and turf (filet and shrimp) are also served on the stone, or "na pedra" in Portuguese.
Alex Thai Food & Noodle Bistro | Thailand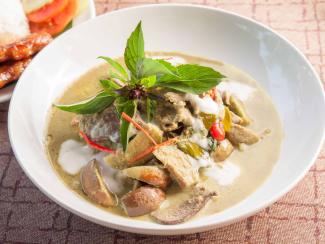 alexthaifood.com | Balancing tastes and sourcing the best ingredients is a priority at Alex Thai Food & Noodle bistro. Chef-owner Alex Soommart opened Alex Thai in 2016. He learned his craft at a cooking culinary school in Bangkok, Thailand. He trained other Thai chefs in the U.S. and came to Chattanooga 15 years ago to create Thai Smile restaurant.
Alex Thai's menu includes Thai favorites such as Pad Thai and various curry dishes and Thai fried rice as well as chef specialties created by Alex himself. Non-Thai cuisines are also featured such as chef-prepared ramen noodles — far superior to the familiar staple of college fast food — built around duck, pork belly, seafood, and more. There are other noodle dishes from Singapore, Malaysia, and Vietnam, plus hibachi preparations of seafood, chicken or steak.
Zaya 1943 Korean Steakhouse | Korea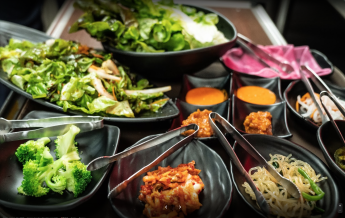 zayakorean.com | Balance is at the top of the menu at this new Korean restaurant —just opened in May 2021 — created by the owners of two established Japanese and Brazilian restaurants in Chattanooga. Combining the traditions of an American steakhouse and Korean barbecue, Zaya 1943 Korean Steakhouse is more than meat.
"High-quality meats, such as dry-aged wagyu beef, are served with hearty vegetables that complement the meats and introduce healthy balance," according to David Park, assistant general manager. "Traditionally, Korean food is about balance — yin and yang, sweet and spicy, meat and vegetables."
Meats are prepared at tabletop grills, where customers can handle grilling themselves or have servers do the cooking. The tabletop grill began in Korea as a convenience, according to Park, but over the years has become associated with family
"As the meat is cooking in front of you on the table, you realize that cooking is a kind of intimacy," he said. "You don't really cook for strangers. You cook for your family and your friends. Through food, we are able to integrate our whole culture and introduce it to Chattanooga and bring something new and refreshing."