DTN MEDIA KIT
DESTINATION TRAVEL NETWORK &
CHATTANOOGA TOURISM CO.
ADVERTISING OPPORTUNITIES ON VISITCHATTANOOGA.COM
• Responsive website design allows advertisements to display on all devices
• All placements are templated and designed to match the visual aesthetic of ChatanoogaFun.com
• Images should be photographs without any overlaid elements, including logos
• All character count specs include spaces and punctuation. We recommend using a character count tool such as http://www.charactercountonline.com/ to track copy length
• "Lines" listed for "headline" copy are recommended lengths when viewing the placement on desktop (about 1400px wide). Character limits for headlines are estimates and will vary based on the characters used.
• Character limits for "body" copy are strict limits set by the CMS. Any words that go beyond this limit will be excised by the CMS and an ellipsis will be added to the end.
Spotlight Text Link
• Photo (529w x 529h pixels)
• Headline (62 characters) - 2 Lines
• Body (130 characters)
• Clickthrough URL
Curabitur erat nibh, euismod quis nisi nec, sollicitudin consequat nisi. Nullam lacinia, enim vitae luctus volutpat, ante dui cons
Learn More
RUN OF SITE BANNER
• Photo (678w x 678h pixels)
• Headline (96 characters) - 2 Lines
• Body (180 characters)
• Clickthrough URL
Curabitur erat nibh, euismod quis nisi nec, sollicitudin consequat nisi. Nullam lacinia, enim vitae luctus volutpat, ante dui consectetur libero, vitae efficitur justo eros conse
Learn More
MOBILE BANNER 
• Photo (75w x 50h pixels)
• Copy (33 characters)
• Call–To–Action (30 characters)
• Clickthrough URL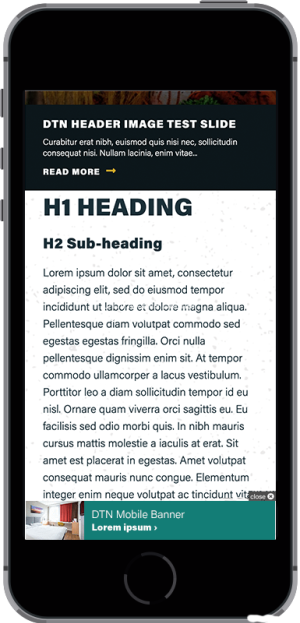 FEATURED LISTING 
• Pulls content from your existing listing detail page

PREMIUM PAGE SPONSOR
• Photo (700w x 700h pixels)
• Headline (24 characters) - 2 Lines
• SubHeadline (18 characters) - 1 Line
• Body (300 characters)
• Clickthrough URL
Lorem ipsum dolor
Lorem ipsum dolor sit amet, consectetur adipiscing elit, sed do eiusmod tempor incididunt ut labore et dolore magna aliqua. Ut enim ad minim veniam, quis nostrud exercitation ullamco laboris nisi ut aliquip ex ea commodo consequat. Duis aute irure dolor in reprehenderit in voluptate velit esse cillu
Learn More
HEADER IMAGE
• Photo (1598w x 639h pixels)
• Headline (45 characters) - 2 Lines
• Body (100 characters)
• Clickthrough URL
Lorem ipsum dolor sit amet, consectetur adipiscing elit, sed do eiusmod tempor incididunt ut labore
Read More