Climber Hot Spots
Spots With 500+ Established "problems" (but A Rock Ain't One!) Draw The Nation's Most Adventurous Climbers
There's a lifetime's worth of perfect sandstone just down the road from Chattanooga, and it's more accessible now than ever. In the last decade, thanks to effort by locals and climbing advocacy organizations such as the Southeast Climbers' Coalition, tons of landowners have opened the door to climbers. Of course, in order to preserve access to Chattanooga's best crags, it's crucial that climbers respect private property. Now that temperatures in the southeast are cooling off, local crags are heating up; whether you like to clip bolts, plug gear, or boulder—the Chattanooga climbing scene has something to offer.
While enjoying the great outdoors, please be respectful of our surrounding natural resources. Please plan ahead and prepare for your adventure, stay on marked trails, respect wildlife, keep dogs on a leash, dispose of waste properly, and be considerate of other visitors.
Stone Fort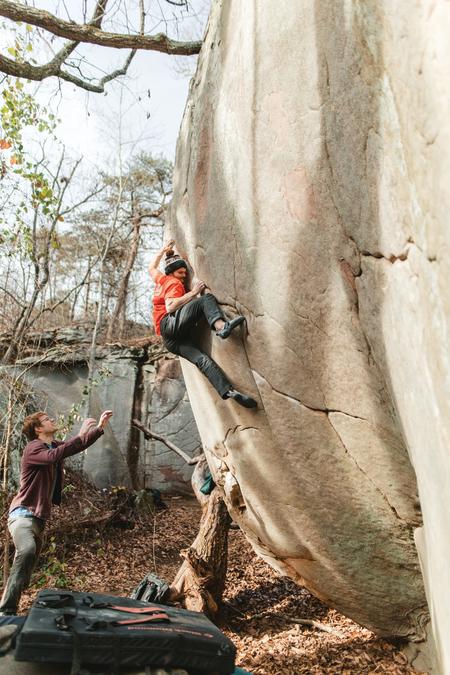 With four-star boulder problems ranging from V0 to V10, Stone Fort (a.k.a. Little Rock City) is considered one of the best bouldering destinations in the Southeast and is one of three locations in the famed Triple Crown Bouldering Series. October is prime time to head to Stone Fort when temperatures hover in the 50s and 60s. Located in Soddy Daisy, next to the Montlake Golf Course, users can park in a lot designated for climbers, sign a waiver, and pay a small cash fee upon arrival. The fee is well worth it—the diversity of climbs here is unparalleled. 
DISTANCE FROM DOWNTOWN: 13 miles
Suck Creek Canyon
For trad climbers looking to avoid the crowds, Suck Creek Canyon —with its classic multi-pitch routes and, occasionally, variable rock quality—is an adventure climbing destination. First developed in the 1970s, Roadside Wall offers a short, easy approach to what's considered the best climbing at Suck Creek Canyon. Bomb's Away, a three-pitch 5.8, feels like an alpine climb; crack climbers will delight in the four-star GPS Crack, a single pitch of 5.9.
DISTANCE FROM DOWNTOWN: 9 miles
Sunset Rock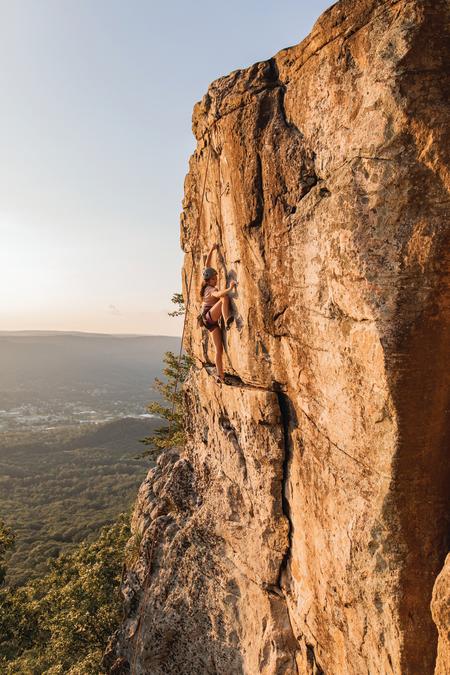 Climbers have been drawn to the high-quality sandstone at Sunset Rock since the 40s, and thanks to many pioneers, it became one of the first established crags in the region. It is located on the western brow of Lookout Mountain and is home to some of Tennessee's finest single-pitch trad climbing, and one of the most breathtaking views from the anchors. This is a great spot for beginners with plenty to top rope or seasoned trad climbers who want to try out their skills on new routes such as Jennifer's World. Watching the sunset from here is quite a magnificent experience. Climbers are required to park at Cravens House and hike up the Bluff Trail approximately one mile to the cliffs. Sunset is located in the Chickamauga Chattanooga National Military Park.
DISTANCE FROM DOWNTOWN: 7 miles 
Tennessee Wall
It's not an exaggeration to say the Tennessee Wall is the premier destination for single-pitch trad climbing in the southeastern United States. Climbers from all over the country flock to the T-Wall for its gorgeous red sandstone and top-notch rock quality. Autumn is the season to head to T-Wall—the view of the Tennessee River is best when framed by beautiful fall colors. There are plenty of moderate warm ups here, along with uber-classics like Hands Across America, a world-famous four-star 5.12c. Seasonal hunting closures occasionally affect access here, so pay close attention—the Southeast Climbers Coalition updates its website with closures to avoid a hefty fine.
DISTANCE FROM DOWNTOWN: 9 miles
Foster Falls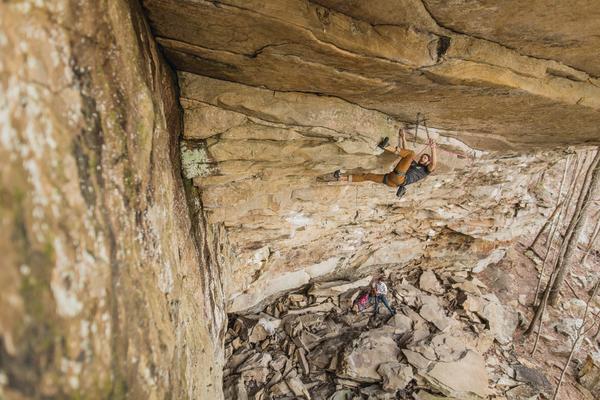 Though climbers head to Foster Falls year-round, fall brings the dry, crisp rock you need to send hard sport routes. There's a good variety of routes here– sixty routes in the 5.10-5.11 range which will keep all sport climbers entertained. Jacob's Ladder (5.8) is perfect for warmups and new leaders. Jimmywood, the area's most popular crag, boasts an excellent assortment of moderates. It is an easy hike to the cliff line made up of vertical overhanging sandstone that overlooks Little Gizzard Creek; and you get to pass the 80-foot tall Foster Falls along the way. 
DISTANCE FROM DOWNTOWN: 25 miles 
Denny Cove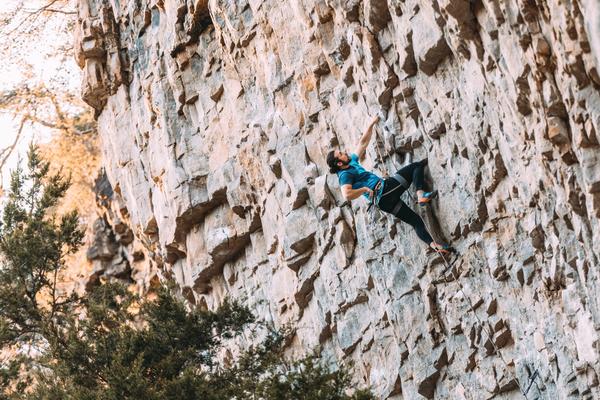 Denny Cove is located about 30 minutes from Chattanooga in the South Cumberland State Park and is popular spot for climbers and hikers. It features a large climbing area with nearly three miles of cliffline and approximately 150 climbing routes of all grades and ability levels. Climbers love testing their skills on the Cumberland Plateau's long overhanging walls, massive roofs, slabs, cracks, and corners made up of quality, multi-colored sandstone. The park is also home to Foster Falls and Stone Door climbing areas. Climbers are required to register online or with park management prior to climbing.
DISTANCE FROM DOWNTOWN: 35 miles