Kick Up Some Dirt On These 5 Mountain Bike Trails
Chattanooga has become a mecca for mountain bikers, with more than 100 miles of singletrack trail within 20 minutes of downtown. Fall is one of the most popular times to ride, with its cooler temperatures and beautiful autumn colors. So, throw your bike on the car and come check out all the great places that make Chattanooga a must-do fall destination for mountain bikers.
Raccoon Mountain
Distance from downtown: 30 minutes 
Miles of trails: 35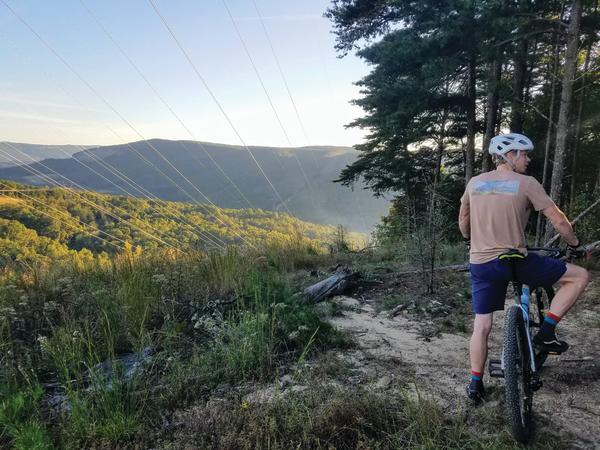 (Image courtesy of Chattanooga Outdoors)
Raccoon Mountain is one of the largest and most popular singletrack mountain bike trail systems in Chattanooga. Several trails circle the TVA Raccoon Mountain Pumped-Storage Plant, with difficulty ranging from intermediate to advanced. The Southern Off-Road Bicycle Association Chattanooga (SORBA) and the Tennessee Valley Authority collaborated to turn previously underused mountain terrain into a popular recreation area with 35+ miles of singletrack trails, making it a mountain biking mecca. Be prepared for roots, steep pitches, rocks, technical obstacles, and lots of fast, flowing trails.  
Five Points
Miles from downtown: 19
​Miles of trails: 20
Five Points is a spectacular mountain biking destination located atop Lookout Mountain in an old coal mining area, replete with newly-built, well groomed trails. It features some of the most diverse trails in the area, catering to all ability levels. Five Points is made up of about 20 miles of singletrack, multi-use trails that also connect to two beautiful places (Cloudland Canyon State Park and Lula Lake Land Trust) for additional mileage. You'll find close to a dozen loops that each take about 15-20 minutes to complete, making it very easy if you're interested in planning a shorter ride.
Stringer's Ridge
Miles from downtown: 3 
Miles of trails: 4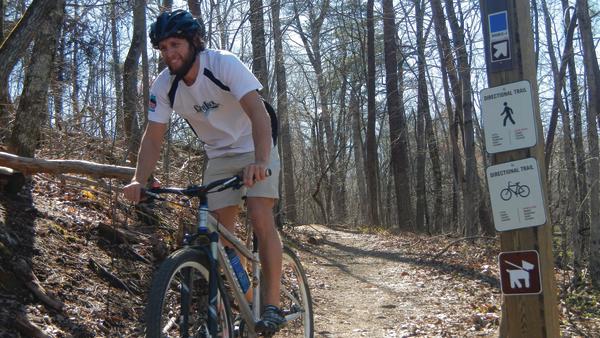 (Image courtesy of Outdoor Chattanooga)
Stringer's Ridge is nestled in the urban heart of North Chattanooga and is one of our beloved city parks. It features 10 miles of singletrack trails ranging in difficulty from beginner to intermediate, as well as a pump track near the entrance. Once you enter this beautiful, forested area, you'll find it hard to believe that you're not miles away from civilization. The trails feature plenty of climbing—in fact, level trails are rare—so be prepared to work. But the trails are all lots of fun with plenty of places to go fast. Be sure to take a break at the observation deck that provides an incredible view of downtown, specifically in the fall with the changing leaves. 
Enterprise South Park
Miles from downtown: 15
​Miles of trails: 25
Enterprise South Nature Park is a one of the more beginner-friendly singletrack trails, but there are plenty of options for intermediate to expert mountain bikers as well. SORBA Chattanooga collaborated with Hamilton County to create this 25-mile singletrack trail system with some unique features such as a dirt jump course. The park totals 2,800 acres and includes plenty of hiking, trail running, and road biking options.
White Oak Mountain Trail
Miles from downtown: 18
​Miles of trails: 11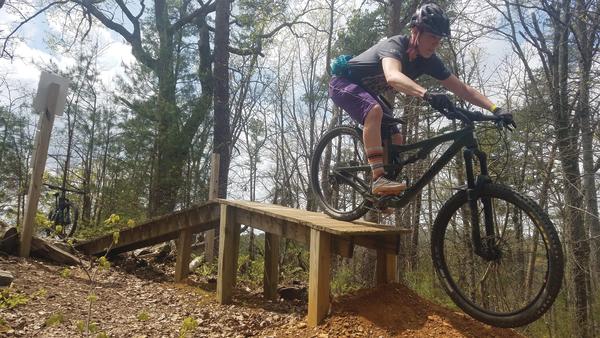 (Image courtesy of Outdoor Chattanooga)
White Oak Mountain Biology Trail is located on the west end of Southern Adventist University, directly behind the Outdoor Education Center. The trail is made up of easy to difficult terrain and offers beautiful views of Ooltewah Valley. The trail is a stacked loop system, meaning that the easiest trails are closest to the parking lots and the hardest trails are further away. For more experienced riders there are steep climbs, downhills, a few jumps, some step ups, drop offs, and creek crossings. At the top of the ridge there are two miles of boulders. This trail system also drains very well, and all but the flattest sections usually dry off quickly after a rain.