Making Travel A Priority
"He is going to learn more in one week of traveling than he will in one week of school!" 
That was my dad's response to my unhappy fifth-grade math teacher after pulling me, my brother, and my sisters out of school to go with him on a business trip to California. We lived in a small town in East Tennessee, and my parents made it a priority for us to explore the country through immersive experiences. During our trips, we always got to know the locals by visiting museums, markets, and festivals.  
Traveling provides numerous benefits. It introduces us to new regions, people, and cultures. It challenges us to grow, broadens perspective, inspires creativity, and helps us understand and better communicate with others. It is important for mental health and overall human happiness. 
Our community takes pride in being aggressively welcoming and ensuring visitors have a sense of belonging and are simply, one of us. We invite you to join us, in our community, and enjoy experiences you can only have in Chattanooga.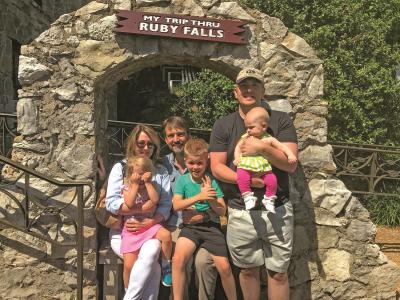 People consistently say the minute they get here, they look up at the mountains surrounding the city and the river that runs through downtown, and instantly feel a sense of relief. Add in the fall colors, festivals, pumpkin patches, and food and you may never want to leave. 
The holidays are a wonderful time to experience our way of life. Immersive experiences include events such asMainx24, one of the region's largest neighborhood festivals, markets filled with locally hand-crafted items, live music all around the city, delicious comfort dishes from local, award-winning restaurants, and so much more. 
On behalf of all Chattanoogans, we look forward to hosting you! 
See you soon, 

Barry White, CEO 

Chattanooga Tourism Co. 
Pictured: Barry White and his wife Trish enjoying an afternoon with their son-in-law Justin and grandkids at Ruby Falls.