Floor Plans & Capacity
Download Capacity PDF

When planning a meeting of any size, room dimensions can make the difference between comfort and aggravation. That's why we designed the Chattanooga Convention Center with areas flexible enough to meet any layout configuration. From mammoth conventions with thousands of attendees to intimate gathering of a few colleagues, the spaces here come tailored to fit.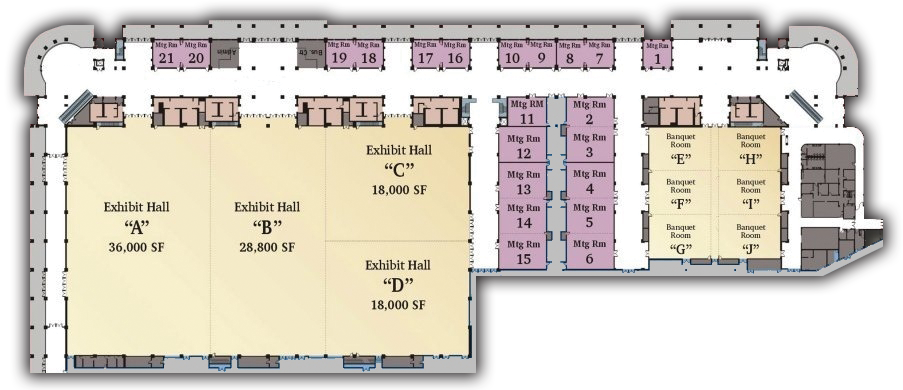 AREA SPECIFICATIONS
Area Name:
Sq. Footage:
Dimensions:

AREA CAPACITIES
Classroom Seating:
Theater Seating:
Banquet Seating:
Exhibits:
Exhibit Space - Square Footage and Capacities

Exhibit Hall Name

Dimensions
Square
Footage
Classroom
Capacity
Theater
Capacity
Banquet
Capacity
Exhibit
Capacity
Exhibit Hall A
150' X 240'
36,000
1,864
3,000
2,248
180
Exhibit Hall B
120' X 240'
28,800
1,486
2,394
1,800
145
Exhibit Hall C
150' X 120'
18,000
930
1,800
1,120
90
Exhibit Hall D
150' X 120'
18,000
930
1,800
1,120
90
Exhibit Hall C & D Combined
150' X 240'
36,000
1,864
3,000
2,248
180
Exhibit Hall B, C & D Combined
270' X 240'
64,800
3,360
5,394
4,048
320
Exhibit Hall A & B Combined
270' X 240'
64,800
3,360
5,394
4,048
320
Exhibit Hall A, B, C & D Combined
420' X 240'
100,800
5,210
8,000
6,288
500
Ballrooms - Square Footage and Capacities

Ballroom Name

Dimensions
Square
Footage
Classroom
Capacity
Theater
Capacity
Banquet
Capacity
Exhibit
Capacity
Ballroom E
63' X 45'
2,911
216
340
176
15
Ballroom F
63' X 45'
2,911
216
340
176
15
Ballroom G
63' X 45'
2,911
216
340
176
15
Ballroom H
63' X 45'
2,911
216
340
176
15
Ballroom I
63' X 45'
2,911
216
340
176
15
Ballroom J
63' X 45'
2,911
216
340
176
15
Ballroom U & I Combined
63' X 92'
5,800
384
812
400
36
Ballroom I & J Combined
63' X 92'
5,800
384
812
400
36
Ballroom H, I & J Combined
63' X 138'
8,700
624
1,152
664
53
Ballroom E & F Combined
63' X 92'
5,800
384
812
400
36
Ballroom F & G Combined
63' X 92'
5,800
384
812
400
36
Ballroom E, F & G Combined
63' X 138'
8,700
624
1,152
664
53
Ballroom E through J Combined
135' X 136'
18,360
1.248
2,304
1,400
112
Meeting Rooms - Square Footage and Capacities

Meeting Room Name

Dimensions
Square
Footage
Classroom
Capacity
Theater
Capacity
Banquet
Capacity
Exhibit
Capacity
Meeting Room 1
30' X 29'
870
40
70
48
--
Meeting Room 2
35' X 30'
1,050
60
126
64
--
Meeting Room 3
49' X 37'
1,800
106
221
120
11
Meeting Room 4
49' X 37'
1,800
106
221
120
11
Meeting Room 5
49' X 37'
1,800
106
221
120
11
Meeting Room 6
49' X 37'
1,800
106
221
120
11
Meeting Room 7
29' X 28'
812
40
70
48
--
Meeting Room 8
29' X 28'
812
40
70
48
--
Meeting Room 9
29' X 28'
812
40
70
48
--
Meeting Room 10
29' X 28'
812
40
70
48
--
Meeting Room 11
38' X 30'
1,140
60
126
64
--
Meeting Room 12
49' X 37'
1,800
108
221
120
11
Meeting Room 13
49' X 37'
1,800
108
221
120
11
Meeting Room 14
49' X 37'
1,800
108
221
120
11
Meeting Room 15
49' X 37'
1,800
108
221
120
11
Meeting Room 16
29' X 28'
812
40
70
48
--
Meeting Room 17
29' X 28'
812
40
70
48
--
Meeting Room 18
29' X 28'
812
40
70
48
--
Meeting Room 19
29' X 28'
812
40
70
48
--
Meeting Room 20
29' X 28'
812
40
70
48
--
Meeting Room 21
29' X 28'
812
40
70
48
--
Meeting Room 4 & 5 Combined
98' X 37'
3,600
216
442
256
22
Meeting Room 5 & 6 Combined
98' X 37'
3,600
216
442
256
22
Meeting Room 4, 5 & 6 Combined
147' X 37'
5,400
360
702
400
32
Meeting Room 13 & 14 Combined
98' X 37'
3,600
216
442
256
22
Meeting Room 14 & 15 Combined
98' X 37'
3,600
216
442
256
22
Meeting Room 13, 14 & 15 Combined
147' X 37'
5,400
360
702
400
32
Meeting Room 7 & 8 Combined
58' X 28'
1,624
72
182
112
10
Meeting Room 9 & 10 Combined
58' X 28'
1,624
72
182
112
10
Meeting Room 16 & 17 Combined
58' X 28'
1,624
72
182
112
10
Meeting Room 18 & 19 Combined
58' X 28'
1,624
72
182
112
10
Meeting Room 20 & 21 Combined
58' X 28'
1,624
72
182
112
10