It's almost time for the 2020 Erlanger Chattanooga Marathon Weekend! With so many new and exciting things this year, it's going to be a weekend-long party for runners and fans alike. Pre-registration is preferred, but registration will be available at the expo for all races. 
What does the weekend schedule look like? Glad you asked.  
Friday, March 6  
An expo featuring more than 25 vendors will begin at 3 p.m. The vendors will be stationed at the First Horizon Pavilion (1826 Reggie White Blvd.) for both spectators and athletes to enjoy. Packet pickup will also be available for all races. Click here for a list of vendors.  
Saturday, March 7  
It's the first race day of the weekend! The Classic 150 5k and the Kids Fun Run Race will start at 10 a.m. and 11 a.m., registration and packet pickup will start at 7 a.m. 
If you're new to the Chattanooga Marathon or just need a refresher on the course, click here to see it in detail! The course was designed for local and regional runners with a few simple goals in mind: Be safe, be flat, be fast, and be a ton of fun!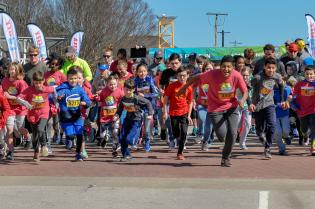 The kids fun run is always a highlight of the weekend where kids are encouraged to get involved and engage in an active, safe and fun event. Each participant will receive a goodie bag, t-shirt, a runner's bib, and a finisher's medal. Sign the kids up here - oh, and it's free!  
Sunday, March 8  
The big race day! Packet pickup will begin bright and early at 5:30 a.m. (pre-registration required). 
The Marathon, Marathon Relay and the Half Marathon all begin at 7:30 a.m. at the First Horizon while final registration and packet pick-up in the Pavilion.  
The full marathon will be a great experience for the first-time or experienced marathon runner by providing a safe course with plenty of well stocked aid stations, great spectator support, and an amazing finish line experience. Click here to see the course.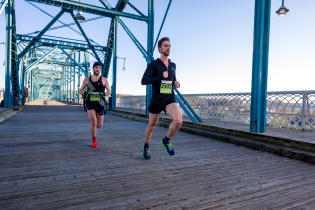 The marathon team relay is designed to give teams of two to four members a chance to run the same great 26.2 mile course as everyone else, but each runner will only run a portion of the course. It's a great opportunity for co-workers, friends, and families to compete together and have fun while running through some of Chattanooga's most scenic areas.  
This 13.1 mile half marathon course is extremely runnable with some good flat stretches and a few hills thrown in for good measure. The course winds through Downtown, UTC, and the Southside District and will have tremendous spectator support. Click here for the course map.  
What's a day full of hard work without awards?! The half marathon awards will start at 10 a.m. and the awards for the full marathon follow at noon. You don't want to miss the expo, food, and celebration that happens Sunday after the races to continue the fun.  
Click here for the full detailed schedule for the weekend. 
Where is the best place to watch the race as a spectator? Great question!  
Neighborhood parties are a great way for spectators to be a part of the fun throughout the course. There are 8 different activation areas that include either a band, a DJ, or a singer to bring out the excitement. Join in on one of the parties to watch the run and have some fun while you're at it!  
Wondering where to park for race weekend? Check it out below.  
A parking pass is required to park in Finley Stadium which can be found here. Download and print the pass and have it visible to show upon entry to the lots. Blocked off lots for the weekend can be found here. Make sure to check out the map because parking changes based on what day of the race it is. 
2020 is going to be a great year and we can't wait to see you out there! For more details about the Erlanger Chattanooga Marathon Weekend, visit chattanoogamarathon.com.