Keeping your kids active during the pandemic has probably been as difficult as finding toilet paper, which is exactly why Chattanooga Sports and Erlanger Chattanooga Marathon Weekend are partnering with Operation Get Active (OGA). OGA is a health-initiative program that encourages young people in the Chattanooga community to live active and healthy lifestyles. Since the pandemic, OGA has gone virtual to ensure kids are still getting the training and motivation they need to stay active while remaining at home.   
The Kids Fun Run, a part of the Erlanger Chattanooga Marathon Weekend, is March 6, 2021 and in partnership with OGA, your kids can participate in a 10-week training program with Coach Aaron Wood of Hixson Middle School.   
"I am blessed to be collaborating with two organizations that highly value kid's health and their physical fitness," Coach Wood said. "They value this so much that they are providing the race, workbook, and training videos for free…that is crazy! Close your eyes and imagine going to the Super Bowl, winning a new car, and then kicking the game-winning field goal!" 
Coach Wood will offer a total of 11 videos that will be uploaded to his YouTube Channel. Each video will end with a challenge for you and your kids to do together; for example: walk 2 minutes, run 2 minutes, sprint 1 minute – do this 3 times. The idea behind this program is that with each challenge the child completes they are one mile closer to completing 26.2 miles, or a full marathon. Over the course of the 10-week training, the kids will have run/walked 25.2 miles where they can then complete their final mile on the day of the Kids Fun Run on March 6, 2021. Click here to view the course.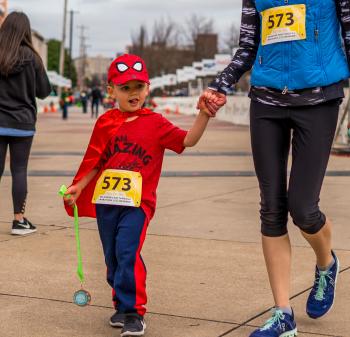 "We are so excited to be a part of this project and work with Chattanooga Sports, Erlanger Chattanooga Marathon Weekend and Coach Wood," OGA Director Peter Woolcock said. "This is a fantastic initiative for kids to learn, have fun, and be physically active over a longer period of time. Which all ties nicely into our mission statement of encouraging our community's youth to live healthy and active lifestyles."  
Mark your calendars for:  
Click here to register for the Kids Fun Run and get exclusive access to the workbook which includes a progress tracker, challenges from Coach Wood, plus fun games and activities for the whole family. We can't wait to get started!