Spring Break Safari: Cave Explorer
What if you could. . .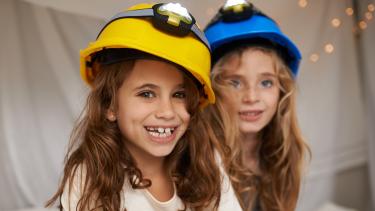 . . . venture underground as a Cave Explorer and discover natural wonders hidden deep within Lookout Mountain at Ruby Falls?
Kids and their families become Cave Explorers as they journey with a guide to discover the tallest and deepest underground waterfall open to the public in the United States. Hear tales of the accidental discovery of the cave and see ancient geological formations on a Classic Waterfall Tour or Lantern Tour.
Before your tour, grab your official Spring Break Safari Guide from the Ruby Falls ticket desk. At the end of the tour, show your completed Ruby Falls scavenger hunt page to a staff member at the gift shop and receive a free geode.

DETAILS
Dates available: Friday, March 13-Sunday, April 19, 2020
Free Spring Break Safari Guide: Available at ticketing or online (after March 6)
Tours fill quickly-for best availability, purchase tickets online before arrival by selecting the time you'd like to check-in for your cave tour
Classic Waterfall Tours: Daily, 8 a.m.-8 p.m.
Lantern Tours: After-hours on Friday nights by reservation only
Ticketed guests ages 12 and younger can bring their completed scavenger hunt to the Village Gift Shop to receive a free geode with directions for cracking it open at home. Available while supplies last.
Ruby Falls Hours: Daily, 8 a.m.-8 p.m.
Cost: Classic Waterfall Tour, $21.95/adults, $12.95/kids age 3-12, Free/kids 2 & younger, no minimum age requirement; Lantern Tours, $31.95/ages 5 & up, miner's helmet included for children 5-12, minimum age is 5 years old
Go on a Scavenger Hunt at Ruby Falls!

Website  |  Facebook  | Twitter  | Instagram  | Pinterest  |  YouTube
1720 South Scenic Highway, Chattanooga, TN 37409  |  423-821-2544