Spring Break Safari: Conductor
What if you could. . .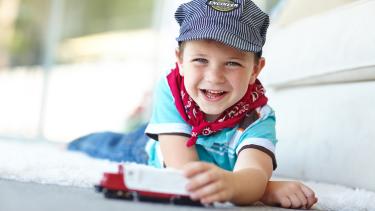 . . . be a Conductor aboard a rumbling locomotive train while traveling along one of the original rail lines into Chattanooga with the Tennessee Valley Railroad Museum?
When you step aboard the train, ask the conductor if you can punch your own ticket! This 55-minute Missionary Ridge Local excursion includes: traveling six miles (round trip) on one of the original rail lines into Chattanooga; narration of the local history historical points along the route; riding through the Missionary Ridge Tunnel that was built in 1858, especially noted for its uniqueness as a horseshoe tunnel; witnessing two unique methods of turning a train around: the better known turntable, and the wye (think of doing a three-point turn with your car and you're close); and a brief tour of the train restoration shop.
Additional excursions offered throughout the year include Valentine Dinner Train, Hop Aboard the Bunny Train, Day Out With Thomas, Chickamauga Turn trains to Chickamauga, Georgia on summer weekends, Dixie Land Special excursions into northwest Georgia, fall color excursions, Halloween Eerie Express, North Pole Limited trains during the holidays, and many more. Grand Junction Station is located near I-75, Exit 4 at the Jersey Pike exit from Highway 153.

DETAILS
Dates available: Friday, March 13 – Sunday, April 19, 2020
Free Spring Break Safari Guide: Available at ticketing or online (after March 6)
50-55 minute train ride on the Missionary Ridge Local trip ONLY
Guided tour of East Chattanooga equipment repair/restoration facility
Watch the turntable demonstration
Missionary Ridge Local trips: Daily departures, check schedule online for times
Cost: $19 for adults; $13 for children ages 2-12; free for children under 2 years old
Go on a Scavenger Hunt at the Tennessee Valley Railroad Museum!

Website  |  Facebook  | Twitter
4119 Cromwell Road, Chattanooga, TN 37421  |  423-894-8028