Spring Break Safari: RockQuest Adventurer
What if you could. . .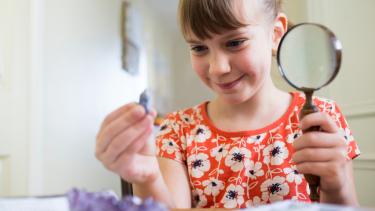 . . . be a RockQuest Adventurer and trek through massive rock formations at Rock City, high atop Lookout Mountain?
Pick up a RockQuest Guide that will help you look for clues to many of the geological wonders throughout Rock City. Explore the Enchanted Trail which leads you to view more than 400 varieties of native plants and flowers, see 7 states from Lover's Leap, spot a gnome or two, dig for your very own geode – and then break it open to find the crystal treasure inside, and so much more.
Rock City Gardens is a true marvel of nature featuring ancient rock formations and panoramic views 1,700 feet above sea level. The self-guided tour along the Enchanted Trail takes you through some of the south's most spectacular natural scenery where you'll learn about sedimentary rocks, minerals, crystals and the forces of nature that created this unique attraction. 
Geology doesn't get more exciting than this!

DETAILS
Dates available: Friday, March 13-Sunday, April 19, 2020
Free Spring Break Safari Guide: Available at ticketing or online (after March 6)
RockQuest Guide: Available at ticketing
Geode Dig activity: Located at Prospector's Point and included with purchase of the RockQuest Adventure package at Ticketing.
Hours: 10 a.m.-4 p.m., self-guided tour, takes about 2 hours
Cost: RockQuest Adventure package including a Geode Dig is available with a special Spring Break Safari $7 add-on to a purchased Rock City ticket ($12.95-$26.95)
Go on a Scavenger Hunt at Rock City!
SPRING EVENTS
Rock City - Shamrock City ($)
March 14, 15, 21, 22
8:30 a.m.-5 p.m.
Rock City - EarthDayz ($)
April 18, 19, 25, 26    
8 a.m.-5 p.m.

Website  |  Facebook  |  Twitter  |  Instagram  |  YouTube 
1400 Patten Rd, Lookout Mountain, GA 30750  |  800-854-0675