Spring Break Safari: World Traveler
What if you could. . .
. . . be a World Traveler in a single visit to Creative Discovery Museum? Explore the world as you explore the Museum!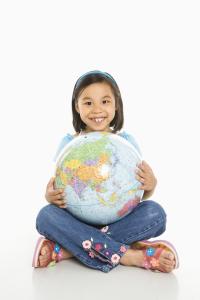 Children can travel the world through numerous hands-on experiences. In Excavation Station, dig for dinosaur bones from Canada, see our scorpion from Western Africa fluoresce and analyze different types of sand from around the globe. As you make your way through Performing Arts Alley, listen to the sounds of a Bonang from Indonesia, play your own song on a steel pan from Trinidad and Tobago and practice your percussion skills on a double headed drum from China! Head to the museum's second floor and explore Kenya's Kids, CDM's current traveling exhibit. Discover what life is like in Kenya today, a country both technologically-advanced and filled with longtime traditions. Explore a wildlife reserve and become a baby elephant keeper. Attend a Kenyan school and learn Swahili. Go on a safari and much, much more!

DETAILS
Dates available: Friday, March 13-April 19, 2020
Free Spring Break Safari Guide: Available at ticketing or online (after March 6)
Access to all the permanent exhibits including RiverPlay, Make It, Little Yellow House, Visual & Performing Arts galleries, Excavation Station, Corner Clinic, Buzz Alley, Rooftop Fun Factory, Lookout Tower, Culinary Corner and more.
Special exhibit: Kenya's Kids - through May 25
Free sticker when you show the exterior Scavenger Hunt photos; a mystery gift when you show the interior Scavenger Hunt photos.
Hours: Mon.-Sun., 10 a.m.-5 p.m.
Price: $15.95 per person ages 2 and up (includes admission to the Museum)
Groups: Reservations requested. Call 423-648-6045, Mon.-Fri., 9 a.m.-5 p.m. to book advance registration.
Go on a Scavenger Hunt at the Creative Discovery Museum!
SPRING EVENTS
Kenya's Kids Exhibit
Jan. 18-May 25, 2020
Take a trip to Kenya in 2020 when Creative Discovery Museum hosts Kenya's Kids. This unique exhibit was created by The Magic House St. Louis Children's Museum and invites families to discover what life is like for children in Kenya today, a country both technologically-advanced and filled with longtime traditions. As they travel through five immersive environments, children can compare the similarities and differences between their lives and those of children in the East African country of Kenya.
 
Website  |  Facebook  |  Instagram  |  Twitter
321 Chestnut Street, Chattanooga, TN 37402  |  423-756-2738